New York Mets manager Terry Collins acted so desperate in his club's 5-3 loss to the Diamondbacks that many are considering ulterior motives.
New York Mets 3 (57-55)
Arizona Diamondbacks 5 (46-66)
NL, Final, Box Score
Citi Field, Flushing, NY
F
or many, it's long been accepted that baseball managers can actually impact no more or no less than 10 games in a given season. The players of the 25 man roster determine the rest.
One such individual who believed in the 10 game swing rule was George Zuraw, who spent a lifetime as a legendary scout in Major League Baseball. He believed Jim Leyland made the difference of 10 games while both men were employed by the Pittsburgh Pirates during their young Barry Bonds' days of the early 1990s, via Bill Madden formerly of the New York Daily News.
Contrary to that belief, there are a handful of irrational fans of the New York Mets.
These people believe managers single handedly decide the fate of 162 games. They look at a specific moment of a ball game and point the finger squarely at their scapegoat, manager Terry Collins.
Most times, these fans are wrong. They either simply have too much time on their hands or forget that the players are actually the ones producing or choking when it matters most.
On Tuesday night, however, these fans who point the finger had it right.
With his struggling Mets – who haven't put together back to back victories in over a month – trailing by two runs in the bottom of the 9th-inning, Collins decided to swing for the fences, figuratively. With a man on second base, he pinch-hit for Travis d'Arnaud.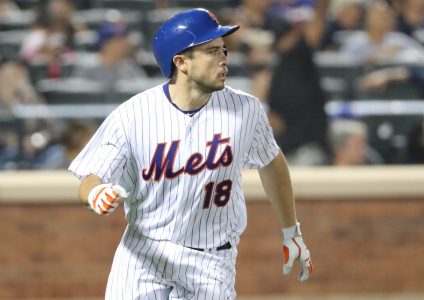 Who was given the responsibility of taking an at bat with the Mets life on the line? No, it wasn't Yoenis Cespedes. He's still on the DL. No, it wasn't Michael Conforto. He started in left field and batted fifth on this particular evening.
The man tasked with saving the Mets was Ty Kelly, the little used career minor leaguer who has a grand total of six hits and one home run in the bigs.
A more desperate and mind boggling act would be tough to conjure up.
Collins made a move so confusing that ulterior motives have to be considered. Could he actually be trying to get fired? Is he proving a point to Sandy Alderson and the rest of the suits up in the office that he has literally nothing to play with off the bench?
Collins alluded to the idea that he was showing d'Arnaud a little dose of tough love by pinch-hitting for him. He told reporters that he went with the unproven Kelly because he feels as though TDA is better than his current .234 average.
d'Arnaud, agreed with his manager, via James Wagner of the New York Times:
"I did want that shot, but I've got to play better," d'Arnaud said in relation to the final non at bat."
Here's the problem for Collins: Whether d'Arnaud agrees or not, it's a completely idiotic move.
Kelly is a career .194 hitter with literally no pop in his bat. The situation the Mets were in called for an all-or-nothing proposition. Down two runs with two outs and a man on called for a power hitter to be at the dish. The situation didn't call for tough love or a guy who can get on base. This situation didn't call for a good at bat.
It called for a slight chance of a miracle. d'Arnaud, not Kelly, provided a shot of this miracle.
Say what you want about d'Arnaud. He's terrible defensively; he blows hot and cold at the plate; and he spends more time on the DL than on the field. But what the man can do is hit the ball.
In 2015, TDA collected 12 HR and 41 RBI in only 268 plate appearances. This pace equates to well over 25 dingers and 90 runs produced over the course of a full season. He also showed he can hit in clutch situations last October.
How in the world does a manager take out a bonafide professional hitter in place of a career minor leaguer in that situation?
It would be understandable if there was one out. Some fans could soak it in a tad more if the Mets were down three runs. But in that situation, when a home run is necessary and nothing special is following in the No. 8 hole, throwing Kelly up there in place of TDA is outrageous.
If TC wants to show tough love, then he should catch Rene Rivera four out of five days and beef up the defense. Under no circumstances should he sacrifice his club's only shot of a miracle by throwing crap on the wall and hoping it sticks.
Not even with righty and Arizona closer Jake Barret pitching does Collins have a leg to stand on with this move. Even if d'Arnaud was 0-for-51 against Barrett, this Collins move would be a disaster of a decision.
d'Arnaud is a professional hitter. Kelly isn't.
In no baseball world could any baseball fan look at Terry Collins's final move on Tuesday night and pat him on the back for it. Instead of allowing his players to produce or fail, he stood in the way.
This is something manager should never do.
No disrespect to the kid, but Kelly isn't one of his players. He's an injury fill-in who happened to be in the clubhouse on this particular night. Despite his struggles, d'Arnaud is still a member of the Mets core. He was there last October.
This move was terrible. On this night, the haters have every reason to point the finger.