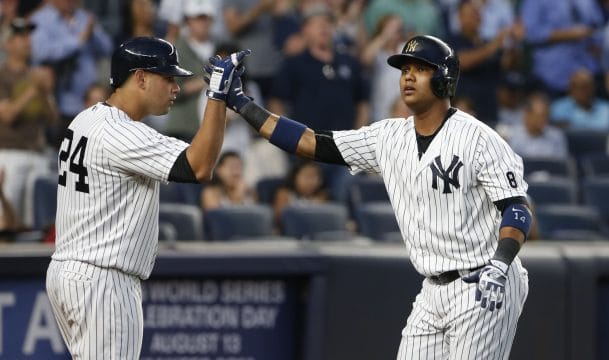 As this New York Yankees team seems to be on course for a .500 season and no championship, let's take a look at what could be in store for 2017.
The New York Yankees find themselves in a crucial situation when this lost cause of a season reaches its conclusion on October 2.
Sitting in the median of a rebuild which featured a recent fire sale which displayed the departure of Andrew Miller, Carlos Beltran, and Aroldis Chapman, the Yankees' mirror a team that has just endured a franchise transmutation.
New York – whose farm system includes seven of Major League Baseball's Top-100 Prospects – can further visualize the change in times with the announced retirement of Mark Teixeira and the unusual release/retirement/change of roles by Alex Rodriguez.
There is a change of guards in the Bronx and the future couldn't be more bright. However, the most critical of moves during this rebuild will occur throughout the first couple years, making this next offseason and 2017 just as important as the championship the organization hopes to wheel in when the construction is complete.
In recent memory, like the spending spree back in 2014, ownership has taken it upon themselves to abandon roster breakdowns in order to spring the team into contention. A scheme that has failed more times than succeeded.
That plan has, hopefully, abandoned itself from the minds of ownership and they are ready to take on what will be a tough method in shaving contracts, building the farm, and remaining patient.
Thanks to the already strong system New York had prior to the deadline additions of Clint Frazier, Gleyber Torres and more, the process won't be as long. Plus, their financial power will help them compete sooner down the road.
However, we digress to the earlier question: What will the 2017 Yankees look like? Signs point to them doing something similar to a year ago in which they invested in zero major league deals while allowing their prospects to fill in for the expiring contracts of decrepit veterans.
Without anymore unwanted schpeel on the well-known and rightful path of the New York Yankees, here's something you could expect on Opening Day of next season:
 Starting Rotation: