New York Knicks star Kristaps Porzingis spoke in a podcast interview about the improvements during the offseason to his game and the team.
Kristaps Porzingis was on The Stashed's "33rd and 7th" with Anthony Donahue talking about the improvements he made to his game during the offseason and the new additions to the New York Knicks.
Porzingis' post game was discussed at length during the season. He struggled mightily in his rookie season with his back to the basket. With the loss of Arron Afflalo and Robin Lopez, it's even more important that Porzingis worked during the offseason.
"Everybody wants to see me play better in the post, that's one thing that's going to help us in the triangle so I'm adding moves to my post game."
Per NBA stats, Porzingis averaged 2.7 post touches per game in 2015-16 but shot just 40% on those attempts, scored at a frequency of 41.1%, and finished in the 44th percentile of efficiency.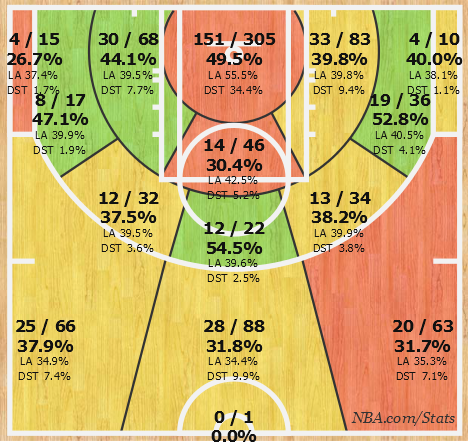 He attempted 131 field goals with his back to the basket, and if he was able to make them at a better rate his scoring number would've been even more impressive.
Porzingis also spoke about getting stronger and his expectations for the upcoming season. Despite his whirlwind rookie campaign, it's nice to know he still has areas in which he can improve.
"I'm really working on staying low [on drives]. I'm working on my strength, especially my legs. That's going to help me defensively as well."
Per Begley, Porzingis has already worked out with new teammates Brandon Jennings and Derrick Rose, and close friend Sasha Vujacic. KP spoke about how his new teammates looked and said all the right things about his opinion of the team's new look roster.
"They looked in pretty good shape … they looked like their ready to play right now," Porzingis said. "I could tell the guys are already locked in."

"I'm really happy with all of the moves that we made, and I think we got a lot better this offseason. Just seeing all the guys that we bring in, the talent that we have now, we have to have the mentality that we have to do bigger things than we did last season. We have to be a much better team."
In case you somehow forgot, the post game is an important part of the triangle offense. No doubt that Porzingis was encouraged by coaching and management to work hard on this area.
The 7-footer attempted 243 three-point shots in his rookie season. That's more than 65% of his shots. The Knicks want him to play inside the arc more. We'll see how that works.
Save
Save