After what appears to be the start of a complete fire sale, the New York Yankees have some work to do if they intend on getting something out of their valuable assets. 
For as long as most could probably remember, the New York Yankees have been on the buying side during Major League Baseball's trade deadline season. However, this is, unfortunately, a new yet depressing year.
This is new, huh Yankees fans?
The Bombers sit at a dreary 52-51 after dropping a contest to the Tampa Bay Rays by a score of 6-3 on Saturday night, while they stare blankly at a 6.5 game deficit in the American League East and four out of the second wild card.
With their current standing along with a 3.9% chance at clinching a playoff spot, selling was a no brainer.
Just last week, New York dealt star closer Aroldis Chapman to the Chicago Cubs and just this morning Andrew Miller was shipped off to the Cleveland Indians and guess what? They won't be the Yankees' only significant transactions that take place before Monday's 4 o'clock PM trade deadline.
There are two obvious moves that can be and should be made by general manager Brian Cashman and that's to deal nine-time All-Star Carlos Beltran and shaky starting pitcher Ivan Nova.
Both are slated to become free agents following the 2016 season.
Beltran, heading into Sunday's contest with the Rays, owns a .301/.342/.538 slash line with 21 home runs and 62 runs batted in through 98 games.
Nova, on the other hand, owns a 7-6 record with a 4.90 earned run average in 15 starts and six relief outings. Overall, he has 75 strikeouts in 97.1 innings of work and was roughed up for five runs against Tampa Bay on Friday.
After seeing the incredible work Cashman has been able to pull off, he'll likely play these two down to the last day in order to get the best deal from teams in dire need of a consistent bat and number five starter who could – hopefully – assist in a playoff hunt.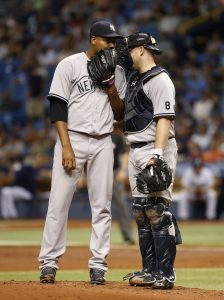 As one can expect, Beltran will draw extreme interest from AL teams like the Cleveland Indians or Texas Rangers. I'm not ruling out a deal being made with a National League team, as he's played a respectable right field (for a 19-year veteran) but it is not prototypical for an NL team looking to bring on an impact outfielder.
If New York does not get too greedy with the rental player that Beltran will become, they'd get a genuine prospect from Cleveland despite taking Clint Frazier – their former top prospect – in the Miller deal.
Nova's situation is a little more complicated thanks to the value-degrading beating he took in Tampa last Friday.
According to Jon Heyman of Today's Knuckleball, he is out on the market but there appears to be zero quality offers that would favor the Yankees the way the last two hauls did.
Nevertheless, Cashman should go with the "get whatever you can get" attitude with his 29-right hander. The man who owns one playoff win in his lone start could retrieve a binding Triple-A prospect. From who? Possibly the Miami Marlins.
They currently sit tied with the St. Louis Cardinals for the second Wild Card spot and need an arm to bolster their rotation's 4.12 ERA. Maybe Nova could do that in an NL ballpark, but what he can definitely do is provide a replacement for Colin Rea – their latest acquisition.
Rea, who came over from San Diego, was placed on the disabled list with an elbow strain after just 3.1 innings in a Marlins uniform which is an incident that could influence Miami's interest in Nova.
Their farm system, however, is not highly regarded as healthy and being ranked 29 in Baseball Prospectus' preseason farm rankings but they could unquestionably sew a grouping together that the Yankees would accept for a player that needs a change in scenery and offers nothing to the Bombers for years to come.
Don't forget, New York could still pull off a haul. Sure, Beltran and Nova are ideal but a contending team very well may bite on Brian McCann, Brett Gardner, Nathan Eovaldi, or even Michael Pineda.
The latter two may be more attractive chips for opposing teams but until we reach 4 PM on Monday, that is all speculation. However, it is plausible that not only is dealing the two easiest pieces the organization contains possible, it is necessary.