As speculation touts Mets' top prospect Amed Rosario as a potential trade candidate, let's put to rest any idea that he should be on the move.
As the rumors surrounding Brewers' catcher Jonathan Lucroy swirl, the Mets have been linked to the Milwaukee backstop as a speculative fit for a stalling offense.
Even Sandy Alderson acknowledged the potential connection, though he called it "dead on arrival." Reports have since indicated that the clubs have reengaged in talks.
So yes, the Mets have looked into Lucroy. And yes, they've gotten further than expressing interest and inquiring on his value. The sides have exchanged offers and, in all likelihood, the Brewers have brought up top prospect Amed Rosario.
Lucroy makes a ton of sense for the Mets when considering the team's woes at catcher, and the unimpressive performance of its offense.
However, Sandy Alderson and his front office – a group which is now familiar with blockbuster deadline swaps, especially with Milwaukee – should balk at any idea of including Rosario in a package for Lucroy.
And here's why.
The Mets are not a team with a closing window of playoff contention. In fact, the club's future is perhaps even brighter than what they field in 2016.
Both Matt Harvey and Zack Wheeler will be healthy, and the likes of Michael Conforto, Dilson Herrera, Brandon Nimmo, and Gavin Cecchini can be expected to develop into everyday players.
In assessing Amed Rosario, the young shortstop projects to develop into a star.
At 6'2", 190 lbs. the nimble Rosario plays an athletic shortstop with good hands and plus range. What makes him all but a lock to play shortstop in the big leagues is his outstanding arm.
Offensively, Rosario has risen through the Mets farm system with a contact hitter's approach. In 2016, he debuted with A+ St. Lucie, where he hit .309. In 26 games; since his promotion to AA Binghamton, the 20-year old has mashed with a .354 batting average.
Rosario has not hit for much power in his pro career, but scouts believe he has the frame to develop into more of an extra base hit player with some pop.
While scouts see room to grow with the bat, Rosario grades highly in the fifth tool: base running. He stole 13 bases in his 66 games at St. Lucie this season. The New York Mets, as a team, have stolen 26 in 101 games.
At every step of Rosario's minor league career, from Kingsport to his two A-ball stops, and now in AA Binghamton, the Dominican has been at least three years younger than the average position player at his respective level.
In this light, Rosario's ability to play alongside older, developed players – some with collegiate experience – makes his future even more promising.
Since signing out of the Dominican Republic for $1.75 million as a 17-year old, Rosario has shot up the ranks of a competitive Mets' farm system.
He is now ranked first among Mets' prospects. He is ranked 18th in all of baseball, according to MLB.com's rankings, joining a tier of prospects with names like Rangers' third baseman Joey Gallo, Twins' farmhand Jose Berrios, and Rockies' outfielder David Dahl.
With Rosario's high praise from scouts – and MLB.com, ESPN, Baseball America, etc. – he can be likened to recent prospects who ranked similarly. Lefty Steven Matz, who has since emerged as stable piece of the Mets' pitching staff, was ranked 15th in MLB.com's list for 2015.
The crazy thing about that: Matz had already stopped at Triple-A, and was 24 years old. Rosario is just 20 and has had just under 100 at bats at Double-A.
By that comparison, when understanding the true youth of Rosario, the sky is the limit for this kid. (Also of note, on that same list which ranked Matz number 15, Rosario was considered baseball's number 82 prospect – so talk about progression).
Continuing with the theme of encouraging comparisons, let's look to a once highly regarded prospect, now All-Star shortstop – Addison Russell.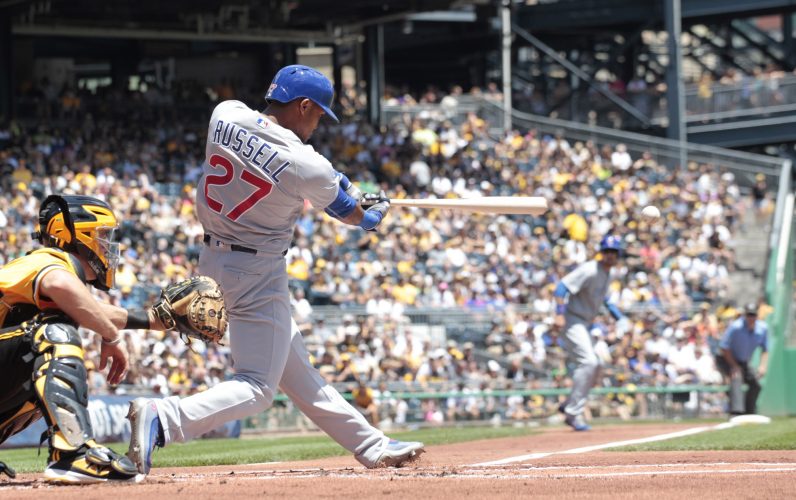 Russell, then 20 years old, ranked number 18 on MLB.com's Prospect Watch back in 2013. He then shot up to number five the following year.
If Rosario can follow that trajectory, he looks to be in good shape to rise even higher in the eyes of sellers for future seasons.
Not only does he look to become a contributive big leaguer, but his value seems sure to increase prior to next year's trade deadline, where he could then be best utilized – though even that may be foolish.
Besides all the fanfare about the player Rosario can become (hint: a star), there is a factor of logistics which the Mets must consider heavily.
As it stands, the Mets pay a considerably higher dollar amount to its hitters. Yoenis Cespedes is owed north of $25 million for this season, Curtis Granderson makes $16 million, Neil Walker takes home $10.5 million, Asdrubal Cabrera earns $8 and a quarter million, and Alejandro De Aza makes close to $6 million.
The club's highest paid pitcher: Bartolo Colon at $7.25 million.
Right behind him: Antonio Bastardo at a few bucks over $5 million.
Beyond those two, the Mets have a bevy of underpaid talent. Noah Syndergaard, Jacob deGrom, and Steven Matz have not yet begun the arbitration process – meaning they are paid a meager price for their services – and Jeurys Familia and Matt Harvey have made just one trip through arbitration.
That rosy picture, as painted above, will not remain so simple. The Mets' pile of aces will one day demand a payday – or else, Met fans will not have the luxury of showing up to the ballpark for an electrifying pitching performance seemingly every time they make the trip to Queens.
So, ownership will be forced to lock a few of these hurlers in for future seasons, and it won't come cheap.
The point remains: when the Mets need to allocate loads of money to deGrom, Syndergaard, Harvey, and Matz, the team will need space to operate this sudden flow of cash.
The club must have its stock of inexpensive talent to facilitate the spending spree required to keep its aces.
Bats like Brandon Nimmo, Michael Conforto, Gavin Cecchini, Dilson Herrera, and Amed Rosario need to be around for this time. The bats will have to come cheap for the Mets to keep the pitching corps intact.
With this in mind, the ultimatum to Sandy Alderson is to not trade a 20-year old, top 20-ranked prospect named Amed Rosario.
To baseball's 29 other clubs: you can't touch this kid.