Per Ian Begley of ESPN, the New York Knicks have had internal discussions about acquiring embattled Chicago Bulls' point guard Derrick Rose.
Our
Kristian Winfield
already gave you the reasons Rose
makes sense for the Knicks
. I'm going to give you the reasons he doesn't.
Before you understand how bad things have gotten for Rose, it's important to remember how good things once were.
Five years ago Derrick Rose was on top of the basketball world. He was the youngest MVP in the history of the NBA. He led the Chicago Bulls to their first Eastern Conference Finals since Michael Jordan retired.
He was supposed to be a superstar for the next decade.
Adidas bought into the hype giving him a 13-year, $185 million endorsement deal, the largest of its kind at the time. Things were, no doubt, looking up.
His career has been a mental and physical nightmare ever since.
Rose has missed a combined 254 regular season games over the past five seasons. A plethora of injuries have wreaked havoc on his body causing him to lose the trademark explosiveness that made him a star.
Rose hit rock bottom this season. Five years after being one of the league's best players, he was statistically one of the worst.
He was never a great defender, but this season he was awful. Rose finished with a defensive real plus-minus of -3.15, ranking him 449th of 462 qualified players. The Bulls were significantly better on defense without their point guard.
In the 2,097 minutes with Rose on the court, the Bulls allowed a dismal 105.8 points per 100 possessions. In the 1,884 minutes without him, that number dipped to a team best 101.9 (via NBA.com).
Per Basketball-Reference.com, the Bulls were -3.9 points per 100 possessions with Rose on the court. His dreadful net rating of -4.7 meant the Bulls were +0.8 points per 100 possessions without him. That's just flat out unacceptable.
A 30-mpg player can't hurt his team like that.
Rose ranked in the lowly 30th percentile in defense against pick and roll ball handlers. Jose Calderon, who drew the ire of Knicks' fans for his own defense problems, was in the 49th percentile. Rose was in the 29th percentile against spot up catch-and-shoot/drive plays. Calderon? The 70th percentile.
Rose was a problem on defense, but was almost equally ineffective on offense. He averaged just 4.7 assists to 2.7 turnovers, and finished 41st among 46 qualified point guards in assist to turnover ratio (via ESPN.com).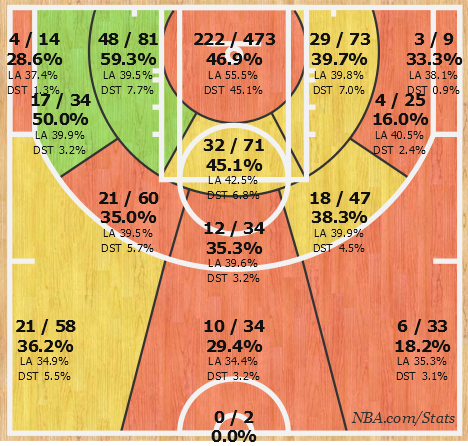 Rose was incredibly inefficient. Per Basketball-Reference, he had -0.8 offensive win shares ranking him 467th out of 476 NBA players and an offensive box plus-minus of -1.2 (263rd), giving him a total box plus-minus of -3.3 (352nd).
Rose converted on just 48.5% of his attempts in the restricted area (in his MVP season he converted on 58.1%) and 41.9% of his mid-range attempts. Of his 150 three-point shots, 125 are from above the break, foregoing the more favorable corner three.
The Knicks need a point guard. We know this. What they don't need is to give up anything for Rose. He won't be a significant upgrade at point guard when it's all said and done, and he'll be a free agent in a year anyway.
Derrick Rose comes with a smaller risk than normal because of the expiring contract, but with his reputation he deserves nothing. The Knicks should stay away.
Save
Save