Matthew Dellavedova is one of the only polarizing players in the NBA. He's beloved by Cavs fans and reviled by others on Twitter.
Dellavedova has garnered a reputation during the last two seasons as a dirty player, whether it's warranted or not. The incident against Kyle Korver in last season's playoffs may not have been dirty but it was stupid and first labeled
Delly's rep caused him to be voted the dirtiest player in the NBA by fellow players and coaches. Of the 24 votes cast, he earned 13.
Delly's detractors would tell you that he's dirty, but his admirers want you to know that the dude just plays hard and that's what rubs the other guys the wrong way.
"See, guys resent people that play hard because they don't want to play hard. So if a guy plays hard, he's dirty. He's not dirty," One old-school Eastern Conference assistant coach told SI.com, "He just plays hard. People question the play he made in the playoffs against Korver. I just think it was poor judgment."
Delly's game isn't discussed very much, other than by the haters pointing out his obvious flaws.
His means of scoring are one-dimensional. Delly is a shooter. His 3-point attempt rate was .468 in 2015-16 with a career number of .504. He was 41 percent from downtown in 2015-16 and 39.8 percent for his career.
It's a shooters league right now which makes Delly valuable.
According to NBA.com, 438 of Delly's 511 field goal attempts in 2015-16 were jump shots.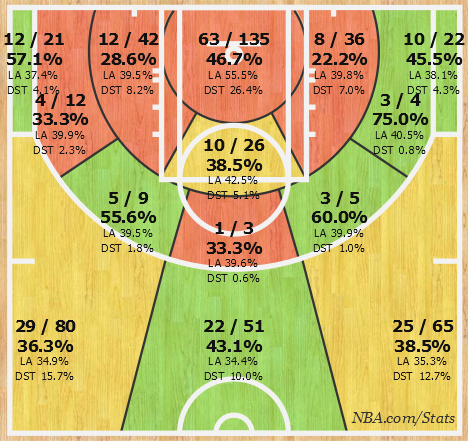 Delly's value to the the Cavs is greater than he would be to any other team. They were +10.8 points per 100 possessions with their backup point guard on the floor, greater than the mark of starter Kyrie Irving.
Delly can play off the ball as well. He has a great catch and shoot rate, notching an effective field goal percentage of 68.2 percent in 2015-16 (via NBA.com).
He also recently get his own shoe. Not many backup point guards who average 7.5 points per game can say that.
There will always be differing opinions about a guy like Delly. He's someone that you want on your team because if he's with the opponent he'll be trying to get under your skin the whole game. That's his job.