Harrison Barnes is a restricted free agent, but it's widely anticipated that the Warriors won't match the substantial offer he'll receive.
When Barnes turned down a four-year, $64 million contract extension, it effectively confirmed that he expected to be paid a maximum salary in the area of roughly $20 million per season.
That kind of a commitment to such an unproven player would be a huge risk for any team, but especially so for one in as dire straits as the Knicks.
The question most have about Barnes is whether or not he will continue to make shots at such a high clip when he isn't getting open looks instigated by Stephen Curry and Klay Thompson.
It's a fair one.
Barnes' greatest value right now is his three-point shooting — 37.6 percent for his career — and his untapped potential. If the Knicks were to sign Barnes, they'd be paying for what they hope he can be.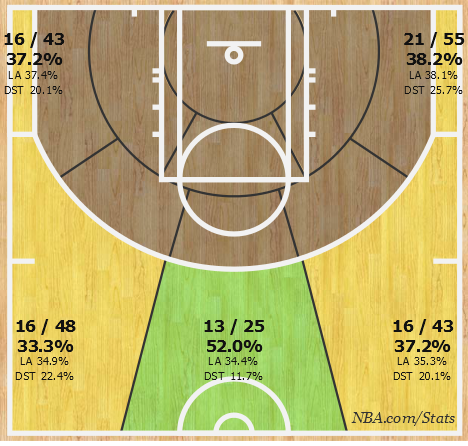 Could Harrison Barnes be the sharp-shooting, versatile small forward to Carmelo Anthony's stretch four? As interesting as that sounds, it's likely just a pipe dream.
Small forward isn't a position of need so Barnes is a long shot at best for the Knicks to consider. They should be watching the talented 24-year-old nevertheless.