3. Allen Crabbe (SG-POR)
Restricted
2015-16 Stats: 10.3 points, 1.2 assists, .461/.386/.861
Allen Crabbe has had a breakout season off of the bench for the Portland Trail Blazers. While he is often lost in the great play of C.J. McCollum and Damian Lillard, Crabbe has been another big contributor for the Blazers' shocking run.
Through 75 games the 23-year-old from Cal has been one of Portland's top bench contributors averaging 26.0 minutes, 10.3 points, 2.7 rebounds, 1.2 assists, and 1.4 three-pointers made on a slash line of .461/.386/.861.
On a per-36 minute basis those numbers shoot up to 14.3 points, 3.7 rebounds, 1.7 assists, and 1.9 three-pointers made.
Crabbe has had an excellent shooting season.
He's rated 12th among shooting guards in true shooting percentage, and in the 92nd percentile for points per possession on spot up plays.
According to NBA Savant, Crabbe's making a ridculous 43.6 percent of his corners 3's. Knicks' fans need to look no further than Lance Thomas to know how effective a player can be when he's converting 3's.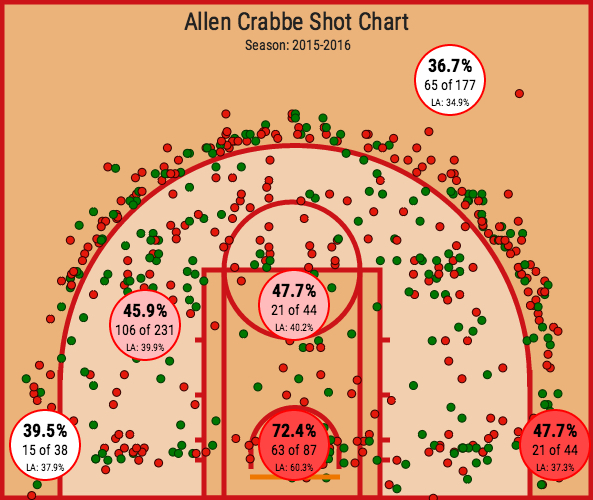 Of course, none of this will matter if Portland decides they want to match whatever deal that is offered to Crabbe.
That however, doesn't mean the Knicks shouldn't look into him.