1. Evan Fournier (SG-ORL)
Restricted
2015-16 Stats: 14.9 points, 2.6 assists, .459/.406/.824
Evan Fournier started off the season on a hot streak, averaging 34.5 minutes and 17.8 points on a slash line of .462/.416/.829 in the month of November.
Fournier shot 62.9 percent in the restricted area and 45.9 percent on above the break 3's.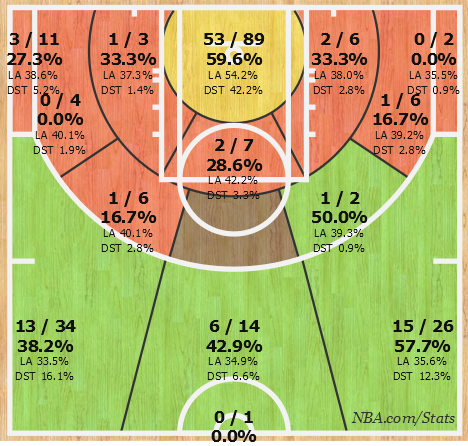 As the season progressed Fournier cooled off, and so did the Magic.
They've under-performed this season but it has nothing to do with Fournier.
He's heated back up in February (15.8 points, 3.2 assists, .488/.472/.893) and March (17.5 points, 2.1 assists, .495/.415/.800), but Orlando hasn't been fortunate enough to bounce back with him.
Fournier has been one of the most efficient shooters in the league this season, ranking in the 84th percentile in points per possession on spot up plays and the 77th percentile when coming off screens.
He's ranked fifth among shooting guards in in true shooting percentage and 14th among shooting guards in offensive real plus-minus.
The argument can be made that Fournier is Orlando's most important player.
When Orlando wins, he has an offensive rating of 110.9 and a defensive rating of 98.8 with those numbers drastically changing in losses to 96.7 and 111.7 respectively.