After two weeks on the road, #Knicks return to @TheGarden to face the Kings!

PREVIEW // https://t.co/jJN41oliIo pic.twitter.com/ZefbyjRfeT

— NEW YORK KNICKS (@nyknicks) March 20, 2016
Impending free agent Rajon Rondo has changed his tune on the triangle, but the New York Knicks should be wary in their level of interest.
New York Knicks (28-42)
Sacramento Kings (26-42)
NBA, Today, 7:30 PM on MSG
Madison Square Garden, New York, NY
The subject of playing in the triangle offense was first introduced to Rajon Rondo while his Sacramento Kings where visiting the Brooklyn Nets, and his answer left New York Knicks' fans discouraged.
"The triangle's not really a good look for me, I don't think," Rondo said, per ESPN.
The disinterest in his statement is very clear. When then head coach Derek Fisher responded to the potential free-agent target with criticism that made little sense, it seemed Rondo coming to the Knicks was a long shot.
Fish on Rondo saying triangle isnt for him: "You cant ask a player who wasn't very successful playing against it if he wants to play in it."

— Chris Herring (@Herring_NBA) February 7, 2016
But with Fisher now gone, Rondo appears to have warmed to the idea:
Rajon Rondo had nice things to say about the triangle offense. Can PGs succeed in it? "Anything is possible, in the words of KG," he said.

— Ian Begley (@IanBegley) March 20, 2016
Rondo was finally given the opportunity to respond to Fisher's accusations that the former All-Star wasn't successful against the triangle, by referencing the multiple times he faced off against the Lakers in the NBA Finals as a member of the Boston Celtics.
"He might have blacked out a couple of times (when) we beat their a– in '08," Rondo told a small group of reporters after the Kings' shootaround on Sunday morning. "They got us back in '10. He just might've had a moment where he was a little frustrated with my comment."
Rondo continued his unexpected praise of the triangle.
"I think it's effective. I think it's great for team chemistry," Rondo said. "Then when the ball gets moving, everyone touches the ball and you get a feel for it. The great Tommy Heinsohn (Celtics player, coach and broadcaster) told me that."
Seriously, did Phil give this guy a book to read?
"When guys are getting the ball they play better defense. It's hard to run up and down the court three, four possessions and you don't touch the ball in some offense, to have the same energy defensively. The triangle, I think, energizes the offensive end of the floor but also the defensive end of the floor as well."
There's no doubt Rondo is going to be paid handsomely in the offseason, but the Knicks only have $18 million in cap space to play with. If Jackson wants the embattled Rondo (and he's made it clear he has no desire to seek out an elite level point guard) he will likely have to give him a long-term deal at around the $14 or $15 million level.
Fans are desperate for help at the point guard position, but tossing franchise-altering money at a player with attitude issues is a cause for worry. Jackson is used to dealing with problem players (Bryant, Rodman, O'Neal) so that wouldn't be an issue.
The fact of the matter is, Rondo is past his prime. He's not worthy of a five-year, $70 million deal.
Let's take a look.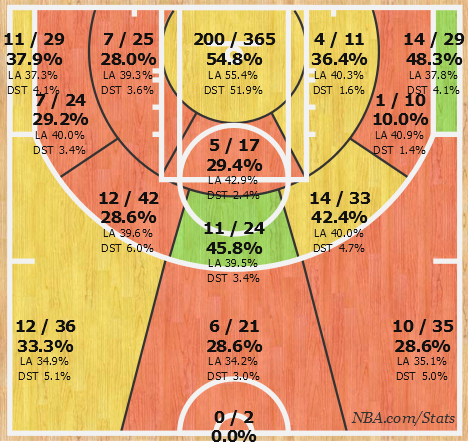 Much has been made about Rondo leading the league in assists (11.9) and although that is an impressive feat, the Kings are 16 games under-.500 and well out of the playoff race, so what good's it doing them?
Rondo has never been much of a scorer, and that hasn't changed this season as he's scoring just 11.8 points on a slash line of .447/.349/.579. Those free throws will be a killer for Knicks' fans.
Rondo's numbers high praise is misleading. According to ESPN, he's 29th (one behind Jose Calderon, btw) among NBA point guards in offensive real-plus minus, 19th in PER, and 58th in True Shooting percentage. His net-rating of minus-1.8 points per 100 possessions tells the entire story. The Kings are minus-3.8 points with Rondo on the court and minus-2 points without him (per 100 possessions). It's not a good sign when a team is better without its starting point guard.
Overpaying for Rondo would be an old-Knicks move, let's hope Phil has the sense to stray away from it.
One last chance to tie things up. Set a reminder to watch: https://t.co/94UdEZJTRg #KNICKSonMSG pic.twitter.com/RFJckaFyJO

— MSG Networks (@MSGNetworks) March 20, 2016