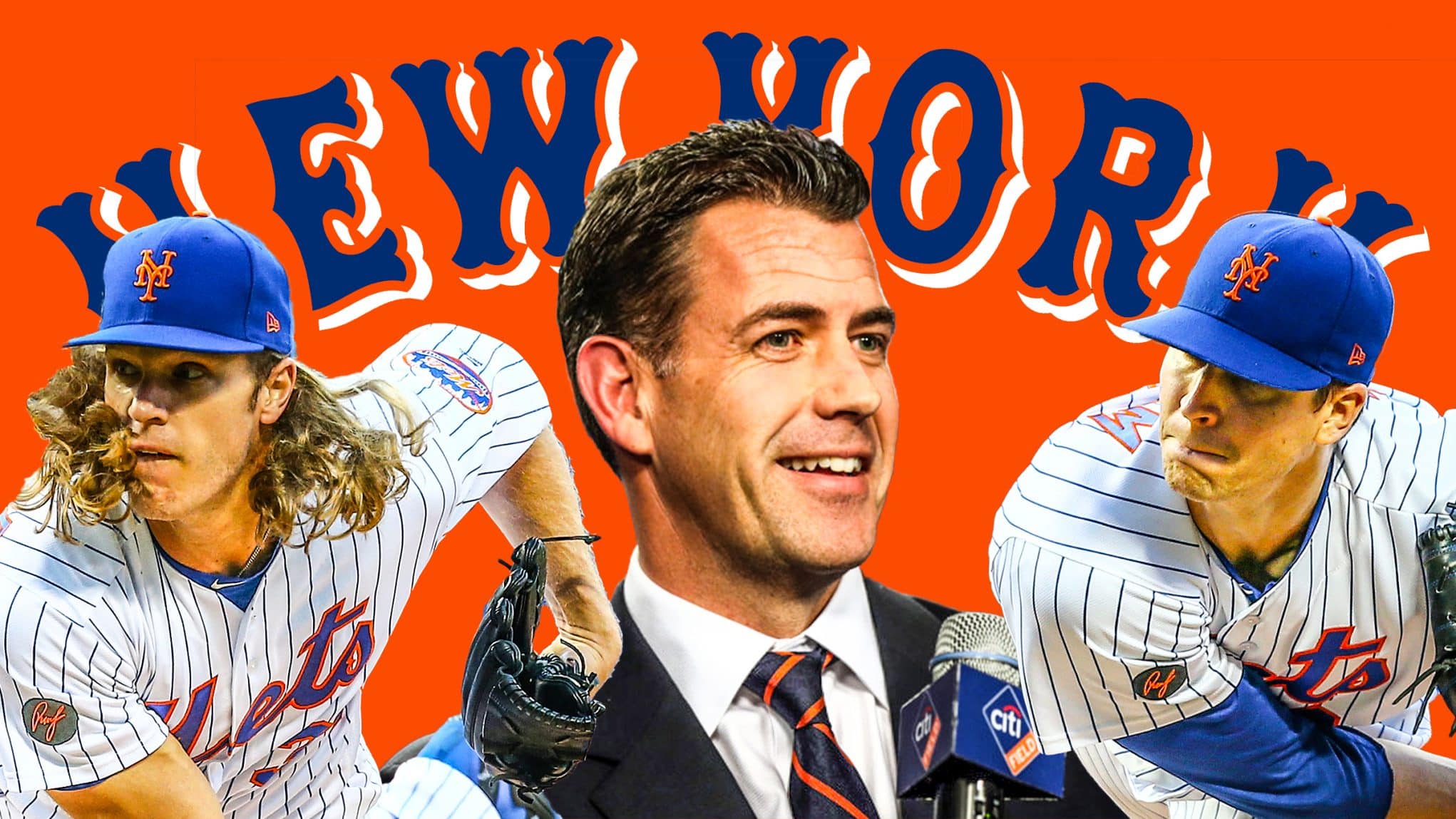 One of the most famous lines in MLB broadcasting history involves the Mets and their 1986 World Series victory over the Boston Red Sox:
"Behind the bag, it gets through Buckner! Around comes Knight and the Mets win!
That was the last time the Mets won the World Series, and it was their second in franchise history after winning in 1969. The Mets have been a polarizing franchise when it comes to World Series in their history, from those two wins to the Subway Series in 2020.
Let's take a look at the New York Mets World Series Odds, history, stats and more.
Mets World Series Odds 2020
DraftKings Sportsbook +2200
Unibet Sportsbook +2200
PlaySugarHouse Sportsbook +2200
FanDuel Sportsbook +2100
BetMGM Sportsbook +2000
PointsBet +2000
William Hill Sportsbook +2000
The Mets are not seen as World Series favorites in 2020, but they certainly could contend assuming the health of their roster maintains itself. From DraftKings Sportsbook to William Hill, the prices vary from +2200 to +2000 for the Mets to win the World Series. Be sure to bet with the best prices in mind, which would be at DraftKings Sportsbook at +2200. A quick side note here is that Mets fans may finally be able to bet online in NY if Gov. Cuomo gives the go-ahead sometime in 2020 or 2021.
Mets World Series History
World Series Championships: 2
World Series Appearances: 5
World Series W-L Record: 12-12
Last World Series Win: 1986
Last World Series Appearance: 2015
While their New York counterparts (Yankees) have been to 40 World Series in their rich history, the Mets have only been to five. What Mets fans can hang their hat on is recent success, as the Yankees have not been to the World Series since 2009 while the Mets' last trip to the classic was in 2015. The Mets of course are a much younger franchise, but they have some chasing to do to catch up with the Yankees in terms of World Series success.
Mets World Series MVPs
1986 – Ray Knight: AVG: .391, RBI: 5, 1.005 OPS
1969 – Donn Clendenon AVG: .357, HR: 3, 1.509 OPS
In both World Series victories, Mets hitters have taken home the World Series MVP crown. In 1986, who can forget Ray Knight's tremendous World Series with nearly a .400 batting average and five RBI as the Mets won their second fall classic. In 1969, Donn Clendenon led the Mets with a whopping three home runs and a 1.509 OPS in the World Series to bring the first ring to the Mets organization.
Mets Preseason World Series Odds History
2020: +2200 (DraftKings Sportsbook)
2019: +3000
2018: +2350
2017: +1300
2016: +855
2015: +2500
2014: +8500
2013: +10000
2012: +8000
2011: +5000
Our friends at SportsOddsHistory.com have tracked the Mets' preseason World Series Odds since 1985. The early 2010s were not friendly to the Mets, but in the last five years there has been some inconsistent success. With the burst of young pitchers from Matt Harvey to Jacob deGrom to Noah Syndergaard, the Mets should be contenders in the National League East each season. Add a young, power-hitting star in Pete Alonso and we can certainly expect the Mets' World Series odds to remain around +2200 or better going forward.
Mets World Series Odds Movement Last Season
Spring Training: +3000
May 1: +1800
June 1: +5000
July 1: +22500
All-Star Break: +32500
August 1: +18000
September 1: +10000
Last season, the Mets were never a threat to make a World Series run, as you can see in the odds movement above. The best odds the Mets had to reach the World Series landed at +1800 on May 1st, but it went downhill fast after that. This season, the Mets have plenty of buzz surrounding the team and have their best preseason World Series odds since 2018. Can the Mets make a run? We will see.
More "Overs" Than "Unders" from the 2019 Mets
Last season, per TeamRankings.com, 52% of Mets games resulted in the "over", with 16 pushes. The Mets led all of baseball in "pushes" for the over/under in 2019, but still managed to go "over" total more often than under. With the Mets getting healthier in 2020, expect that number to grow.
Bet the "Over" When the Mets Play the NL East
New York Mets:41-26-9 61.2%
Boston Red Sox 41-32-3 56.2%
Baltimore Orioles 41-32-3 56.2%
In what may be a very shocking number to some, there were a ton of runs scored when the Mets faced off against a division opponent. In games against the Nationals, Braves, Phillies, and Marlins, 61.2% of all Mets games resulted in the over. With only 26 "unders" between division foes, we can expect a lot of runs scored again between the Mets and their NL East rivals.
Robinson Cano to Bat Third?
Back in action today as we host Miami. #LGM

?: Clover Park
?: 1:10 p.m.
?: @Noahsyndergaard
?: @SNYtv
?: https://t.co/oc39Jl8V7r pic.twitter.com/7WDmjUTbH9

— New York Mets (@Mets) March 3, 2020
Quite often during spring training, veteran second baseman Robinson Cano has batted third in the Mets lineup, behind either Brandon Nimmo or Jeff McNeil and ahead of Peter Alonso. Cano has been adamant that he will return to form in 2020 given his health, and Mets fans are hoping so too after Cano posted career-lows in batting average (.256) and OPS (.736). With protection in front of and behind him in 2020, Cano is far more likely to hit closer to his .302 career average.
Mets Mic'd Up
The @Mets were the latest team to get mic'd up, and it was amazin'. pic.twitter.com/2UxfGmvOEs

— MLB (@MLB) March 5, 2020
Pete Alonso and the Mets have been mic'd up in spring training, and fans and other MLB players have loved it. Alonso discussed why he ended up at Florida over Florida State, and even gave the broadcast team a break with some play-by-play. Listen to this.
"The pitch, the relay" ? @Pete_Alonso20 (via @Cut4) pic.twitter.com/dx88xPqPPh

— SNY (@SNYtv) March 4, 2020
Will we see more players mic'd up? We sure hope so, Alonso was very entertaining.