What's worse these days for Yankees fans: watching the Bombers lose in frustrating fashion, or having to listen to manager Aaron Boone try to put a positive spin on it all during his postgame media session? It's probably a toss-up at this point.
However, there's a way to make it better if you do subject yourself to that kind of punishment after a Yankees loss. I mean, many of us do it with our favorite teams for some reason we can't explain.
Even the Jomboy guys like to have a little fun with the constant phrases Aaron Boone enjoys tossing around:
— Talkin' Yanks (@TalkinYanks) August 2, 2023
Are there enough repeated phrases to make a legit Bingo card out of it? You bet your bottom there are. Twitter user Nick (@YNWA9623) shared the following picture with me during the craziness that was the trade deadline and I haven't been able to get it out of my head. So I obviously needed to share the love with you all: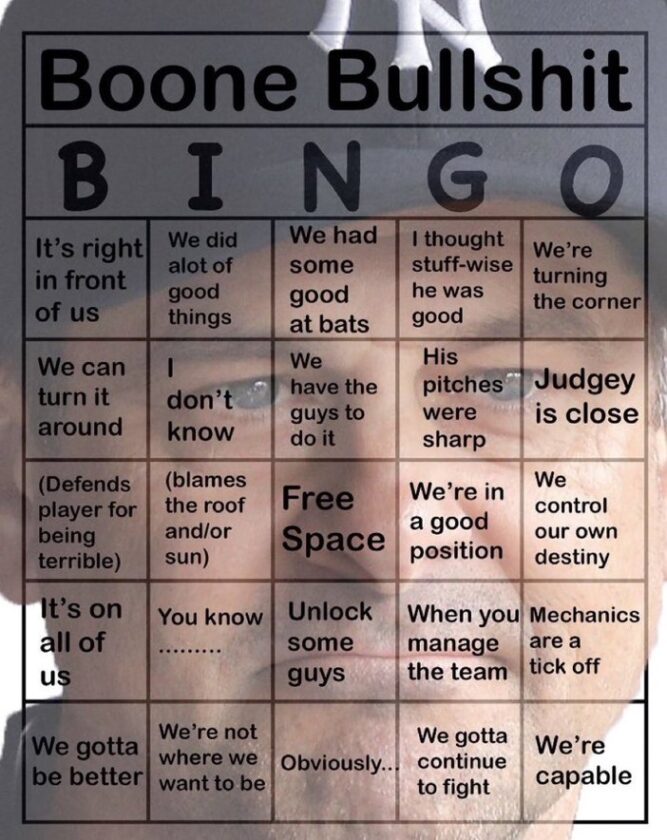 If you are the person who made this — or you know who did — please let us know. We want to properly credit them because it's spectacular.
There are so many possibilities while being in possession of this Bingo card. My best suggestion is to have this thing in one hand and an adult beverage (if you're able to have one) in another. That seems like the best way to get the full experience with this.
The most important fact is there's now a legitimate reason to keep the YES Network on after another frustrating loss by the Bombers. At the very least, it can help you have a laugh for a few minutes before heading off to bed. That has to be worth something.
You can reach Matt Musico at [email protected]. You can follow him on Twitter: @mmusico8.