Hitting .033 in June is a slump so bad that it's enough to put the guy laboring through it off his food.
In this case, that player is Anthony Rizzo. The Yankees' beloved first baseman hasn't been the same since injuring his neck last month. One hit in 30 June at-bats makes his slide seem endless.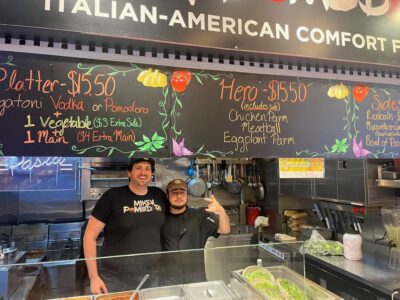 Lucky for Rizzo, local restauranteur Mike Miranti might have the cure. He and business partner Marco Cattafesta run Mikey Pomodoro, Urbanspace Vanderbilt's one-stop shop for your favorite Italian comfort foods. Whether you want a chicken or eggplant parm in slider or hero form, or other classics like sausage and peppers or meatballs, they've got you.
They also have something special on their secret menu: the Anthony Rizzo Hero.
A little context. Mike, despite growing up in Queens surrounded by Mets fans, loves the Yankees.
"I'm very lucky," he says. "I incorporate the Yankees into everything I do. The Yankees are tattooed on me."
He isn't kidding, nor are the Bronx Bombers exclusive to the secret menu at Mikey Pomodoro. On a shelf behind the counter, right next to an embroidery featuring a very colorful line about pasta from "The Sopranos," sits an Aaron Judge tiki.
But the Yankees didn't truly sneak behind the scenes until the summer of 2021. Joey Gallo and Anthony Rizzo were both traded to the Yankees. One nice Italian boy then took the culinary ball and ran with it.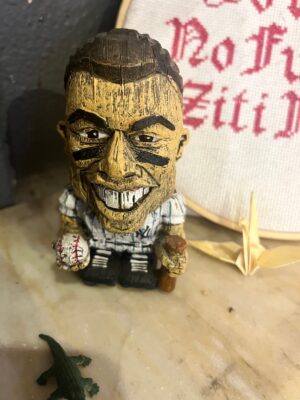 The Gallo, though delicious, didn't work out. A simple combination chicken and eggplant parm hero was still fitting. Mike also has plans for an Anthony Volpe special down the line, and perhaps Harrison Bader, who's half-Italian himself.
In the meantime, though, the Rizzo Hero lives on. Its form? A meatball parm hero smothered in spicy vodka sauce.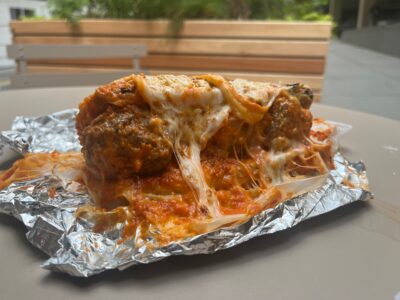 "Where I grew up, a lot of the delis have sandwiches named after people," Mike said. "I was like, 'Let's go all-in. Let's have some fun.'"
The Yankees fans turned up in droves to eat and still are today.
But what of Anthony Rizzo himself? One fan in this city loves and respects him to the point of naming a sandwich at his restaurant after him. Anyone who's watched "Curb Your Enthusiasm" understands this well. Would eating his namesake sandwich break Anthony Rizzo out of his slump?
"I don't think it could hurt," says Mike, who dreams of serving Rizzo one day. "I'd be so happy. I think he was born to be a Yankee, truly."
Mike and Marco are not professional chefs, though they have over two decades' worth of restaurant experience between them. They're "passionate home cooks," meaning the love that goes into the vision is the most important ingredient.
This city loves Rizzo despite his recent struggles, and maybe he's forgotten that. Thus, it's time for him to get to Mikey Pomodoro and eat.
And for the rest of you, get to Urbanspace Vanderbilt yourselves. Si mangia.