It's been well established around these here webpages at ESNY that the people still love former Yankees outfielder Brett Gardner.
He hasn't played for New York since 2021. However, it took the Yankees until this spring to give his locker away. The Bombers let Aaron Hicks take over ownership of it, which irked a bunch of Yankees fans. Mostly because many still think Gardner could outplay Hicks for the left-field job that just might be his to lose with about two weeks until Opening Day.
No matter how hard some try, Gardner won't be suiting up in the big leagues again. He'll soon be two years removed from his last game. It's not like his final year with the Yankees was anything worth writing home about — he slashed .222/.327/.362 in 461 plate appearances. Last, but most certainly not least, the outfielder will also be turning 40 in August.
It's officially over, folks. Now that some have accepted this, the focus has shifted to showing just how good he was during his 14-year MLB career. One Reddit user spent some time on Baseball Reference's Stathead tool and found a way to put Gardner and Honus Wagner in their own exclusive group: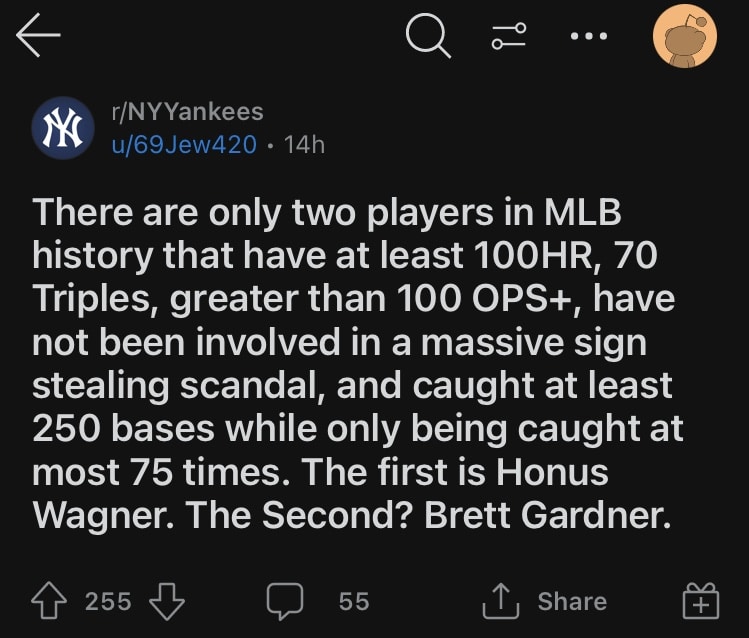 If you want to go see the post for yourself, you can do so here.
This is something, isn't it? There's some clear jerry-rigging going on to only have Gardner and Wagner in this group. The "involved in a massive sign-stealing scandal" part was included just to get rid of Carlos Beltran.
There are two obvious flaws in this fan's logic here.
One is the exclusion of Beltran. Yes, he was involved in the Houston Astros' sign-stealing scandal in 2017. In fact, the outfielder/designated hitter was the only active player from that year specifically mentioned in the report. But let's not kid ourselves. It's not like Beltran only hit the above benchmarks because of his 2017 performance. He slashed .231/.283/.383 with 14 homers and 51 RBI in 509 regular-season plate appearances that year before officially retiring.
The other is that Gardner technically shouldn't be included based on how it's worded.
Wagner racked up 101 home runs, 252 triples, 723 steals, and was caught stealing 26 times (a stat that didn't start getting tabulated until the end of his career). He did it all with a 151 OPS+. Meanwhile, Gardner hit 139 home runs while racking up 73 triples, 274 steals, and was caught stealing just 64 times. However, his career OPS+ is exactly 100.
Obviously, this is a technicality and we're just nitpicking because it's fun. But heck, even if we take out the sign-stealing scandal bit and change the OPS+ to 100 or higher, Gardner being in the same group as Wagner and Beltran is still pretty cool.
Matt Musico can be reached at [email protected] and you can follow him on Twitter: @mmusico8.