Sorry, Gerrit Cole; New York Mets ace Jacob deGrom is still the best pitcher in town thanks to a couple of enormous differences.
By the numbers, Jacob deGrom and Gerrit Cole are strikingly similar pitchers. The difference between their 2019 ERA was 0.07 points. DeGrom kept his home run and walk rates narrowly lower than Cole's, but the new New York Yankees ace won the FIP and ERA+ battles. Cole had eight more innings pitched; he also had four more walks.
They're both elite pitchers, likely two of the three best in the sport. But there's one enormous difference.
The New York Mets horse has proven himself in New York. Cole hasn't yet proven that he can sustain success outside of Houston.
Of course, Cole wasn't bad as in Pittsburgh. After putting up a 3.45 ERA in his age-22 and 23 seasons combined, he broke out in 2015, going 19-8 with a 2.60 E.R.A. But he couldn't keep it up.
Over the next two seasons in Pittsburgh, Cole's ERA rose to 4.12. It took a move to the Astros and their unparalleled pitching development team to harness his talent.
Cole's career, in other words, looked a lot like Noah Syndergaard's: one great season (Syndergaard also had a 2.60 ERA in 2016, his best year), followed by a drop-off. But the Astros, perhaps the most analytically and technologically-savvy organization in baseball, managed to point Cole in the right direction.
DeGrom, meanwhile, has never played for an organization like the Astros. He's had three different pitching coaches in six seasons, and in 2020, he will welcome a fourth. He's pitched for famously-meddling owners who have allegedly ruined pitchers before. And meanwhile, he's done nothing but shine. His career 2.62 ERA, all as a Met, is lower than Cole's ERA in Houston. Can you imagine what deGrom would do as an Astro?
Don't get me wrong, Gerrit Cole is a dominant pitcher, and he makes the Yankees even more intimidating than they already were. But he's spent the last two years pitching in almost perfect conditions.
He's pitched for an organization has, by all accounts, worked harder and more efficiently to help its players succeed than any other team in baseball. Cole has been great as an Astro, but before he had Houston's development infrastructure to improve and maintain his game, he was inconsistent. And in New York, he'll run into a host of issues.
For instance, can Cole handle New York media? The moment the Astros lost the 2019 World Series, Cole went into a state of almost shocking lack of interest. As if to express his haste to leave Houston, he donned a Boras Corporation cap, then announced, "I'm not employed by the team."
Obviously, it's tough to lose a World Series, and Cole was surely also annoyed that he didn't have a chance to pitch in relief in Game 7. But that's the kind of line that can ruin a player's relationship with a team and a city for a long time. Tom Glavine has barely been able to set foot in New York since he announced, following his implosion on the final day of the 2007 season, costing the Mets a chance at the playoffs, that he was disappointed, but "not devastated."
Can Cole keep himself composed and positive under the glare of New York City lights? We don't know yet.
Meanwhile, with the Yankees, Cole's pitching coach will be Matt Blake, who has never been a major league pitching coach before. In Houston, Cole worked with Brent Strom, a long-time MLB pitching coach who was named Baseball America's MLB Coach Of The Year in 2018.
If Cole is slow out of the gate, an unproven pitching coach will face the enormous task of correcting and maintaining the most expensive pitcher of all time, in the biggest baseball city in the world. Matt Blake, by all accounts, is an intelligent coach and observer of baseball, but can he handle something like that?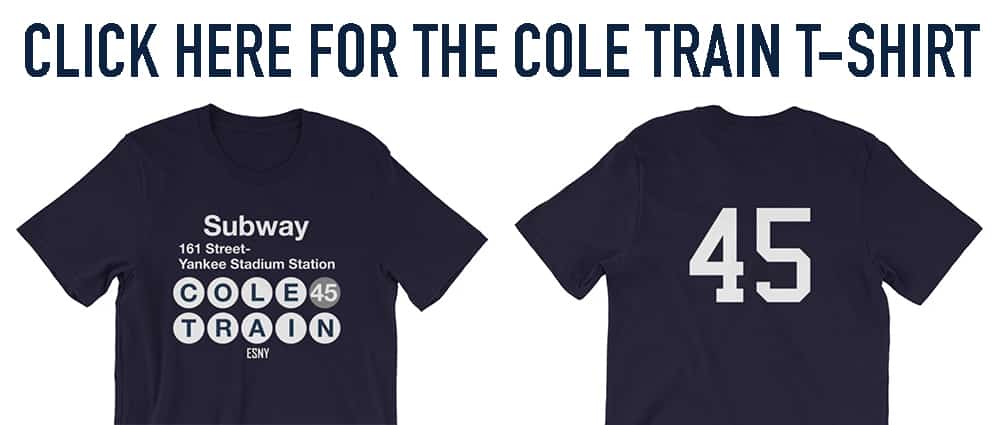 The answer is that we don't know because neither Cole nor Blake has ever needed to. Cole is a great pitcher. More than likely, he'll have several dominant years with the Yankees. But pitching in New York isn't the same as pitching in Houston. Some pitchers can handle it; some can't. We don't know which category Cole falls into yet.
One thing we do know, however, is that Jacob deGrom can handle New York. While the Mets have sputtered and coughed around him, deGrom has taken the mound every fifth day and pitched his way to two straight Cy Young awards.
Angry New York fans, contentious front offices, aggressive reporters, big-apple pressure, coaching turnover—Jacob deGrom has proven he can handle it all. For now, Cole hasn't.
Welcome to the baseball jungle.