Canelo Alvarez will return to middleweight after vacating his portion of the title to become a four-time champion at 168 and light heavyweight.

Canelo Alvarez is the richest fighter in boxing with a 12-fight, $375 million deal with DAZN in association with Matchroom Boxing. Saturday night at Barclays Center, even though Alvarez was in Saudi Arabia, watching fellow Mexican Andy Ruiz drop the heavyweight titles to Anthony Joshua, his name was prominent.
Jermall Charlo made his statement at Barclays with a seventh-round knockout over Dennis Hogan. Charlo retained the WBC middleweight title.
He wants Canelo. He is seeking the best in a division that is one of the elites in boxing. Charlo, known as the future of boxing, has the ability to make a lot of money and if it's against Alvarez, that is the start.
He could also be in for a potential fight against top middleweight contender Daniel Jacobs, the former champion from Brooklyn.
Either way, Jermall Charlo made a statement Saturday night in Brooklyn. The boxing world knows about Charlo and his younger twin brother Jermell, also a contender at 160 and below.
Both know how to make money and are promoted under the PBC banner. Most of their fights are televised on Showtime. They draw and are never at a loss for words and as we all know, brash fighters pique the interest of boxing fans.
Jermell gets another opportunity on a PBC FX 1 televised card. He will attempt to regain the WBC junior middleweight title against Tony Harrison in two weeks at the Toyota Arena in Ontario. California.
The 29-year-old from Houston (30-0, 22 KOs) became the middleweight champion in June when Canelo Alvarez went up in weight and vacated the title. Saturday night, he dominated the fight.
Charlo made it known after the knockout that he is ready for the challenge. Hogan went down two times in the fight and for the third time in his career. This was a challenge that Charlo accepted and one that Hogan took for the first time at 160.
"The middleweight division is wide open," said a smiling Charlo. "I'm going to enjoy this. I'm here to fight whoever. You have to make the right decisions and do it at the right time. That's what it's all about."
Despite throwing far fewer punches, Charlo had the more effective and efficient attack. Charlo landed 86 of the 266 punches he threw (32%) while Hogan landed just 71 of the 418 punches he threw (17%). Despite Hogan landing on 61 power punches compared to 57 for Charlo, Hogan was unable to hurt Charlo, as the trademark power resulted in another highlight-reel stoppage.
"We've been working on that (the uppercut). I try to take him out with every punch and we work hard for it.  He got up and he fought like a champion," Charlo said.
The PBC promoted fighter, credited trainer Ronnie Shields for this latest win.
"Ronnie told me to cut him off," Charlo said. "I just threw the shot and I made sure I threw it right on the money." Hogan (28-3-1), the 34-year old from Ireland, fighting out of Australia, lost his second-straight title fight after losing to junior middleweight champion Jaime Munguia in April.
But this was all about Charlo. He went into this fight with the knowledge that Hogan was not going to go down easy. The Barclays Center has become his second home and a potential fight with Jacobs, something that could occur, would put his undefeated streak on the line.
Jacobs, the top-rated middleweight and is scheduled to fight Julio Cesar Chavez Jr. in a supposed title eliminator Saturday, Dec. 20 streaming live on the DAZN Network from Phoenix, Arizona.
"I want the most explosive fights," Charlo said. "I want to put myself to the test. It's all about the time. I got the WBC belt moved up from junior middle. Don't let the politics and networks fool you, I'm here to fight. Canelo. I'm taking the fights as they come."
And they will come more often. He is the champion and depending on what Canelo Alvarez decides next, that could be a championship fight to anticipate in 2020.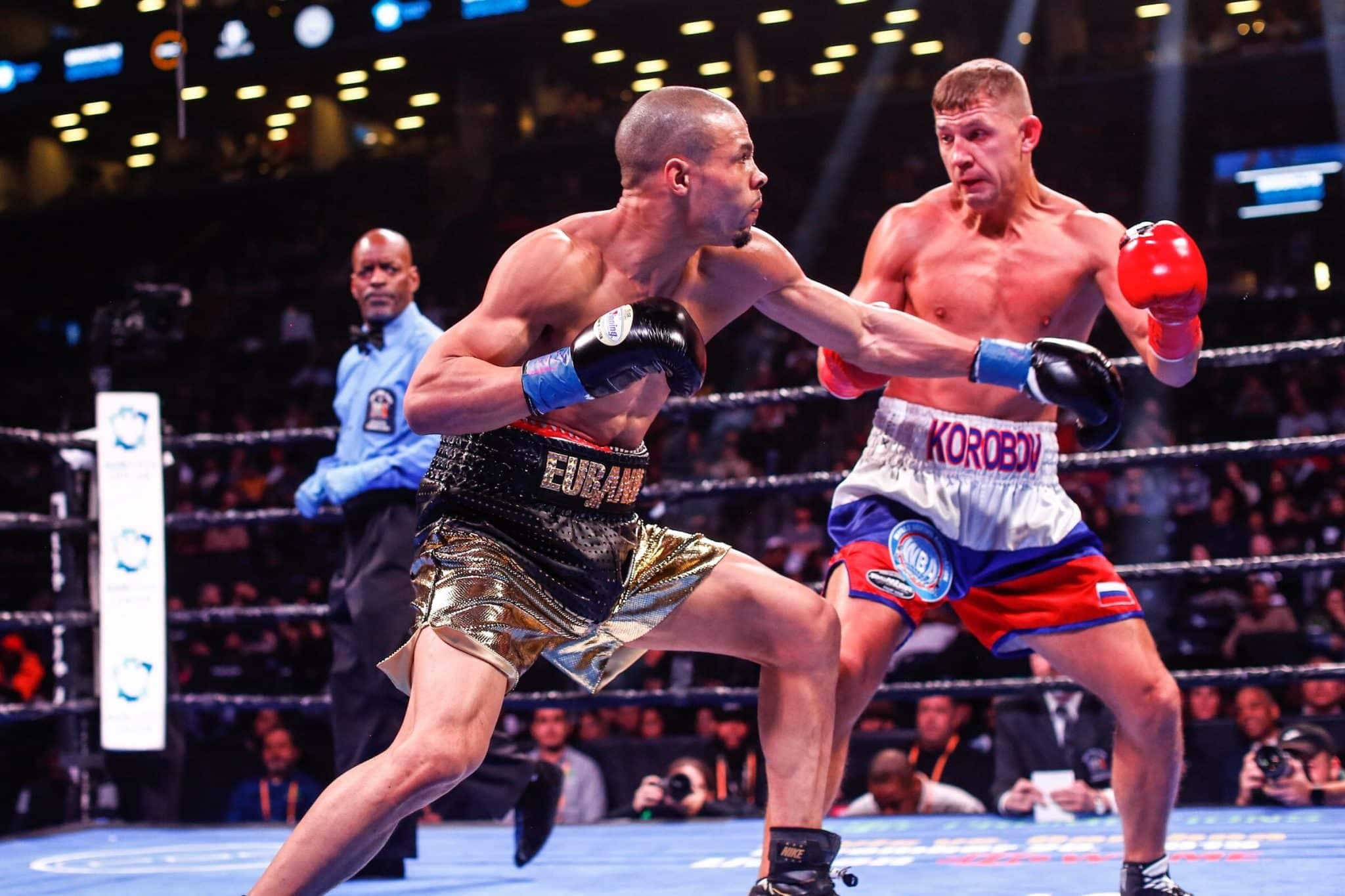 In the co-featured bout, Chris Eubank Jr.'s (29-2, 22 KOs) long-awaited United States debut ended in frustrating fashion as his opponent, Matt Korobov (28-3-1, 14 KOs), suffered a bout-ending injury at just 34 seconds into the second round.
Because it was ruled a self-inflicted injury, the result was officially declared a TKO victory for Eubank, who picked up the interim WBA middleweight title.
Korobov, a top contender in the middleweight division, injured his left shoulder after throwing a punch that failed to land. After consulting with the ringside doctor, it was deemed that he would be unable to continue.
"I felt like I was about to get my swagger on," Eubank said. "He just turned around and stopped. I was going to go jump on him. I guess something happened with his shoulder. There's nothing to take from the fight. I threw like three or four punches. I was just warming up."
Eubank, son of former two-time world champion Chris Eubank Sr. said he was looking forward to challenging for the other titles in the division.
"I'm the winner, I'm going to move forward and challenger for these belts," said Eubank. "This wasn't my dream. My dream was to come here to America and make a statement. Now that I've landed and I settled with the new promotional team, I feel I can get the ball rolling for an active 2020. It's a shame it had to start like this, but it is what it is."
This was the first of consecutive Saturday boxing shows in New York City. Next Saturday night at Madison Square Garden, Terence Crawford defends his WBO welterweight title against Egidijus Kavaliauskas on the Top Rank card that will be televised on ESPN.