The 2019 season ended in heartbreaking fashion for New York Yankees fans. But there are at least 20 reasons to get hyped for 2020.

After a tough ALCS defeat in 2019, New York Yankees' faithful are likely stuck in a 13 Reason's Why–style, 20/20 hindsight look back. But the thing about sports is that following every failed season is a fresh new start.
Grading, evaluating and generally rehashing the Bombers' 2019 will not add one molecule of meaning to the resulting disappointment. Bury the season under a tombstone that reads, "Another Wasted Year" and focus on 2020 World Series hopes, which will live for at least the next several months.
In honor of those 2020 expectations, here are 20 points (in absolutely no particular order) about the New York Yankees that should inspire eager anticipation of the coming MLB season.
1. Domingo German could get even better
According to reports, Domingo German won't get the full hammer drop from the MLB for the domestic indiscretion that cut his 2019 short. If that's true, he could have ample opportunity to improve on his breakout season—barring a surprise Gerrit Cole signing or someone like Jordan Montgomery or Jonathan Loaisiga permanently sinking his hooks into a rotation spot.
Even if that happens, though, he could turn into a weapon of mass batter destruction out of the bullpen. Could that even be the reason Dellin Betances is as yet unsigned at the time of this writing?
2. There's a new pitching coach in town
With a new season comes changes to the coaching staff. Most notably, Larry Rothschild, the Yankees' pitching coach from 2011 to 2019, got the ax.
His replacement is a whiz kid named Matt Blake. A mere 34 years of age, Blake's background blends high-tech pitching analytics with a degree in psychology.
If you were curious what Matt Blake is going to be like as the new Yankees pitching coach, go listen to our two interviews today with guys who have worked with him first hand. I promise you will be all in on this guy. https://t.co/x6YQRvIRky pic.twitter.com/xWiSqGLYa7

— Eric Hubbs (@BarstoolHubbs) November 14, 2019
Perhaps he can use his knowledge of the human psyche the next time Aroldis Chapman or Betances loses the strike zone, stopping the bleeding in a few outings rather than letting it flow for months at a time.
Maybe Blake can even turn J.A. Happ back into some semblance of the beast that he was he joined the Yankees in 2018.
3. Aaron Boone can get a "triple-triple"
Anyone who listens to Colin Cowherd and his sidekick Joy Taylor for a few minutes will likely hear them go gaga over Lamar Jackson. Listeners will possibly even hear the term "double triple" tossed out from time to time.
The phrase is a reference to the young quarterback's proclivity for posting triple-digit performances in both the passing and running game. That's great and all, but Aaron Boone actually has a chance to one-up Jackson with a "triple."
In his first two years as a manager, he led the Bombers to 100 and 103-win seasons, respectively. In 2020 he can go for the triple-digit three-peat. Get on Boone's level, Lamar!
4. Mantle and Maris 2.0…finally?
If the Yankees have 99 problems, Aaron Judge's injury history is one. Giancarlo Stanton's is another.
Since tantalizing the baseball world with a record-breaking 52-homer rookie year in 2017, Judge has only played in 214 games. Stanton showed up in just 18 games in 2019, his second season with the Bombers.
When the Yanks traded for Stanton, he was coming off a 59-blast season with the Miami Marlins. Everyone expected him and Judge to be the next Mantle and Maris. Fortune has not favored the pair, though. Judge has put up back-to-back 27-dinger years to Stanton's 38 in 2018 and three in 2019.
A friendly Bronx bombs race between the two teammates in 2020 might shake the injury-prone labels they're in danger of earning.
5. Deivi Garcia could make the team... and Jasson Dominguez exists
Without a doubt, the Yankees' most-gawked prospects are pitcher Deivi Garcia and outfielder Jasson Dominguez. Per the possibly overblown buzz that surrounds them on Twitter, the question is not if but when they will arrive on the scene in the Bronx.
Garcia almost cracked the Yankees' pitching staff at the end of 2019. The 20-year-old will have a chance to prove in spring training that he deserves a shot at starting 2020 with the big boys.
Dominguez won't even be able to drink legally until 2024, so ridiculous circumstances would have to transpire for fans to see him take his first hacks against MLB pitching next season. However, that shouldn't stop anyone from watching his progress in the minor leagues.
Good morning. Jasson Dominguez is going to be a problem.

Just close your eyes and listen. #Yankees pic.twitter.com/RHY3O60VX4

— Prospects 365 🎄 (@Prospects365) November 20, 2019
6. Sevy has a chance to reclaim his ace label
Luis Severino rode a rough second half of 2018 into an even worse postseason and then plowed into a wall of injuries in 2019. When he finally got back in September, he pitched well enough to earn two starts in the playoffs, but not as the staff ace.
James Paxton took Game 1 of the ALDS, and Masahiro Tanaka opened the ALCS.
The New York Yankees signed Sevy to a four-year, $40 million contract right before the injury chain reaction that destroyed his 2019 regular season. If he can prove that the 2.98 ERA he posted in 2017 can become the norm, he'll be one of the best deals in the MLB for the next three seasons.
7. The New York Yankees will finally be Ellsbury-free
Finally, the Yankees are free of the dead weight known as Jacoby Ellsbury. However, they're not relieved of the $26,142,857 they owe him in 2020—yet.
New York is exploring the possibility of recouping some of their millions, based on a technicality.
But even if the Bombers don't make Ellsbury pay for the horrific business decision they made by signing him, opening up his roster spot is well worth the lost dough.
8. There will be new acquisitions to watch
Watching new pinstriped performers is always a reason to look forward to a coming season. The Bombers have yet to make a major move—just a Zack Granite signing and future cash considerations from a Nestor Cortes Jr. trade so far.
But the MLB hot stove is still preheating. The Bombers have already had meetings with top free-agent pitchers Gerrit Cole and Stephen Strasburg. Apparently the team desperately wants Cole in its stocking for Christmas, but Yankees fans are recently becoming accustomed to such grandiose, anonymously sourced claims falling flat.
Regardless of what happens with Cole and Strasburg, there are certainly Yankees moves coming quickly down the pike, whether via trade or signing. Already New York has been linked to players like Blake Treinen, Madison Bumgarner, and Josh Bell.
9. Gleyber Torres could become an MVP candidate
The 2020 season will be year three in the saga of Gleyber Torres.
He was unfortunate enough to share his first year with fellow rookie sensations Shohei Ohtani and Miguel Andujar, so his incredible 2018 earned him a third-place finish in the ROY voting.
Instead of suffering a sophomore slump in 2019, he stepped up in almost every offensive category, crushing 38 home runs and posting a .871 OPS. He even received MVP consolation votes.
But another uptick next season could garner legitimate MVP consideration for the exciting for the man who will be only 23 years old in 2020.
10. The uniforms will feature a new wrinkle
MLB laundry is due for a slight universal change in 2020. Thankfully, it's not the addition of ads like the NBA's recent jersey change. That slippery slope leads to uniforms that look like a misplaced NASCAR pileup.
Leaked graphics for the 2020 season show a Nike swoosh on the front of New York Yankees on-field uniforms. (note, the image attached to this tweet is not the leaked graphic) #MLB #Nike #Yankees

Details, pics: https://t.co/lW2ad7NyKq pic.twitter.com/y95uRf5egL

— Chris Creamer (@sportslogosnet) June 7, 2019
It'll just be a simple Nike swoosh on the right pectoral. But to the traditional Yankees, it might as well be a change from baseball pants to the skirts from A League of Their Own.
Will this tiny alteration start the team down a path that leads to facial hair and flowing locks?
11. It will be the next step for the next men up
An avalanche of injuries could have decimated the Yankees in 2019. Instead, the #NextManUp storyline took over and saved the Bombers' butts.
German stepped up and replaced Severino by leading the MLB with a .818 winning percentage (18-4). Mike Tauchman was far better than duct tape in the outfield, slashing .277/.361/.504. And Gio Urshela took over at third base for Andujar by posting a .889 OPS and hitting 21 homers, obliterating his previous career-high of six taters.
Other guys like Mike Ford and Thairo Estrada also made their marks. One of the main storylines to watch in 2020 will build around whether or not these replacement heroes can keep up the good work.
12. The Yankees may take extreme measures to avoid Astros' sign-stealing
Necessity is the mother of invention, and when the New York Yankees head to Texas to play the Houston Astros in May, the meeting could necessitate some interesting innovations for hiding signs. Consider the following ideas:
Have someone stationed in the seats behind home plate with something shiny to reflect the blinding light into the centerfield cameras, which may or may not be nefarious.

Swap out Gary Sanchez's leg guards for hockey goalie pads so that the Houston batters won't be able to peek in at his signs.

Keep it Astro's themed and give whoever's catching a tiny rocket for launching the pitch calls to the hurler.
The Yankees feel especially cheated by the Astros' subterfuge after falling to them in the ALCS in both 2017 and 2019. The Bombers have every right to be paranoid.
13. New York could get another unanimous HOF selection
In 2019, New York Yankees legend Mariano Rivera became the first unanimous Hall of Fame selection in MLB history. Another Bombers great is making his debut on the HOF ballot in 2020, and Rivera's unprecedented success is fueling speculation that this next guy up could also be unanimously enshrined.
That man is of course none other than the great Derek Jeter.
The Captain is a surefire first-ballot Cooperstown resident. He's sixth on the MLB's all-time hit list, has five World Series rings, and slashed a tidy .310/.377/.440 for his career. What's more, he was a consummate pro, which should mean voters have zero non-baseball reasons to leave him off their ballots.
Unanimous HOF approval is a bit much to ask for; Jeter managed only 260 career homers and had only one 100-RBI season. However, he should have a decent shot at beating out fellow shortstop Cal Ripken Jr.'s 98.53 percent, which is currently the fifth-highest vote percentage in history.
14. Miguel Andujar will be back (or he'll have been swapped for a significant piece)
Remember Miguel Andujar hitting .297/.328/.527 with 27 HR and 92 RBI as a rookie in 2018? A 2019 lost to shoulder surgery shouldn't dampen the excitement for what year two could be, especially with Torres providing a template for incredible possibilities.
A high offensive ceiling combined with the Yankees' discovery of Urshela does make Andujar a prime trade piece. Another factor that makes him trade bait is his defensive woes, which will look extremely bad in light of Urshela's 2019 glove genius.
But if they do move Miggy, the return should be almost as exciting as watching him blossom. So, either way, Andujar is a perfect reason to get pumped for 2020 Yankees baseball.
(Side note: If the Bombers keep Andujar and he continues to improve as a hitter, he needs an upgraded nickname to match—and to avoid confusion with the great Miguel Cabrera and pretty much every other athlete who shares the name Miguel.
Maybe something silly like Jar Jar Rakes? Stranger things—including another Star Wars reference—have appeared on the backs of jerseys during Players Weekend.)
15. No more annual Greg Bird letdown
Survey Yankees fans, and you'll likely see that Bombers fans hate to see Greg Bird leave, but they love to watch him go. The Bird story is a tragedy, but there's still time for a happy ending—with another team, that is, since the Yankees designated him for assignment in November.
Bird's lefty power swing seems like it was sent straight from heaven to the short right-field porch in the Bronx. However, he was too fragile to ever give the Yankees a full season, maxing out at 82 games in 2018.
He also hasn't hit above .199 since he dazzled as a rookie in 2015. Most New York fans will not miss the annual letdown of watching Bird blast in Spring Training and then rehab various injuries for the bulk of the regular season.
Bye-bye, Birdie.
16. A new rallying cry could emerge
Watch a replay of a game from late in the 2019 season, and you might think that the New York Yankees were sponsored by the Shake Weight. As funny as such an advertising ploy would be, they were actually mimicking Brett Gardner's bat-banging catharsis, defying MLB's disapproval of the gesture.
The cheeky celebration blended perfectly with Aaron Boone's viral "savages" comment and the season-long #NextManUp sneer at fate. These rallying cries brought to mind the thumbs-down from 2017 and planted hope that similar storylines will develop in 2020.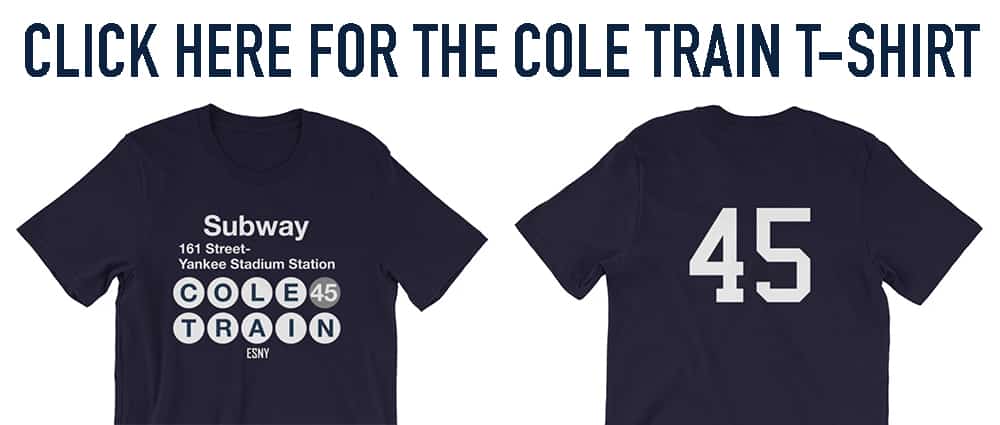 17. Luke Voit could deliver a full season
One reason to look forward to 2019 was to see Luke Voit in action for his first full season in the MLB. That anticipation was inspired by his incredible 2018 when he racked up a 1.095 OPS, 14 HR, and 33 RBI in 39 games with the Yanks.
However, he only played 118 games due to a hernia. And when he returned from the injury, he wasn't the same, hitting just two homers in his final 24 games.
If the muscle-bound slugger can find a way to avoid tweaking his extra bulk, he still has 30-40 bomb potential. Voit just might catch fire and challenge Judge and Stanton for the team's internal power crown in 2020.
18. There's a chance to get revenge on Sonny Gray
During his time in New York, Sonny Gray gave local sports scribes more pickle puns than wins to write about. Then, he blamed the Bombers' pitching philosophy for his failures as he peeked out from behind the skirts of his new team, the Cincinnati Reds.
In 2020, Sonny will return to the scene of his collapse when the Reds visit the Bronx for a three-game set in mid-April. If the baseball gods are at all benevolent, they will allow Gray's rotation spot to come up in one of those games.
Please, great deities of America's Pastime, give fans a chance to boo Gray, and his former teammates a chance to tee off against him. Amen.
19. Jordan Montgomery is back
At the end of this past season, Jordan Montgomery played his first game since May 2018, when an arm injury led to that ubiquitous surgery named for Tommy John.
Montgomery pitched just four innings in 2019, giving up three runs while shaking off a ton of rust. However, his numbers before the lengthy absence are what should have fans salivating for a chance to see him in 2020.
He went 9-7 with a 3.88 ERA during his rookie campaign in 2017, giving up only 140 hits in 155.1 innings. In 2018 he was 2-0 with a 3.69 ERA in six starts prior to the fateful injury.
Gumby could easily win a rotation spot in the spring. But even if he ends up in the pen, his nasty southpaw hook could yield excellent returns:
Jordan Montgomery's filthy Curveball that froze Joey Votto pic.twitter.com/7TyOsC8n5N

— Pitcher List (@PitcherList) July 26, 2017
20. It's the start of a new decade
The 2019 season capped off a rare decade devoid of a New York Yankees championship. It's the first since the 1980s and only the second in a century.
But 2020 is the beginning of a new decade, a new century. The Bombers followed up their title-less 1980s with three Commissioner's Trophies in the 1990s. They also won three championships in the 1920s, the decade that initiated their winning tradition.
These new '20s just might feature a heck of a progression to the historical mean.
One more thing
Ironically, any reader who has made it this far probably needs no new reason to watch the Yankees in 2020.
If the Yankees are on, so is the TV or the radio. When life gets in the way, the internet is off-limits until after the replay. So on and so forth, through the championship seasons, the sub-.500 horror shows, and everything in between.
Such die-hards are why the New York Yankees must turn the above 20 reasons into a World Championship, hopefully creating even more true fanatics.