While the New York Yankees will be attempting to make improvements to their bullpen this offseason, Blake Treinen isn't a guy to target. 

Entering this offseason, the New York Yankees certainly didn't envision making any major changes to their bullpen.
Veteran reliever, Dellin Betances as the lone pitcher out on the free-agent market from the back-end of the Yankees' bullpen. That makes General manager Brian Cashman job easy. He'll likely only need to add one new arm this winter who can pitch in high leverage situations next season.
Earlier this week, Ken Rosenthal of The Athletic, reported that the Yankees were interested in trading for Oakland Athletics reliever Blake Treinen. However, Cashman will no longer need to acquire Treinen through trade. Treinen became a 31-yer-old free agent Monday when he was non-tendered.
The A's were due to owe Treinen around $8 million through arbitration this winter. That would have been a $1.6 million increase from his 2019 salary. Based on his performance this past season, the Athletics decided to save that money instead of keeping Treinen around.
The Stats
This past season, Treinen threw 58.2 innings and recorded an awful 4.91 ERA, 5.14 FIP, 5.01 XFIP, 1.62 WHIP, 88 ERA+, .254 OPP AVG. He also posted an abysmal -0.3 fWAR.
The veteran reliever struggled to keep runners off the bases with his 13.9% walk rate. He also failed to keep the ball in the yard with his troubling 16.4% HR/FB rate this past season.
During his All-Star 2018 season, Treinen led all qualified relievers in ERA (0.78) and fWAR (3.6). Treinen also produced the second-lowest FIP (1.82) and the ninth-lowest HR/FB rate (4.4%).
it's easy to see why teams would be interested given these impressive results from just a season ago. It's also very concerning that Treinen wasn't able to replicate any of these numbers this past season.
What's also troubling about Treinen is the number of hard-hits and fly balls he surrendered this past season compared to the 2018 season. Treinen gave up a 36.7% hard-hit rate in 2019, which was a 7.5% increase from 2018. The free-agent pitcher also recorded a 33.1% FB rate this past season, a 9.3% increase from his 2018 performance.
One of the biggest risks that would come with the New York Yankees signing Treinen this offseason, is the alarming number of home runs he allowed in 2019. Over his 58.2 innings in 2019, Treinen generated a 1.38 HR/9 (a 1.16 increase from 2018) and a 16.4% HR/FB rate (12% increase from 2018). Given the small confines of Yankee Stadium, the Yankees couldn't afford to have Treinen become a liability while pitching at home.
His Stuff
Treinen also suffered significant decreases in his velocity with three of his four pitches.
Starting with his primary pitch, Treinen's sinker sustained a 0.8 MPH drop this past season. Opponents pounded his sinker in 2019 compared to 2018. He saw a .069 OPP AVG increase, .056 xAVG increase, .184 SLG increase, .086 xSLG increase, and a .111 wOBA increase as well.
Treinen threw his cutter 8.6% more this past season. However, like with his sinker, he witnessed a 0.8 MPH decrease in velocity.
Throughout the majority of his career, Treinen's most effective pitch has been his wipe-out slider. Treinen's cutter sustained a .173 OPP AVG increase, .097 xAVG increase, .141 SLG increase, .101 xSLG increase and a .161 wOBA increase from the 2018 season. However, his breaking ball wasn't near as devastating during this past season, which largely affected the success of his cutter.
Treinen saw a 0.7 MPH decrease and utilized his slider 8.7% less in 2019. Treinen's strikeout pitch produced a 45.9% strikeout rate, an 11.1% decline from 2018, and a 32.8% whiff rate. His whiff rate was a 19.3% decrease from his 2018 performance. Along with a drop in velocity, Treinen's slider also endured fewer inches of horizontal and vertical movement this past season.
Whether it was because of his delivery on the mound or his grip of the pitch, Treinen's breaking ball began to break less. specifically, Treinen's slider broke less horizontally this past season. During the 2019 season, Treinen's slider created a total of 3.2 inches of horizontal break and averaged -0.5 inches per pitch throughout the entire season. Treinen sustained a 1.7-inch decrease in his average horizontal movement on his slider compared to 2018.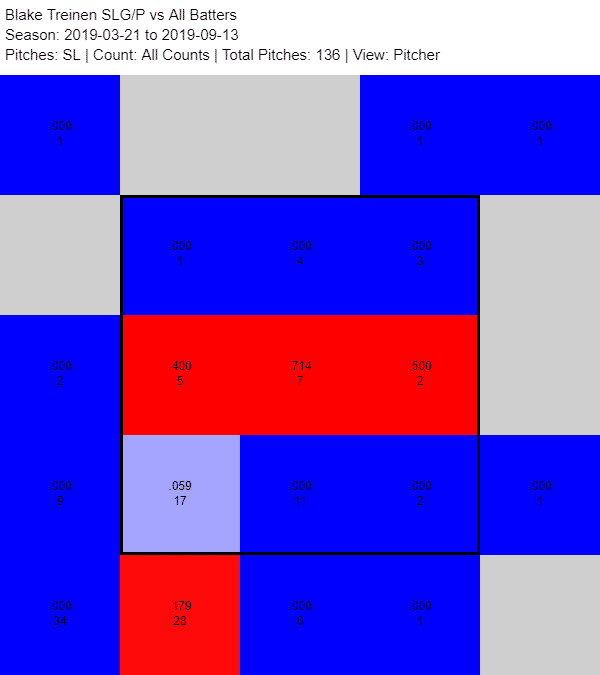 Treinen's slider became flatter in its movements across the plate. That allowed opposing hitters to destroy them, as seen above.
Throughout his career, Treinen has utilized a front door slider against right-handed hitters, which proved to be successful in 2018. Treinen threw nine sliders against righties located exactly down the center of the plate and none of them were hit due to the amount of horizontal break that was he created.
Since Treinen was unable to create that same amount of break on his slider in 2019, those same pitches were hit extremely hard. That forced him to stay away from his slider.
The Yankees will definitely need to address their current void at the back-end of their bullpen this offseason. However, based on Treinen's declining numbers from this past season, he shouldn't be the pitcher to fill that void.