For former New York Yankees' Jacoby Ellsbury and Gregg Bird, the remembered legacy will mainly deal with the "business of baseball."

Jacoby Ellsbury? Greg Bird? We never truly discovered their full capabilities in New York Yankees pinstripes. The Bronx Bombers executed roster moves Wednesday evening and perhaps they should have been sent out of town sooner.
Of course, it had to be Ellsbury and Bird to make room for the 40-man roster. This is all about the "business of baseball."
More importantly, this is another baseball decision with the upcoming Rule 5 Draft that will be held Dec. 12 during the Winter Meetings in San Diego.
Backtrack a bit. You can hardly recall that one game either played an impact in a Yankees win. Then again, there are those ballplayers who can't fight off injuries. Place both Ellsbury and Bird firmly in that category.
But in defense of Ellsbury and Bird, they could never show their potential as the two often injury-prone Yankees of the past few years. It can be said, when healthy, Ellsbury and Bird were catalysts to the lineup; there was just never much time to take notice.
Ellsbury, a .297 hitter with 65 home runs and 314 RBI over seven years with the Boston Red Sox, spent most of this past season on the comeback trail from 2018 arthroscopic surgery to repair a left hip.
He was like the no-show that saw circumstances go beyond his control—never a catalyst in New York as he was for the Red Sox. The Yankees expected that much when they signed him to a seven-year, $153 million contract.
Then, Yankees manager Joe Girardi said, "(It) will be nice to see him finally on my side." Girardi, though, never had much time to see what Ellsbury could do on his side.
Neither the general manager nor the manager gets to see the potential. Brian Cashman and Aaron Boone, over the past few years, were optimistic. But there were signs each and every day with the constant and record number of Yankees on the injured list in 2019.
Ellsbury and Bird were not on that comeback trail.
And in New York, perhaps more than any other town, the comeback story is always good. But this comeback of two Yankees will go down as patience that ran its course.
Instead, the Yankees move on and for good reason. Ellsbury, even with Aaron Hicks slated to be sidelined to mid-June or July of 2020, was not in the plans for an outfield spot.
Bird was already out of the position. Even with his power as a left-handed hitter at Yankee Stadium, Bird was not replacing DJ LeMahieu, the Yankees MVP of 2019.
Instead, the Yankees will reportedly eat the remaining $21 million of that Ellsbury contract uninsured for next year. Bird, designated for assignment, has time to move on. Assuming he stays healthy, Bird is a threat in the lineup.
But like Ellsbury, Bird has to find a way to stay on the field. That issue does become bothersome to the opposing GMs, and at the Winter Meetings in a few weeks, the name of Greg Bird will surely come up.
Again, this columnist goes back a year after the Ellsbury contract. Yankees general partner Hank Steinbrenner, then with limited control, said to yours truly, "We are getting away from signing long-term, multi-year contracts."
He was referring to signing long-term pitchers. The last one supposedly was granted to the recently retired CC Sabathia who dealt with his fair share of injury issues (knees) over his last few years in the Bronx.
Steinbrenner, then, was resisting the temptation to say he was against seven-year deals to position players.
He was right. Jacoby Ellsbury goes down as one of the worst long-term contracts granted by the Yankees and, perhaps, in all of baseball. And that also says a lot, as to why Brian Cashman has not been active about going after that needed front-line starter and long-term deal.
It may go down as one of the worst signings in New York baseball history, with the exception of the Mets' signing of Bobby Bonilla, who was signed before the 2000 season and opted for a 26-year  buyout deal with million-dollar paydays every July 1.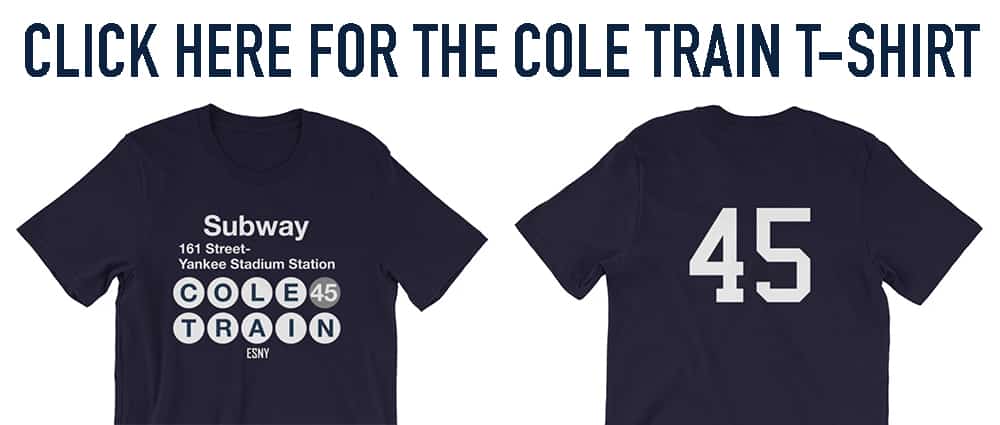 Ellsbury should be so fortunate. Point is, he showed no signs of a damaged or aging player when he was signed.
Hence, don't expect the Yankees' attitude to change during this free-agent signing period. In other words, don't expect Gerrit Cole or Stephen Strausburg pitching anytime soon in Yankees pinstripes.
And we never got to know the potential of 27-year old Greg Bird. He was a left-handed hitter the Yankees needed. He had that natural ability to hit for power at Yankee Stadium.
But Greg Bird was in that unfortunate category of having the swing and trying to stay on the field.
"We are being patient about his situation and hope Greg Bird can still be in our plan," Brian Cashman said back in July.
Yeah, patience does hold virtue in sports; it always does. But this was another example of the Yankees put in the situation of retaining and getting around the issue of salary in this confusing era of business and baseball.
It was time to move on. Unfortunately, we will never get to talk about the contributions of Jacoby Ellsbury and Greg Bird as Yankees.
Instead, the talk will be about how the Yankees had them protected on a roster that left them no choice.
The choice, business as baseball is. Jacoby Ellsbury and Greg Bird were no longer in that business plan for the New York Yankees.