The New York Yankees will pursue Gerrit Cole and Stephen Strasburg in free agency. But do they really need to?
The New York Yankees will be active in free agency.
It's certainly not a shock. Star pitchers in Gerrit Cole and reigning World Series MVP Stephen Strasburg have hit the market and New York needs arms. Owner Hal Steinbrenner's coffers also make Scrooge McDuck's look like a mere velour coin purse. If he and GM Brian Cashman want to go full 2009 and spend through the nose to land one or both pitchers, they can.
Except, these are not the Yankees of yesteryear. Cashman did not splurge for Manny Machado last offseason, nor Bryce Harper or Patrick Corbin. Instead, the Yankees opted for low-key signings like the versatile DJ LeMahieu and righty reliever Adam Ottavino.
Moreover, the Yankees' pitching rotation is pretty set for next year. The team certainly could sign either Cole or Strasburg, but it'd mean some front office gymnastics before or after.
That said, do the Yankees really need to pursue either?
The case for free agency
On skills and numbers alone, any team would be lucky to have Gerrit Cole or Stephen Strasburg. They're both right-handed aces and former No. 1 overall draft picks. Both played in the World Series this year.
And, boy, are both of them capable of haunting Yankees fans' dreams. Cole had an ungodly great 2019, going 20-5 with an American League-leading 2.50 ERA. He also led the majors with 326 strikeouts in just 212.1 innings.
Strasburg, meanwhile, went 18-6 with a 3.32 ERA and 251 strikeouts in 209 innings of work. He then turned it up in the playoffs, going 5-0 with an astounding 0.94 ERA. Cut to him being named World Series MVP, and he opted out of a seven-year, $175 million contract to hit the market. In doing so, Strasburg left four years and $100 million on the table.
Cole, meanwhile, put up strong numbers and made just $13.5 million. Now, he can expect to command a long-term deal north of $300 million. Strasburg may not command so much, but still well above $200 million.
From a money standpoint, the Yankees can absolutely afford this.
A crowded rotation
There's just one problem. If the Yankees are serious about meeting with Gerrit Cole and/or Stephen Strasburg, they may be gilding the lily.
First, the rotation already has some spots spoken for. Luis Severino, James Paxton, and Masahiro Tanaka are all locks to return. Even if Paxton and Tanaka's expiring contracts are traded this winter, Cashman won't deal either for anything less than an ace-quality arm as well as top prospects.
This is where things get a bit complicated. J.A. Happ is under contract for $17 million in 2020, and a $17 million option for 2021 vests if he either pitches 165 innings or makes 27 starts. He was clearly not himself last season, pitching to a 4.91 ERA and allowing a career-worst 34 home runs.
Granted, Happ righted the ship as best he could by throwing more two-seam fastballs and changeups. He pitched to a 1.65 ERA in September, though it was the only month of the season in which his ERA was under 4.00. Happ is also 37 and a fly ball pitcher, so any trade involving him would mean the Yankees picking up some of the tab.
There is also the unfortunate case of Domingo German to consider. He's still technically on administrative leave as MLB investigates suspected domestic violence.
Speaking to several news outlets, including NJ.com, Cashman refused to comment on the matter. Still, given how quickly the Cincinnati Reds traded Aroldis Chapman following his domestic violence incident in 2015, one must imagine German's fate will be similar.
The odd men out
Most important of all, the Yankees have a pair of arms that may be ready to break out in 2020. The first is left-hander Jordan Montgomery, who went 9-7 with a 3.88 ERA as a rookie in 2017.
The man they call "Gumby" was also 2-0 with a 3.62 ERA the following year, but was shut down early with elbow trouble before undergoing Tommy John surgery. He made just two appearances for the Yankees in 2019.
Montgomery will also be a young 27 years old in 2020 and deserves a shot to prove himself after a serious injury. His devastating curveball can be a great asset as the Yankees opt for fewer fastballs. If Cashman really wants Cole or Strasburg, Montgomery could find himself traded elsewhere.
This brings the conversation to Deivi Garcia, the Yankees' top pitching prospect. He's still just 20 years old, but was 5-9 with a 4.28 ERA in 21 starts across three levels of the minors last year. He registered 165 strikeouts in just 111.1 innings. Garcia still needs minor league seasoning but making his major league debut next year is certainly possible.
Except, Garcia won't have a spot if Cole or Strasburg are signed to the Yankees. Unless he transitions to the bullpen, Garcia would then become an incredible trade chip. His potential alone would demand a 100% ace in return, not to mention MLB-ready prospects.
My question is simple. If the Yankees sign an ace in Gerrit Gole or Stephen Strasburg, would there even be a reason to trade Deivi Garcia for yet another along with James Paxton or Masahiro Tanaka?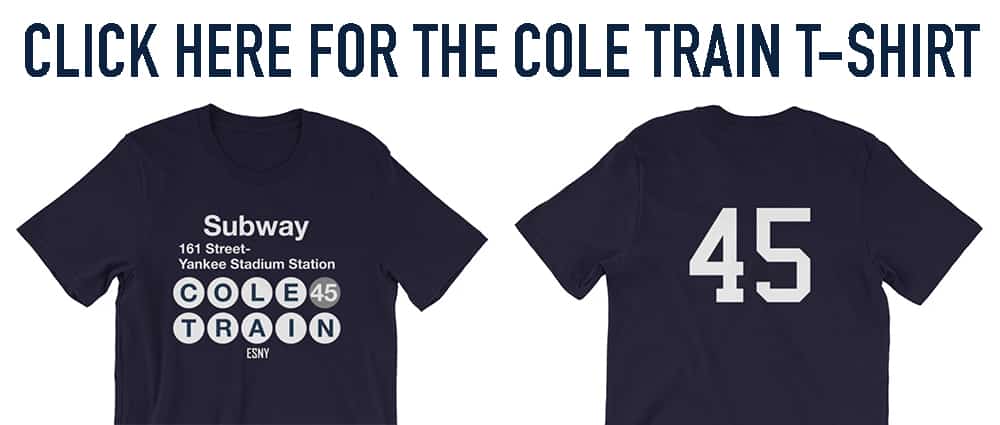 Final thoughts
It's really simple. The Yankees certainly could heavily pursue one or both of Gerrit Cole and Stephen Strasburg, but not without losing other key pitching assets. Barring trades of Happ, German, or Montgomery, the 2020 rotation is set.
If Cashman does pursue an arm in free agency, it's probably not going to be Gerrit Cole or Stephen Strasburg. The Yankees' days of spending big in the market are gone. The age of analytics made sure of it. Someone like a Zack Wheeler or Dallas Keuchel or Hyun-Jin Ryu is more likely.
And not for nothing, the Yankees didn't land any of last year's cash cows and still won 103 games. New York took the ever-dangerous Houston Astros to Game 6 of the ALCS. And this was all despite major injuries to key players.
If the Yankees did so well without big-name free agents, then the question for 2020 is really simple.
Does a team so good really need to buy a big arm?