Previewing Week 10 in the NFL, with a recap of last week, predictions, as well as a "what to watch for" in the upcoming slate of games.
Ladies and gentlemen, we only have one remaining undefeated team in the NFL. The San Francisco 49ers are 8-0 after a close win over the Arizona Cardinals. The New England Patriots, on the other hand, finally lost a game in 2019. They fell to Lamar Jackson and the Baltimore Ravens on "Sunday Night Football."
Those games are just a percentage of what went down in the NFL in Week 9. From stellar play from Russell Wilson in the Seattle Seahawks' victory, all the way to the Miami Dolphins finally edging out a win, we'll tell you what occurred this past week and what to look out for in the upcoming Week 10 slate of games.
As always, let's get to it.
Week 9 Final Scores // Prediction Results
San Francisco 49ers 28 at Arizona Cardinals 25 // Correct
Houston Texans 26 at Jacksonville Jaguars 3 // Correct
Washinton Redskins 9 at Buffalo Bills 24 // Correct
Tennessee Titans 20 at Carolina Panthers 30 // Incorrect
Minnesota Vikings 23 at Kansas City Chiefs 26 // Correct
New York Jets 18 at Miami Dolphins 26 // Correct
Chicago Bears 14 at Philadelphia Eagles 22 // Correct
Indianapolis Colts 24 at Pittsburgh Steelers 26 // Incorrect
Detroit Lions 24 at Oakland Raiders 31 // Correct
Tampa Bay Buccaneers 34 at Seattle Seahawks 40 // Correct
Cleveland Browns 19 at Denver Broncos 24 // Incorrect
Green Bay Packers 11 at LA Chargers 26 // Incorrect
New England Patriots 20 at Baltimore Ravens 37 // Incorrect
Dallas Cowboys 37 at New York Giants 18 // Correct
Week 9 Results: 9-5
Overall Results: 90-45
Recap: What we saw during Week 9
We saw the 49ers continue to make a case as to why they're arguably the best team in the NFL. Despite a close game at the end, the Niners were able to oust the Cardinals 28-25 behind a 317-yard, four-touchdown performance from quarterback Jimmy Garoppolo. San Francisco has improved to 8-0 on the year.
On Sunday morning, during the London game between the Texans and Jaguars, we saw the end of Minshew Mania. Jaguars quarterback Gardner Minshew threw two picks as well as lost two fumbles in the 26-3 loss to Houston. After their upcoming BYE week, the Jags will make the switch to Nick Foles, who's coming back from a collarbone injury.
We saw the Dolphins finally win a game this season. After beginning the season 0-7, Miami took down the 1-6 Jets for their inaugural 2019 victory by a score of 26-18. Dolphins quarterback (and former Jets quarterback) Ryan Fitzpatrick had 288 yards through the air with three touchdowns. The Jets and head coach Adam Gase are in deep trouble after the devastating defeat.
The Eagles took down the Bears in the rematch of last year's Wild Card playoff game by a score of 22-14. Chicago, along with quarterback Mitch Trubisky, continued to struggle as they've had for much of this year. The Bears had just 164 total yards, as Trubisky could only conjure up 125 yards through the air on 10-of-21 passing. The Bears have found themselves at the bottom of the NFC North division with a record of 3-5.
Seahawks quarterback Russell Wilson keeps on increasing his MVP chances. On Sunday afternoon, Seattle defeated the Buccaneers in overtime 40-34. Wilson led the charge with 378 yards and five touchdowns, including the game-winning score to tight end Jacob Hollister.
And finally, we saw Lamar Jackson and the Ravens continue their stellar season. The AFC North's first-place team gave the Patriots their first loss of the year with a 37-20 ousting on "Sunday Night Football." Jackson completed 17 of his 23 throws for 163 yards and one touchdown through the air. On the ground, he rushed for 61 yards on 16 carries for two scores. The Ravens have improved to 6-2, with the Patriots dropping to 8-1.
Preview: What to watch for during Week 10 in the NFL
Los Angeles Chargers (4-5) at Oakland Raiders (4-4) – Thursday, Nov. 7, 8:20 p.m. ET
Whoever wins this AFC West matchup will position themselves in second place in that division, which is huge when you consider future playoff implications. I don't believe either of these teams will win the division, especially with Patrick Mahomes returning soon for the Chiefs. Therefore, they must focus their goal on a Wild Card spot.
Both teams are coming off huge wins as well. The Chargers handed the Packers just their second loss of the season on Sunday. The Raiders, on the other hand, had a big one-possession win over Matt Stafford and the Lions.
New York Giants (2-7) at New York Jets (1-7) – Sunday, Nov. 10, 1:00 p.m. ET
Don't laugh at me for including this game as a must-watch. To be honest, it isn't a must-watch at all. It is important, however, for both bragging rights and the job security of either head coach.
Once every four years, these teams meet at MetLife Stadium. Every time, the event includes fans of either team finding themselves in arguments the week leading up to kick-off. It's a huge win if you're a supporter of either ballclub because you essentially have the right to boast for the next four seasons. After this game, the loser within this rivalry won't get to redeem themselves until 2023.
As far as the status of either head coach, it could end up being as simple as this: don't lose and you won't get fired. Both Giants head coach Pat Shurmur and Jets head coach Adam Gase are on the hot seat. After this week, we could see either one of these coaches unemployed.
Once again: don't lose and you won't get fired. That could very well be what's circulating around either of these organizations leading up to this Sunday afternoon matchup.
Carolina Panthers (5-3) at Green Bay Packers (7-2) – Sunday, Nov. 10, 4:25 p.m. ET
Both of these teams need a big win this Sunday, but for different reasons.
The Panthers are currently 5-3, sitting in second place in the NFC South behind the 7-1 New Orleans Saints. Every win is crucial at this point, due to the fact that it'll be tough to surpass the Saints in the standings…especially with a returning Drew Brees. Therefore, the Panthers need to look to a Wild Card spot when it comes to the postseason. Every win is, again, crucial, and it begins with this upcoming matchup in Green Bay.
For the Packers, they suffered just their second loss of the season on Sunday to the Los Angeles Chargers. At 7-2, they're only 1.0 game ahead of the 6-3 Vikings in the NFC North. If they slip up any more, they could find themselves struggling to lock up their spot at the top of the division.
Los Angeles Rams (5-3) at Pittsburgh Steelers (4-4) – Sunday, Nov. 10, 4:25 p.m. ET
The Rams are riding a two-game win streak and desperately need a win to get back into the playoff conversation in the NFC West. When discussing that division, everyone loves to talk about the Seahawks and their potential-MVP quarterback or the 49ers and their undefeated record. The Rams need to enter this game with a chip on their shoulder and prove they should be a team to worry about down the stretch if you're either Seattle or San Francisco.
The Steelers are also on the rise, as they've won three straight games with two separate backup quarterbacks. This, after starting the season 1-4. Despite how well the Ravens are playing, Pittsburgh is only sitting 2.0 games behind them in the division. If they can extend their winning streak further with Mason Rudolph at quarterback, then the Ravens may have to continue looking over their shoulder while trying to run away with the AFC North.
Minnesota Vikings (6-3) at Dallas Cowboys (5-3) – Sunday, Nov. 10, 8:20 p.m. ET
This will be a huge test for Vikings quarterback Kirk Cousins. Everyone knows he doesn't perform as well during the high-stakes games. Primetime, on the road in Dallas, against an NFC East-leading Cowboys team? Yeah, I'd say this is pretty high stakes.
Cousins will need to prove the critics wrong in this one. It'll be a huge win for Minnesota if they can pull it off too. With the Packers' loss to the Chargers last week, the Vikings are behind in the NFC North division by just 1.0 game. A lot could change within that division come Sunday. But, only if Cousins can get it done on the field.
The Cowboys have five wins to their name at the moment. However, only one of them has been really impressive. Dallas defeated the Eagles 37-10 on "Sunday Night Football" in Week 7. The Cowboys' additional wins came at the hands of the Giants (twice), Redskins, and Dolphins.
That being said, this would certainly be the most impressive win for the Cowboys yet this season. It would also be huge for their placement in the NFC East standings. Dallas is in first place at the moment, but only lead Philly by .5 games.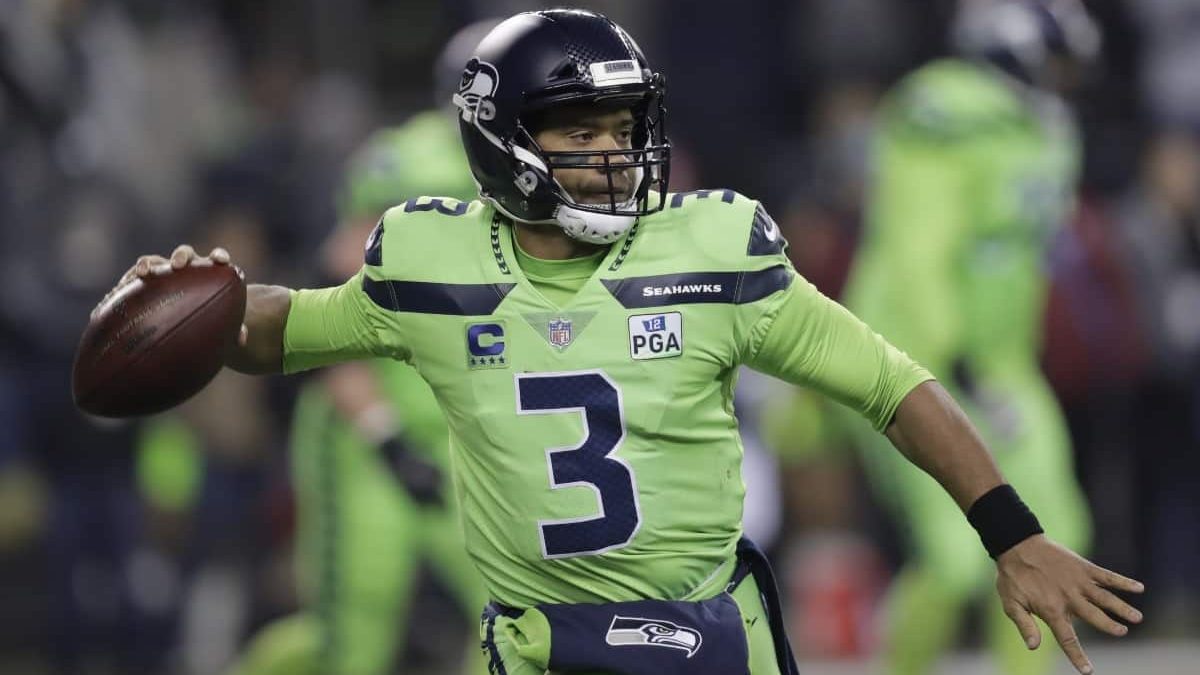 Seattle Seahawks (7-2) at San Francisco 49ers (8-0) – Monday, Nov. 11, 8:15 p.m. ET
Could the 49ers be handed their first loss of the season come this Monday night? Despite being six-point favorites, the Niners have a huge task on their hands with the Seahawks and quarterback Russell Wilson. San Francisco's defense, including that dominant defensive line, will have to tighten up against this powerful Seattle offense that scored 40 points last week against the Buccaneers.
This game will also be huge for eventual playoff implications. These teams could end up battling it out for the NFC West. Whoever takes the throne of that division will definitely look back at this game and realize the intensity and importance of this matchup alone.
Nonetheless, Wilson and Niners quarterback Jimmy Garoppolo should give us fans a great showing to end the Week 10 slate.
Week 10 Predictions (In bold) (All Times ET)
Thursday, Nov. 7, 8:20 p.m. – Chargers (4-5) at Raiders (4-4)
Sunday, Nov. 10, 1:00 p.m. – Lions (3-4-1) at Bears (3-5)
Sunday, Nov. 10, 1:00 p.m. – Ravens (6-2) at Bengals (0-8)
Sunday, Nov. 10, 1:00 p.m. – Bills (6-2) at Browns (2-6)
Sunday, Nov. 10, 1:00 p.m. – Falcons (1-7) at Saints (7-1)
Sunday, Nov. 10, 1:00 p.m. – Giants (2-7) at Jets (1-7)
Sunday, Nov. 10, 1:00 p.m. – Cardinals (3-5-1) at Buccaneers (2-6)
Sunday, Nov. 10, 1:00 p.m. – Chiefs (6-3) at Titans (4-5)
Sunday, Nov. 10, 4:05 p.m. – Dolphins (1-7) at Colts (5-3)
Sunday, Nov. 10, 4:25 p.m. – Panthers (5-3) at Packers (7-2)
Sunday, Nov. 10, 4:25 p.m. – Rams (5-3) at Steelers (4-4)
Sunday, Nov. 10, 8:20 p.m. – Vikings (6-3) at Cowboys (5-3)
Monday, Nov. 11, 8:15 p.m. – Seahawks (7-2) at 49ers (8-0)
Follow Ryan on TWITTER