The New York Yankees will rely heavily on their offense this postseason, which means they'll need Luke Voit to make one adjustment.
After falling short in last season's postseason to the Boston Red Sox, the New York Yankees made it a priority to improve their offense this season. It's safe to say that general manager Brian Cashman and the Yankees have done an excellent job of achieving that goal.
With just two weeks remaining in the regular season, the Yankees are finally beginning to get most of their big bats to return to their lineup off the injured list. First baseman Luke Voit is one of those key hitters in the Yankees' lineup who's missed significant time due to injury this season. Voit has also had his struggles at the plate since returning from the IL, but he's going to be a player that the Yankees will be counting on to produce during the playoffs next month.
With the uncertainty surrounding Giancarlo Stanton, and the inconsistency from Aaron Judge this season, Voit will need to provide more than just a triple and four RBIs during this year's postseason. While some of you may be worried about the lack of power that Voit has shown since being activated, he's actually been a very productive hitter even without a ton of home runs.
In 15 games since Aug 30., Voit has produced five doubles, two home runs, seven RBIs, .212 ISO, .371 BABIP, .374 wOBA, 135 wRC+ and has slashed a line of .288/.383/.500/.883. These numbers show that Voit can remain a productive hitter even without the long ball.
However, opposing pitchers will be able to expose Voit at the plate during the playoffs if they throw him more offspeed pitches. Last season, Voit struggled against changeups and splitters more than the numbers suggest he did. Opposing pitchers threw offspeed pitches at a 12% rate to Voit a season ago. The 28-year-old hit three of his 15 home runs and recorded a .316 AVG, .789 SLG and a .491 wOBA against offspeed pitches last season.
Strikeouts against offspeed pitches became a major issue for Voit last season. Voit recorded a 31.8% strikeout rate and a troublesome 51.4% whiff rate against them last season. Through the 2019 season, Voit has further to struggled to make consistent contact against changeups and spilters.
So far this season, Voit has hit a measly .205 AVG, .206 xAVG, .409 SLG, .419 xSLG and a .341 wOBA against offspeed pitches. Voit has also continued to struggle to hit those offspeed pitches for consistency throughout this season, as he currently owns a 29.1% strikeout rate and a 43.1% whiff rate against them as well.
Even with these struggles, it comes as a bit of a surprise to see that teams aren't throwing more offspeed pitches to Voit. Particularly over the last three months, opposing pitchers have thrown offspeed pitches to Voit with a rate below 10% in each of the last three months.
What's even more surprising is that pitchers have gone away from throwing offspeed pitches low and away to Voit this season. Last season, teams were afraid to throw anything offspeed inside to Voit.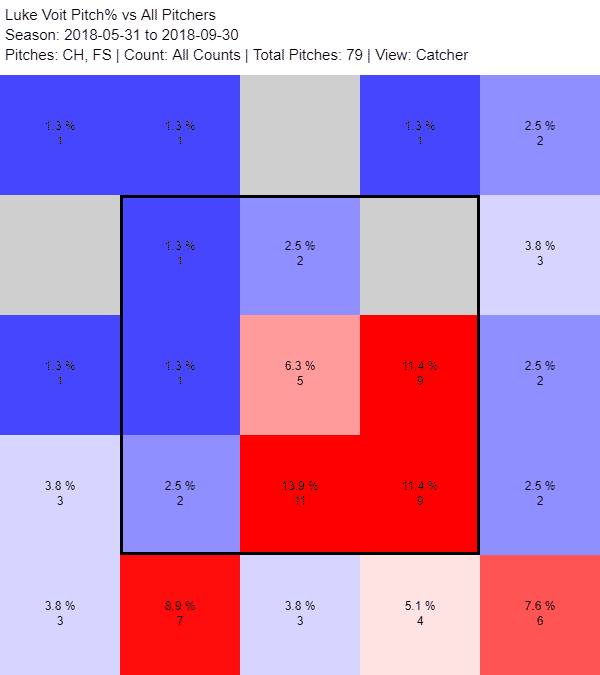 As seen above, pitchers made it a priority to locate offspeed pitches low and away to Voit last season. Pitching in those locations was effective for opposing pitchers, as Voit failed to hit above a .200 AVG against offspeed pitches that were located anywhere other than down the middle of the strike zone.
Through this season, pitchers have suddenly felt more comfortable locating offspeed pitches on the inside half of the strike zone against Voit.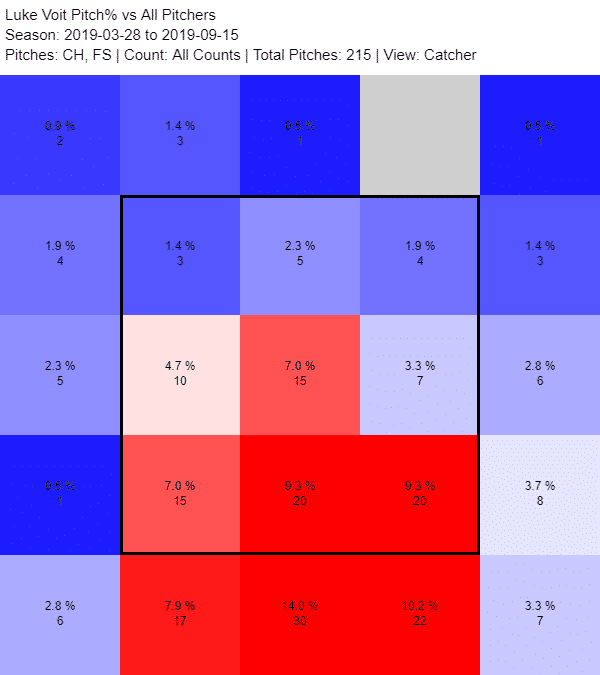 The chart above shows that for some reason opposing pitchers have thrown fewer offspeed pitches low and outside to Voit this season. It seems puzzling that teams would throw more inside pitches to a hitter who's produced a 48% pull rate this season. Although, it's hard to criticize opposing teams for that decision because of how effective that location has been against Voit.
Voit has also struggled even more with offspeed pitches that are located on the outer half of the plate. None of Voit's nine hits against offspeed pitches have come against pitches located on the outside half of the strike zone.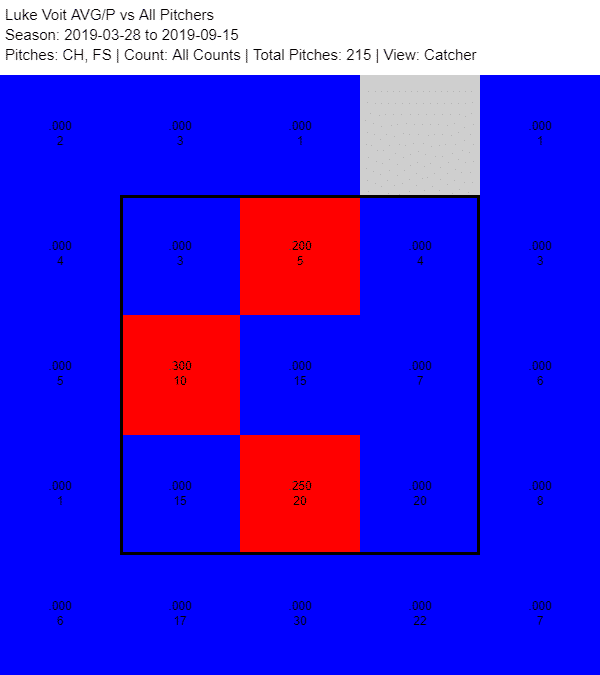 Voit's struggles against offspeed pitches could also become even more apparent during the playoffs as well. Voit will likely see fewer fastballs during the postseason than he has so far this season. Opposing pitchers have thrown heaters to Voit at a 52.2% rate this season. That rate will very likely drop to somewhere around 40% during the playoffs, which means Voit is likely to see a lot more soft pitches instead.
Since Voit has hit 10 of his 21 home runs off breaking balls this season, pitchers will likely decide to increase the number of offspeed pitches thrown to the Yankees' slugger. Opposing pitchers with the right arsenal will likely throw more low-and-away changeups and splitters to Voit as well.
If the Yankees are going to slug their way to the World Series, they're going to need offensive production from Voit this October. In order for Voit to hit for consistency, he'll likely need to make an adjustment against offspeed pitches, so that he doesn't become a liability at the plate during the postseason.