New York Yankees INF Gleyber Torres is already one the best second baseman in the league, but there's still an area where he can improve. 
The New York Yankees have to be extremely pleased with the production they've received from Gleyber Torres during his first two seasons in the major leagues. In addition to placing third in the AL Rookie of the Year race last season, Torres has performed even better this season.
Through 132 games, Torres has recorded a career-high 24 doubles, 35 home runs, 84 RBI's, .260 ISO, 131 wRC+, 3.9 WAR and slashed a line of .288/.348/.547/.895 as well. Torres has also reduced his strikeout rate from a season ago, sitting at 25.2% last season to now 20.6% this season. Despite all those improvements for Torres, the 22-year-old still has one area where he can significantly improve on.
Hitting against fastballs has been an area of strength for Torres since he arrived at the big leagues last season. Just this season alone, Torres has been thrown fastballs 55.3% of the time and is currently hitting .329 AVG, .667 SLG, .440 wOBA against them. Torres has also seen a 4.6% decline in his K% and a 6.8% drop in his whiff% against fastballs as well this season.
Where Torres has extremely struggled since being recalled by the Yankees is against breaking balls. Through 123 games last season, opposing pitchers threw breaking balls 33.9% of the time to Torres. The Yankees second baseman then hit just .236 AVG, .255 xAVG, .357 SLG and .276 wOBA against breaking balls during that season.
Opposing teams were also able to strikeout Torres at a high rate against breaking balls last season as well. Torres recorded a 34% strikeout rate and a 38.5% whiff rate off sliders, curveballs and knuckleballs last season.
So far this season, Torres has slightly done a better job against breaking balls. Torres is currently hitting .265 AVG, .241 xAVG, .443 SLG along with a .313 wOBA through 133 games this season. While Torres has hit eight of his 36 home runs off of breaking balls this season, he's still swinging and missing against them more than other sets of pitches.
Against breaking balls this season, Torres has produced a 31.4% whiff rate. While that is a 7.1% decrease from last season it's still the highest whiff rate of all the pitches Torres has seen this season. In addition to his decreased whiff rate, Torres has also significantly declined his strikeout rate against breaking balls to 22.7% this season.
While it's encouraging that all the swings and misses aren't leading to a high amount of strikeouts for Torres, he still could be putting himself in more hitting friendly counts if he reduces his whiff rate against breaking balls even further. One of the biggest reasons why Torres has recorded a high whiff rate is the location of where opposing pitchers are throwing to him.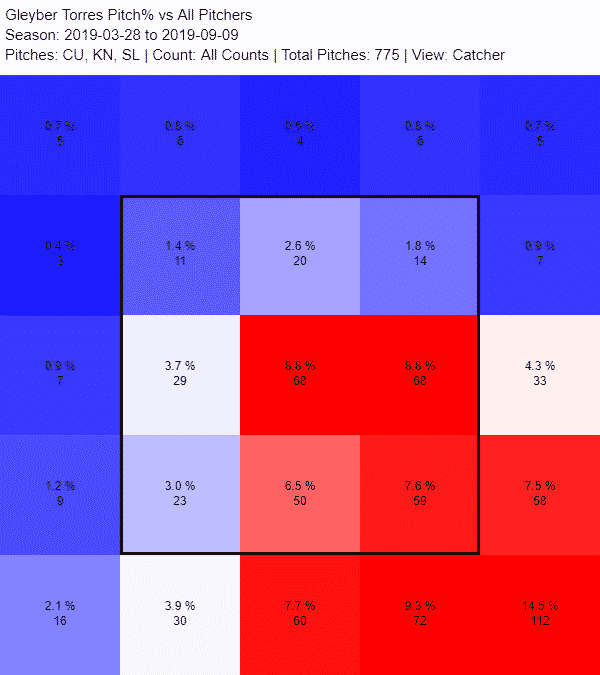 As seen in the chart above, pitchers have primarily been throwing breaking balls low and away to Torres this season. The problem for Torres is that he hasn't been able to resist himself from swinging at those balls located below the strike zone.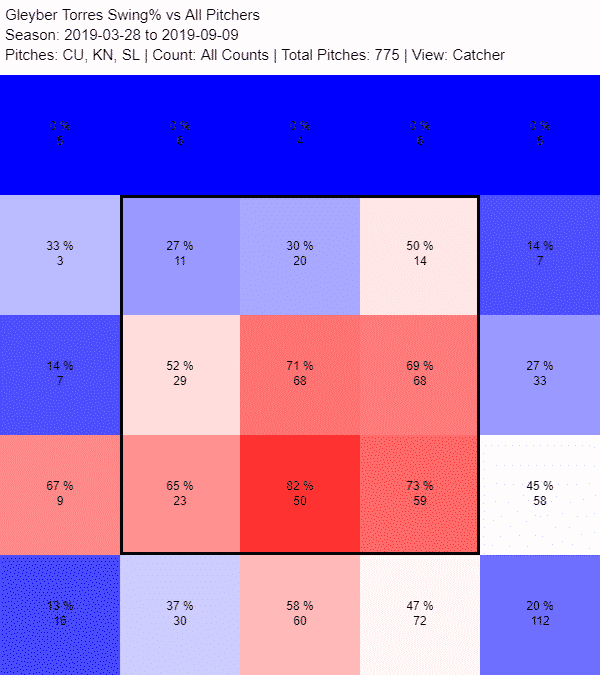 Within this chart, it can be seen that Torres has been fooled by opposing pitchers below the strike zone this season. Clearly, Torres has a desire to swing at breaking balls that are located within the middle of the plate. Although, Torres will need to do a more effective job at determining if that pitch is going to be above or below the strike zone.
Another reason for Torres' continued struggles hitting against breaking balls is because of all the ground balls he's induced off them since this season. During his rookie season, Torres produced a GB rate of 33% against breaking balls. So far this season, that GB rate has rapidly risen to 42%.
Along with where pitchers are throwing breaking balls to Torres, he hasn't shown any kind of adjustment to counteract the high number of ground balls he's been hitting.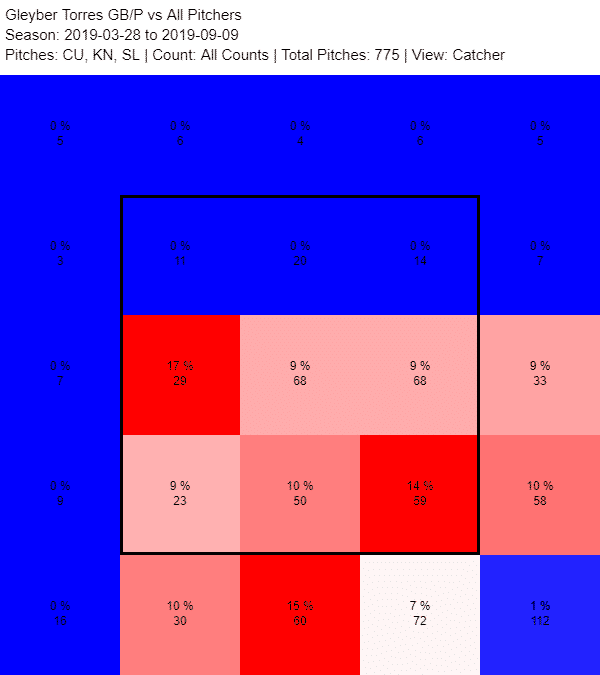 This chart displays the locations where Torres has been hitting ground balls against breaking balls this season. If Torres was able to lay off those pitches down below the strike zone, he would then see even more improvement against breaking balls going forward in his career.
If Torres continues to offer at those pitches below the zone, it will also likely hurt his development over the next few seasons as well. Opposing teams can also view this same data just like I have done. Torres has already seen a slight increase in breaking balls from opposing pitchers this season.
So, Torres will likely continue to see more breaking balls and fewer fastballs as the seasons go on until he makes these key adjustments. The Yankees believe that Torres has the chance to be apart of their team for many seasons to come.
However, Torres will need to find a way to make these adjustments against breaking balls heading into the postseason and next season as well. In order for him to continue to be a mainstay within this Yankees' powerful lineup.