Forget whether Antonio Brown to the New England Patriots will work. It's about how dominant they'll be over an entire season. 
Of course, it happened. It's every Jets fan's worst nightmare.
Antonio Brown is a New England Patriots employee.
It's Randy Moss all over again. Or maybe it's Chad Ochocinco. Only time will tell.
New York Giants fans may be down for 2007 all over again. The Jets fans are most definitely not. How could you not feel for them at this very moment?
Sure, the recent sexual assault allegations place a clamp on the entire transition, but speaking strictly football, it's a nightmare for the rest of the league.
Antonio Brown is the ex-girlfriend from hell. When you were dating, she only cared about herself. And the gold earrings and Louis Vuitton pocketbooks you could buy her. Selfish, immature and materialistic. It was doomed from the start.
Your boys tried to tell you. But you didn't want to listen.
And then a few months go by and she's with someone who puts her into shape. Step up or get stopped on. Suddenly all of her undesirable flaws are gone (or at least not as visible) and you can once again see the person you wanted to be with in the first place.
Mr. Gold Mustache has to prove he can behave for Bill Belichick or he's gone. No more BS. Maybe just maybe, Brown wanted to end up in New England this whole time? The conspiracists will have a field day. Holy moly. I guess you really can't put anything past these guys.
Let's recap this episode of The Real Football Players of the National Football League, starring Antonio Brown:
Big Ben Beef
Skipped Week 17 practices last year
Benched versus Bengals
Bleached his mustache
Frozen feet
Helmet grievances
Skipped walkthrough
Posted fine letter on Instagram
Threatened to punch GM
Recorded phone conversation with Jon Gruden
Calls out Derek and David Carr on Twitter
All of that and he ended up on Apple. Facebook. Google. The New England Patriots.
Antonio Brown gets to play with bleeping Tom Brady the all-time G.O.A.T., and Bill Belichick, the all-time coaching G.O.A.T.
Their receiving core is now:
Antonio Brown
Josh Gordon
Julian Edelman
And Rob Gronkowski is probably coming back pretty darn soon. He's not about training camp. Saturdays are for the boys, not walkthroughs.
A one-year deal worth $15 million and $9 million guaranteed. Drew Rosenhaus is a candidate for Man of the Year. How did he pull this off?
And Mike Tomlin should be nominated for the Nobel Peace Prize. Wow.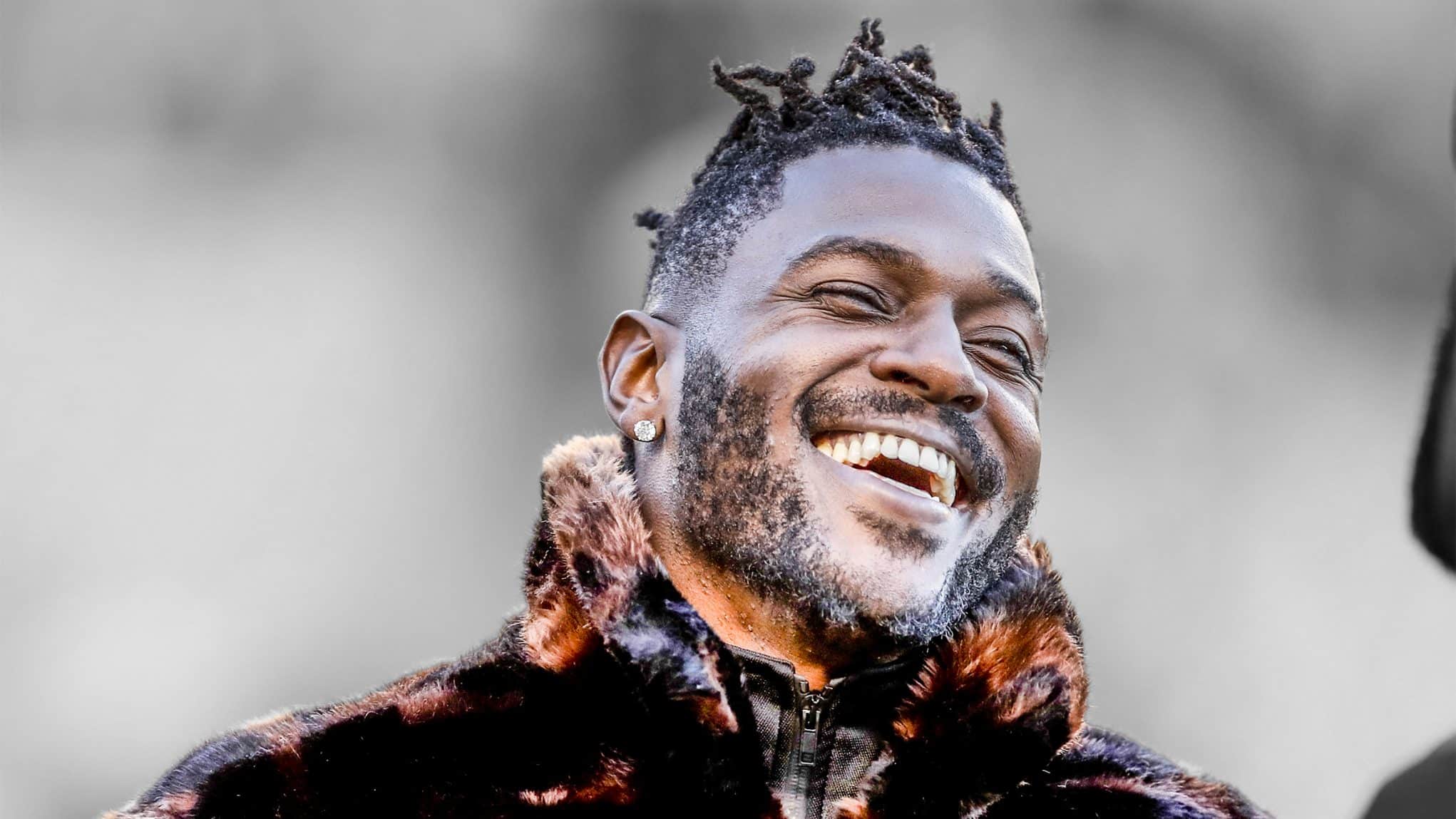 New England isn't a bunch of clowns that hire two TV guys to run their front office. They aren't moving to Vegas next year and need something to make them interesting. The Raiders haven't been relevant in two decades.
That's not to mention Oakland could've put AB on the reserve/left squad list, preventing him from going to another team and keeping him at his house for the 2019 season. Instead, now, he's at Gillette Stadium in Foxboro with the "Golden Boy" Tom.
"Just win baby" is cute and fine when you actually do. It's just a joke when you can't or even operate as a semi-functional franchise.
Players in the past have said they don't have "fun" playing for New England. On HBO's The Shop recently, Gronk said, "Not even Brady" gets special superstar treatment on the Patriots. This isn't playtime. It's a Super Bowl factory on a conveyer belt. Winning football games rinse and repeat.
Brown needs strong parents that will put him into shape. Winning will cure everything. If the Pats win the Super Bowl and Brown is the Randy moss of 2019-20, there's a 30 for 30 coming on just Brown individually.
Can't wait for Jon Gruden and Mike Mayock to spill the real beans on "Brown-Mayock I" years from now.
Gruden made for quite a TV show on Hard Knocks, but I was extremely skeptical if the Antonio Brown-Raiders could be any semblance of a playoff contender. Without him, the questions only continue.
Those expecting Brown to come into New England and make it into a circus are just delusional. The Patriots more than any other team don't give special treatment. Brown must actually go to practice and follow the rules. Play the game. It's the Patriots Way. Not a YouTube video.
If he does, this year could be special. If he doesn't, he'll be out.
There must be a wink-wink agreement he will behave. But considering this guy changes his opinion multiple times a day, who can actually believe that.
He got $15 million to play with Tom Brady and the Patriots. 9 million guaranteed. Life doesn't get better than that. No wonder he posted THIS video on YouTube when he finally got released.
As Terrell Owens once said, "Get your popcorn ready".
Fasten your seatbelt. The Antonio Brown coaster is gonna be a fun ride.
Are those clowns in the seats behind us?