Earlier this season, Clint Frazier's suspect defense was exposed. Now, the New York Yankees youngster is proving doubters wrong.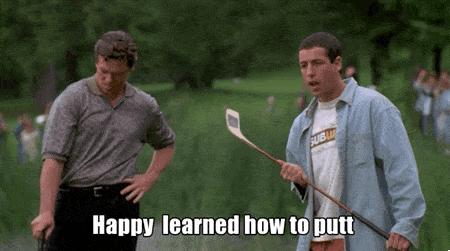 That's right, everyone; Happy learned how to putt.
Although in this case, it's just a clever metaphor regarding Clint Frazier's latest in a string of defensive highlights.
So @ClintFrazier plays some mean defense now. 👀 pic.twitter.com/hUUrXPw8mz

— Chris Dixon (@cdixon25) August 26, 2019
Look at this play and appreciate the improvements. Frazier got a great break on the ball. He took a direct route to the catch. "The Wildling" even made a great sliding catch look like a casual thing he does day in and day out.
Additionally, as opposed to earlier this season, he made a play on the ball with conviction. There was no second-guessing whether he could get there or the angle he was taking. Frazier just ran to the spot and made a play.
It's a promising sign for the young outfielder. There's no denying his raw athleticism and rocket arm.
Now, I know what you're thinking: "James, one play doesn't prove anything. If Homer Bailey can throw two no-hitters, Clint Frazier can fall into a good play in the field."
However, it isn't just one play. Here are a couple more clips of Frazier reading a ball, getting to the spot and making a great play with the same confidence he brings to the plate with him.
Clint Frazier is flashing some defense in Triple-A. pic.twitter.com/wReBFmPOx6

— Chris Dixon (@cdixon25) July 17, 2019
Clint Frazier's hard work on his defense is already paying off 👀 pic.twitter.com/2vbCTFRIej

— A.J. Herrmann (@AJHerrmannYES) August 7, 2019
Again, the takeaway from these plays isn't how sick the catches are. Obviously, we can all recognize how great they look.
It's the fact that his biggest defensive issue from earlier this season, reading the ball and making the right play, is dissolving before our very eyes.
It's something Frazier has clearly been working on in Scranton.
"Obviously, I gotta work on it."

– Clint Frazier on his defense pic.twitter.com/P1WCIvwnIc

— YES Network (@YESNetwork) July 23, 2019
Frazier dropped some fantastic soundbites in this episode of Homegrown.
"I'll do whatever, man. Obviously, I gotta work on it."
"I'm not gonna get called back up just because of my hitting …"
Certainly, I think we can all get behind this attitude. Clint Frazier doesn't do anything with less than 110% effort. He's working on his defense every single day and we're only just beginning to see fundamental improvements.
Obviously, I've always believed in Frazier's talent. Unfortunately, his defense has kept him in Scranton in a season where he had a real shot to breakout at the big league level.
Now, the weakest part of his game is starting to look like it could become a strength one day.
I'd like for him to be on the New York Yankees when that happens.