The Monster Energy NASCAR Cup Series descends upon Watkins Glen, NY on Sunday afternoon, as the series inches toward the playoffs.

-Who: The Monster Energy NASCAR Cup Series
-What: The Go Bowling at The Glen
-Where: Watkins Glen International, Watkins Glen, NY
-When: Sunday at 3:00 p.m. ET on NBCSN
The Monster Energy NASCAR Cup Series will make its annual summer descent upon the Empire State on Sunday afternoon. Watkins Glen International will host its 34th annual Cup series event, as NASCAR competes on its second of three road courses.
About The Glen
WGI is one of three road courses on the NASCAR Cup Series circuit. Unlike the traditional oval tracks that make up a majority of the schedule, the track resembles more of a traditional "road" setting. It was well known its 11 turns and has played host to numerous forms of racing. Other series to host an event include Trans-Am, Can-Am, and Indy Car.
The track has hosted a Cup Series event annually since 1986. Three prior events were held in 1957, 1964, and 1965. The event has been held in August since going to a yearly format in the aforementioned 1986 season. Tony Stewart is the winningest driver in New York with five victories. Kyle Busch is the only active driver with multiple wins at WGI.
The Season So Far
Teams owned by Joe Gibbs and Roger Penske nearly had a monopoly on the early portions of the Cup Series schedule. Drivers from their stables won all but one of the first 16 races. That streak ended with Kyle Busch's win at Sonoma's Toyota/Save Mart 350, the first road course event of the year.
Since then, four other teams have found victory lane in the last five races. As NASCAR inches toward its 10-race playoff slate, three of those drivers (the exception being part-time Cup racer and Daytona's Coke Zero 400 winner Justin Haley) clinched their postseason berths. Watkins Glen will serve as the final stanza of a racing triumvirate in the Northeast. Kevin Harvick took home the Foxwoods Resort Casino 301 in Loudon, NH, while Gibbs driver Denny Hamlin restored 2019 normalcy with at the Gander RV 400 at Pennsylvania's Pocono Raceway.
Nine drivers have clinched playoff spots via victory. The rest of the 16-driver playoff field will be determined via points.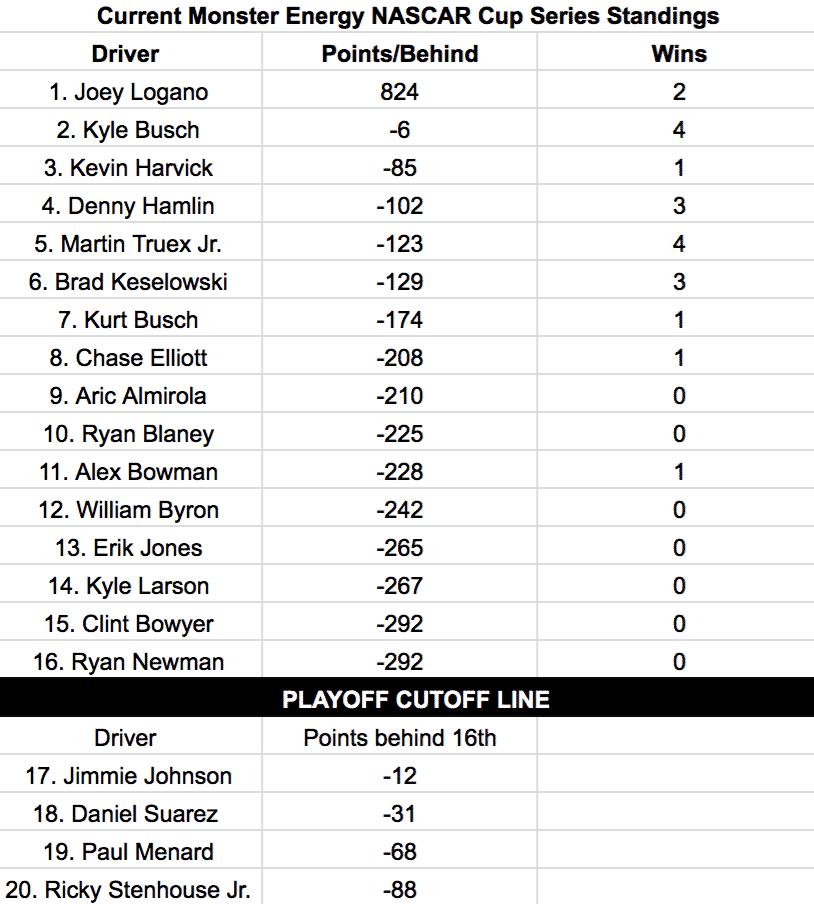 Drivers to Watch
Chase Elliott (Starting 1st)

Elliott certainly hopes a return to the site of his fondest NASCAR memory thus far will provide some stability to a season that has gone horribly awry.
The defending winner at The Glen was sitting pretty after the first Pocono event in June. He had just completed a run of a stretch of five consecutive finishes in the top five. That streak began with a win at Talladega that clinched his playoff spot. Since then, however, Elliott has failed to finish in the top ten in each of the last seven races. Five of those results have gone for 20th or worse, and he has failed to finish in three of them. He ran just 83 laps at Pocono last week after an early wreck and has dropped from third to eighth in the standings.
Elliott now returns to Watkins Glen, where he scored the first Cup Series win of his career. He will lead the field to the green flag on Sunday, winning his third pole of the season on Saturday. Elliott's spot in the playoffs is well secure, but he needs to gain momentum over these final five regular-season races. There might be no better place to do than The Glen.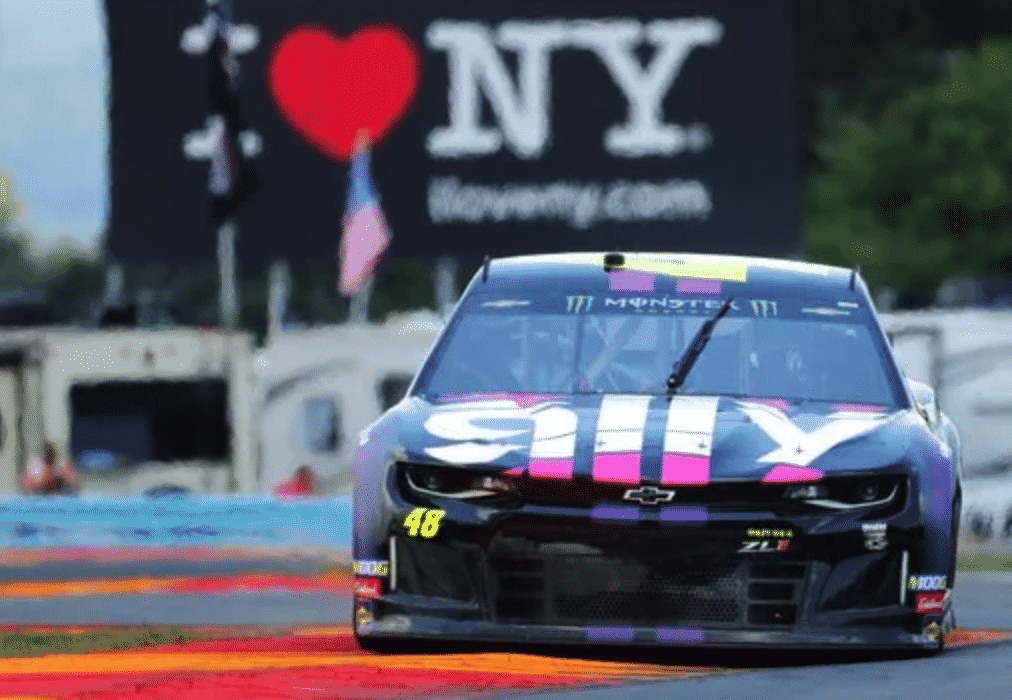 Jimmie Johnson (Starting 8th)
Johnson is fighting for his playoff life. He currently sits a dozen points out of the final playoff spot behind Clint Bowyer and Ryan Newman. Winner of seven Cup Series titles (tied with Dale Earnhardt and Richard Petty for the most all-time), Johnson is the only driver to appear in every edition of the NASCAR playoffs since their inception in 2004.
Three straight unsavory finishes (30th, 30th, 15th) has put that streak on the endangered species list. Johnson took the unusual step of replacing first-year crew chief Kevin Meendering with Hendrick Motorsports engineer Cliff Daniels. The collaboration will make their debut on Sunday.
The whole Hendrick squad has enjoyed a good start to the Watkins Glen weekend. Elliott will start alongside William Byron in the front row. Alex Bowman also topped the practice charts alongside the aforementioned Elliott.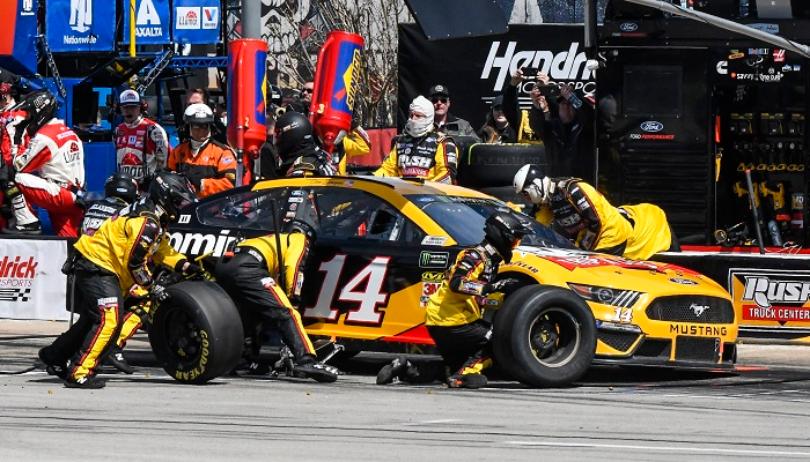 Clint Bowyer (Starting 13th)
2018 was a year of redemption for Bowyer. He won his first races since 2012 and reached the playoffs for the first time since 2015. Three wrecks in a four-race span pushed him toward the bubble portion of the postseason, but he has yet to fall out of the precious top 16 spots so far this season.
A playoff-sealing win would remove a lot of summer stress. While he has yet to close the deal at such a track, his prowess on road courses has become well-known. Bowyer's average finish of 11.68 leads all active drivers. In 28 races, Bowyer has finished outside of the top 20 only five times.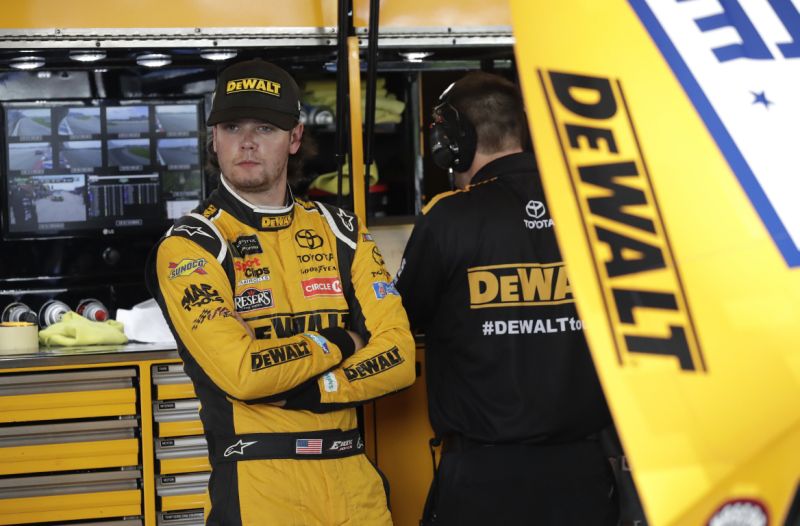 Erik Jones (Starting 14th)
No one on the circuit is entering hotter than Jones. The driver of Gibbs' No. 20 Toyota has finished in the top three in each of the past three races, including a runner-up showing at Pocono last week. He has thus built a 39-point cushion on 17th place, but he'd undoubtedly like a win to breathe easier as NASCAR comes down the home stretch.
Jones has two top ten finishes in a pair of starts at Watkins Glen, including a fifth-place showing last season.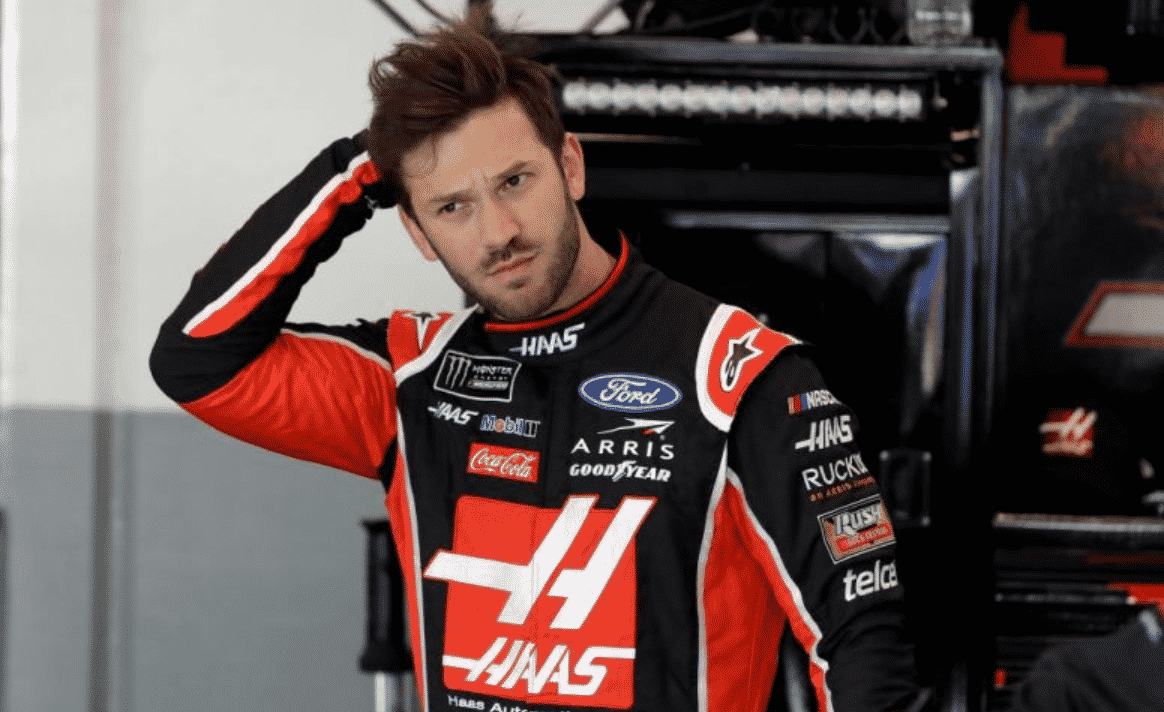 Daniel Suarez (Starting 18th)
Suarez is another bubble driver, but he isn't lucky enough to be in the sweet 16. Starting races hasn't been an issue. Suarez had started in the first ten in six of the prior nine races, earning a pole at Kentucky. But those strong starts have translated into only three top tens. As a result, Suarez is on the outside looking in as the season's pre-playoff races can now be counted on one hand.
Making up 31 points and leapfrogging two of a Bowyer/Newman/Johnson trio is a lot to ask for. Watkins Glen comes at the perfect time on the schedule for Suarez, who is also still looking to get the first win monkey off his back. He has finished in the top four in each of his first two WGI races. If Suarez is looking to make a surprising playoff push, it well could be now or never for the No. 41 team.
Starting Lineup
| | | |
| --- | --- | --- |
| Driver | Car | Crew Chief |
| 1. Chase Elliott | #9 NAPA Auto Parts Chevrolet | Alan Gustafson |
| 2. William Byron | #24 Hendrick Autoguard Chevrolet | Chad Knaus |
| 3. Kyle Busch | #18 Hazelnut Spread M&M's Toyota | Adam Stevens |
| 4. Martin Truex Jr. | #19 Bass Pro Shops Toyota | Cole Pearn |
| 5. Kyle Larson | #42 McDonald's Chevrolet | Chad Johnston |
| 6. Denny Hamlin | #11 FedEx Cares Toyota | Chris Gabehart |
| 7. Kurt Busch | #1 Monster Energy Chevrolet | Matt McCall |
| 8. Jimmie Johnson | #48 AllyBank Chevrolet | Cliff Daniels |
| 9. Aric Almirola | #10 Go Bowling Ford | John Klausmeier |
| 10. Brad Keselowski | #2 AutoTrader Ford | Paul Wolfe |
| 11. Michael McDowell | #34 Long John Silver's Ford | Drew Blickensderfer |
| 12. Ricky Stenhouse Jr. | #17 Acronis Ford | Brian Pattie |
| 13. Clint Bowyer | #14 Rush Truck Centers Ford | Mike Bugarewicz |
| 14. Erik Jones | #20 DeWalt Toyota | Chris Gayle |
| 15. Kevin Harvick | #4 Busch Ford | Rodney Childers |
| 16. Chris Buescher | #37 Cottonelle Chevrolet | Trent Ownes |
| 17. Alex Bowman | #88 Axalta Chevrolet | Greg Ives |
| 18. Daniel Suarez | #41 Haas Ford | Billy Scott |
| 19. Ryan Blaney | #12 PPG Paints Ford | Jeremy Bullins |
| 20. Matt DiBenedetto | #95 Procore Toyota | Michael Wheeler |
| 21. Joey Logano | #22 Instacash/MoneyLion Ford | Todd Gordon |
| 22. Paul Menard | #21 Dutch Boy Ford | Greg Erwin |
| 23. Daniel Hemric (R) | #8 Catepillar Chevrolet | Luke Lambert |
| 24. Parker Kligerman | #96 Toyota Racing Development Toyota | Mark Hillman |
| 25. Ryan Newman | #6 Acronis Ford | Scott Graves |
| 26. Matt Tifft (R) | #36 Maui Jim Toyota | Michael Kelley |
| 27. Ty Dillon | #13 Geico Millitary Chevrolet | Matt Borland |
| 28. Austin Dillon | #3 Bass Pro Shops Chevrolet | Danny Stockman Jr. |
| 29. Ryan Preece (R) | #47 Kroger Chevrolet | Tristan Smith |
| 30. Bubba Wallace | #43 Victory Junction Gang Chevrolet | Derek Stamets |
| 31. David Ragan | #38 MDS Ford | Michael Kelley |
| 32. Ross Chastain | #15 Chevrolet | Pat Tryson |
| 33. Corey LaJoie | #32 Samaritan's Feet Ford | Randy Cox |
| 34. Landon Cassill | #00 StarCom Fiber Chevrolet | Joe Williams Jr. |
| 35. Cody Ware | #51 JACOB Companies Chevrolet | Michael Hillman |
| 36. Josh Biliki | #52 Chevrolet | Lee Leslie |
| 37. Reed Sorenson | #77 Chevrolet | Peter Sopenzo |
Follow Geoff Magliocchetti on TWITTER