As his former New York Yankees teammates piled on Boston in London, Clint Frazier is trying to make the best of his Scranton situation.
Famous fictional Scranton resident Michael Scott once declared there was "ain't no party like a Scranton party, because a Scranton party don't stop."
Clint Frazier is learning that the hard way.
Frazier is stuck in The Electric City while his former New York Yankee teammates partake in MLB's inaugural London Series. The Yankees topped the Boston Red Sox 17-13 in a wild opener on Saturday. One more game awaits tomorrow (10:00 a.m. ET, ESPN).
Logic dictates that Frazier should be in England. After all, he finally seemed to show he could consistently contribute on the MLB level. At the time of his latest exile to the Scranton/Wilkes-Barre RailRiders, he was batting .283 with 11 home runs and 34 runs batted in, all career-highs. Several outfielders returning from injury, as well as the acquisition of Edwin Encarnacion, led to a AAA banishment on June 16. It was one that got ugly when Frazier first refused to report back to the squad.
Since then, Frazier has instead searched for the positives in familiar territory.
"All of us are kind of going through our own thing," Frazier told Mark Fischer of the New York Post. "It's unfortunate that we're down here, but it's a good thing for the Yankees to have enough depth to keep us down here."
Upon Giancarlo Stanton's quick return to the injured list, many felt that Frazier was a prime candidate to accompany the Yankees in London. Instead, the team opted to take Mike Tauchman, whose 2019 offensive stat line (.212, 4 HR, 14 RBI) pales in comparison to Frazier's.
Yankees general manager Brian Cashman explained that the decision came down to a team belief that Tauchman would be better able to operate the spacious foul territory of London Stadium.
"Tauchman covers left, center and right in an above-average defensive way. We also knew that this ballpark has a lot of foul territory and we felt the corners would be best served by somebody who can go get the ball," Cashman said per George King III, also of The Post, on Friday. "That is not a slight to anybody else. It's just the defensive components. Tauchman, we felt was the best option.''
Frazier said he understood why the decision was made.
"In the back of my head, I'm thinking, 'Yeah my bat can make a difference in that lineup at times'," he said. "But then it's like, there's so much depth up there right now, defense might be more important than offense, so they're going to put up enough runs, so it's a good decision."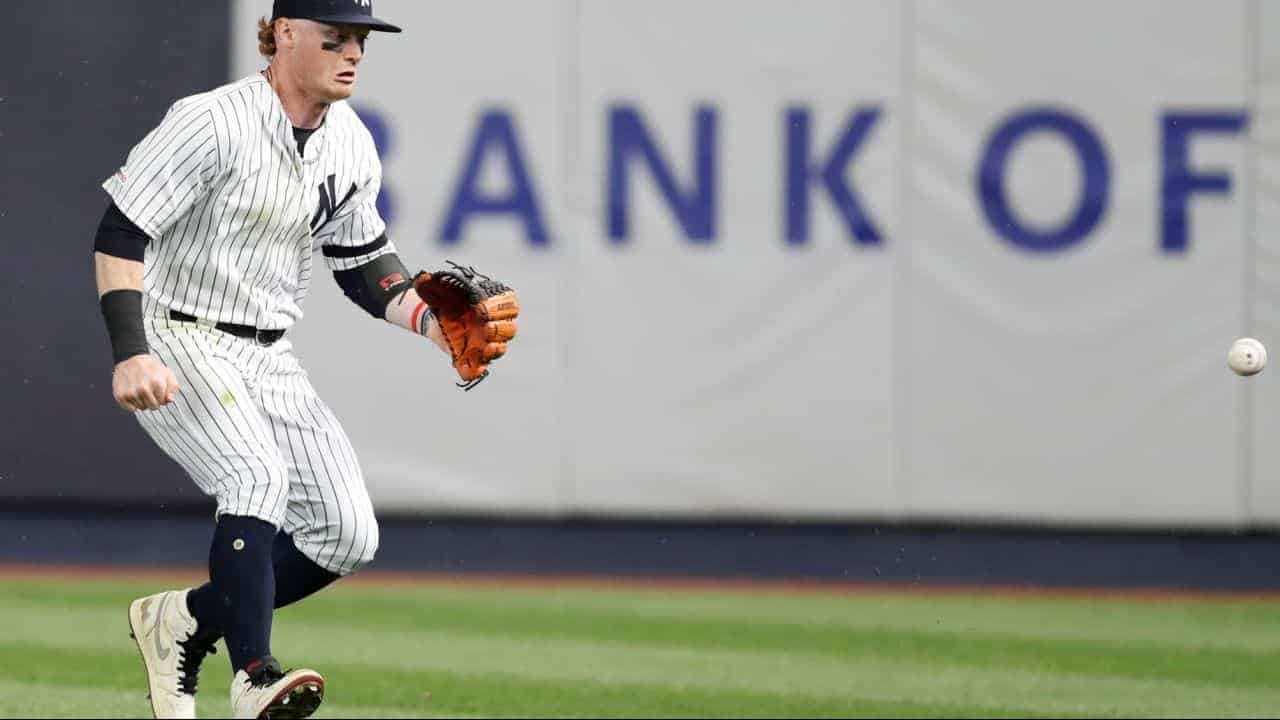 Since returning to the RailRiders, Frazier is batting .222 with one home run and two RBI's. He went 2-for-5 with a double in Scranton's 12-3 loss to Lehigh Valley on Saturday.
During his latest Scranton stint, Frazier is looking to expand his game by playing more in center field. He has primarily been used in the corners throughout his career, but that proved to be his defensive downfall in The Bronx.
"It's not an adjustment going from right or left to center, it's more going from center to right or left," Frazier said. "Center field, I feel more comfortable there. You have a better view of the ball. And then you go the corners, and guys are pulling pitches on you just a little bit quicker. Center field to me, I'm just chilling out there, relaxing."
While Frazier is confident there's a chance the Yankees could bring him back up when they get back to America, the surplus of outfielders makes him a prime trade candidate as the July 31 deadline looms large. After the Encarnacion addition, Cashman hinted that more trades were on the way, likely to add a starting pitcher.
Frazier has not kept up to date on the latest trade happenings.
"I don't search (trade rumors) because I'm not going to benefit from that, but I see the notifications when people tag my name and then that's how I'll see an article that's written," he said. "I got off Instagram because I just don't want people to reach me. I don't want to be reached. I just wanted to go off the grid and do my thing."
Follow Geoff Magliocchetti on TWITTER