Bill Buckner's passing provides a tremendous excuse to reflect on the 1986 New York Mets and the best World Series final-out celebrations.

The great Bill Buckner passed away on Monday, Memorial Day 2019, at the age of 69. The baseball name itself breeds one of unfairness.
While he should have been celebrated for his constant professionalism and hitting ability, one play defined the man. Of course, we're discussing the 1986 World Series.
Game 6, with Keith Hernandez already in the clubhouse watching the ending on TV, saw a Mookie Wilson rolling ball slide to the right of Buckner's closing glove. The monumental moment capped the greatest rally in World Series history, eventually leading to a New York Mets championship.
While, no doubt, Buckner couldn't do much, the madmen Mets went nuts in celebration. But which team has come away with the greatest final-out reaction over the last four decades?
First, the Mets, whose reckless, party attitude literally destroyed a pile of celebration and brought it to its knees.
Did you see the pile completely get bulldozed?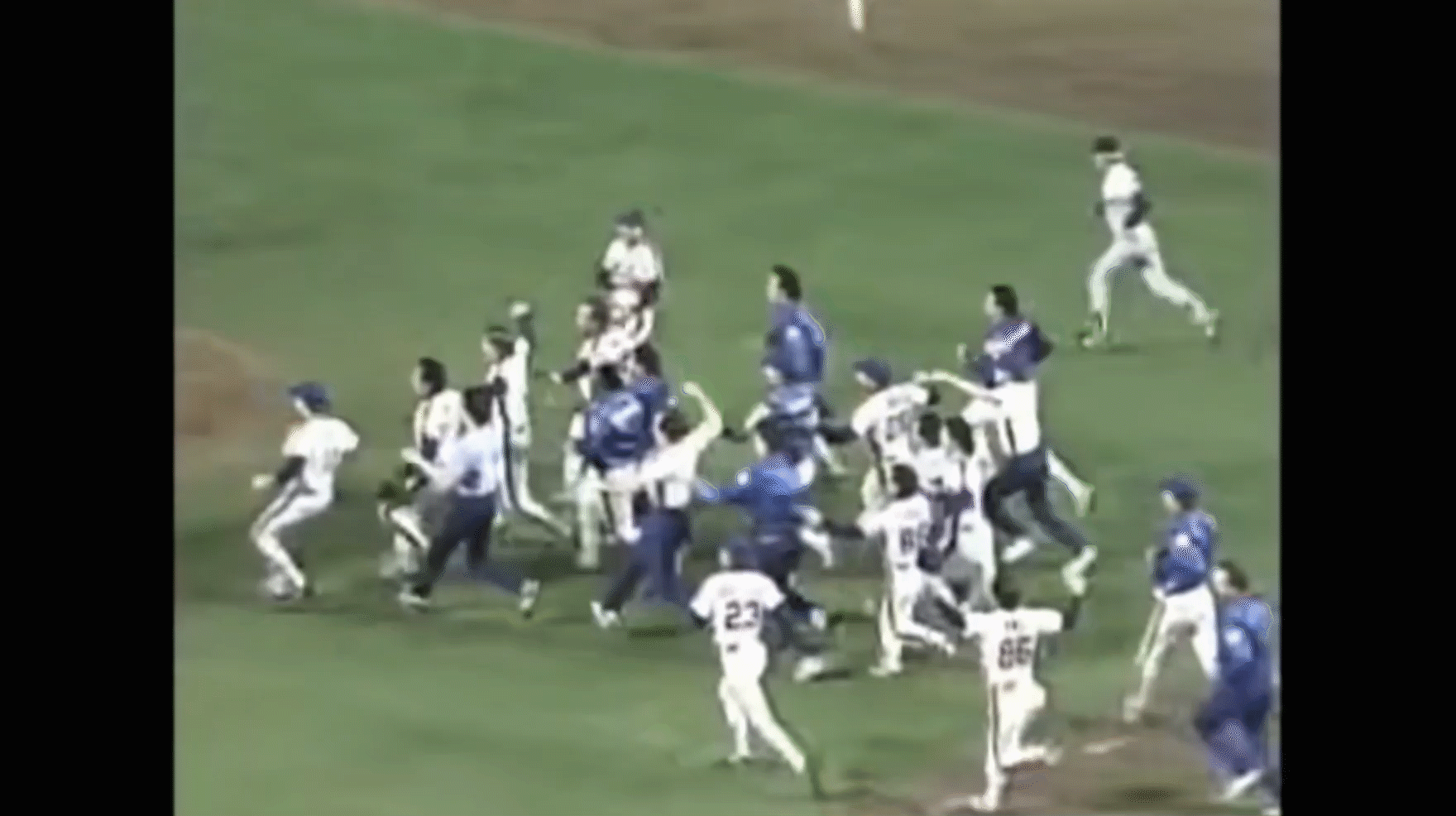 Considering how the series went, the reaction is understandable. Still, it's an impressive initial celebration following the final out with Buckner's wondering what could have been.
Speaking of Buckner, his last franchise had every right to celebrate as hard as possible in 2004 when they finally took home the crown. Instead, we witnessed a soft version of a title victory.
Soft, soft, soft. Are we kidding? After 86 years, this is the best final-out celebration the Sox can put forth?
Admittedly, the clean 4-0 sweep made things a little less tense, but still: 1918.
The 1996 New York Yankees are next on the docket. Finally putting an end to the organization's nagging World Series drought, the Bombers celebration was solid.
It was a frantic scene, at home. What really put it over the edge was the Paul O'Neill summersault over the pile. basically treated the win like another day in the park. Aside from Tommy Lasorda's reaction, not much was buzzing.
And finally, the Los Angeles Dodgers of 1981 basically treated the win like another day in the park. Aside from Tommy Lasorda's reaction, not much was buzzing.
To be fair, the two softer examples came while clinching on the road. The Mets and Yanks, on the other hand, came at home. But go ahead and judge for yourself. The 1986 Mets and 1996 Yankees put on the two best celebrations since 1980.
" ]