Game 1 of the ECF lived up to the hype. Here are four takeaways from the Milwaukee Bucks victory over the Toronto Raptors.

The Eastern Conference Finals is fascinating; it features two vastly different teams. In fact, if you squint closely, it almost appears as if the two competitors are from different eras – perhaps, even, decades apart.
The Toronto Raptors are a more old-school, early 2010's style ballclub. With the best isolation star  — Kawhi Leonard — since Kobe Bryant, the Raps are slightly reminiscent of Kobe's late 2000's Lakers. Filled to the brim with defensively savvy veterans, Toronto prides itself on being a group of guys who just know how to play.
Milwaukee, on the other hand, is about as cutting edge as it gets. Offensively speaking, they're what Morey-Ball would look like if you plopped in an early-Cavs' LeBron James look-alike; Giannis Antetekounmpo runs the show at point-forward. Defensively, the Bucks shade opponents away from the rim and entice inefficient shots like midrange jumpers and above-the-break three-pointers.
Game 1 was a bloodbath. After leading for most of the game, Toronto's mostly-potent offense dried up at the worst time, scoring just 17 points in the final quarter. After shooting below 20 percent from deep for most of the game, Milwaukee turned its jets onto hydro, scoring 32 points in the fourth quarter.
In the end, the Bucks won Game 1 against Toronto on their home floor, 108-100. Here are some things to monitor going forward in the series.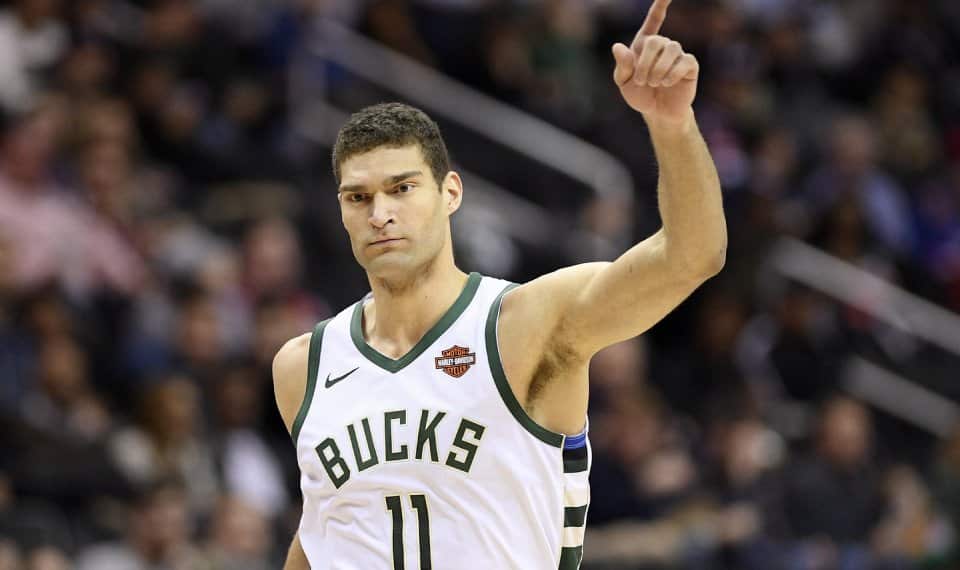 So, y'all forgot about Brook Lopez, huh?
Splash Mountain picked the right time to turn it on. After struggling throughout most of the postseason, Brook Lopez had had enough, scoring 29 points while pulling down 11 rebounds along with four blocks.
I've long felt that the Bucks have a sleeping giant on their hands. Since coming to Milwaukee, Lopez has been marginalized a bit — utilized mostly as a 7-foot Danny Green who exclusively launches threes. Not too long ago, Brook Lopez was one of the most tenacious post players in the association. With pristine footwork, excellent pace, and butter-soft hands, Lopez could weasel his way into just about any low-block shot he wanted. Unfortunately, Lopez's low-post skillfulness became largely overlooked, as he spent a majority of his prime on the Brooklyn Nets. And not even the fun 6th-seed Brooklyn Nets. It was the tank-tastic 20-win Nets.
I've pined over the idea of unearthing Lopez's low-post greatness on some poor unsuspecting foes. Well, on Wednesday, Coach Mike Budenholzer finally released Splash Mountain. Perhaps he didn't want to show his full hand with Lopez until now.
Brook Lopez got going early, performing the worlds slowest Eurostep around Toronto's Marc Gasol. After sneaking in for a pair of offensive boards, Lopez really started feeling himself. Halfway through the second quarter, like a thunderous waterfall, Splash Mountain cascaded his first three-pointer through the hoop – right in the grill of Marc Gasol. With nine early points, Brook had a jittery, almost pre-workout-like energy to him, sending three of Kawhi Leonard's shots the other direction. My favorite play of the night was Lopez's Chopped-N-Screwed up-and-under, in which Lopez weaved his way through the outstretched arms of Serge Ibaka.
Make no mistake, Lopez was the biggest reason that Milwaukee came out of Game 1 victorious. His energy on the offensive glass was immeasurably important, and his spacing opened up the floor for his teammates. It's going to be tough for Lopez to look this good every single night, and I'd expect him to attract more defensive attention during Game 2. Coach Nick Nurse will almost certainly drill Serge Ibaka and Marc Gasol to death on defending Lopez at the three. If not, perhaps one of Toronto's stout guards (i.e. Kyle Lowry or Norman Powell) will be tasked with accounting for him.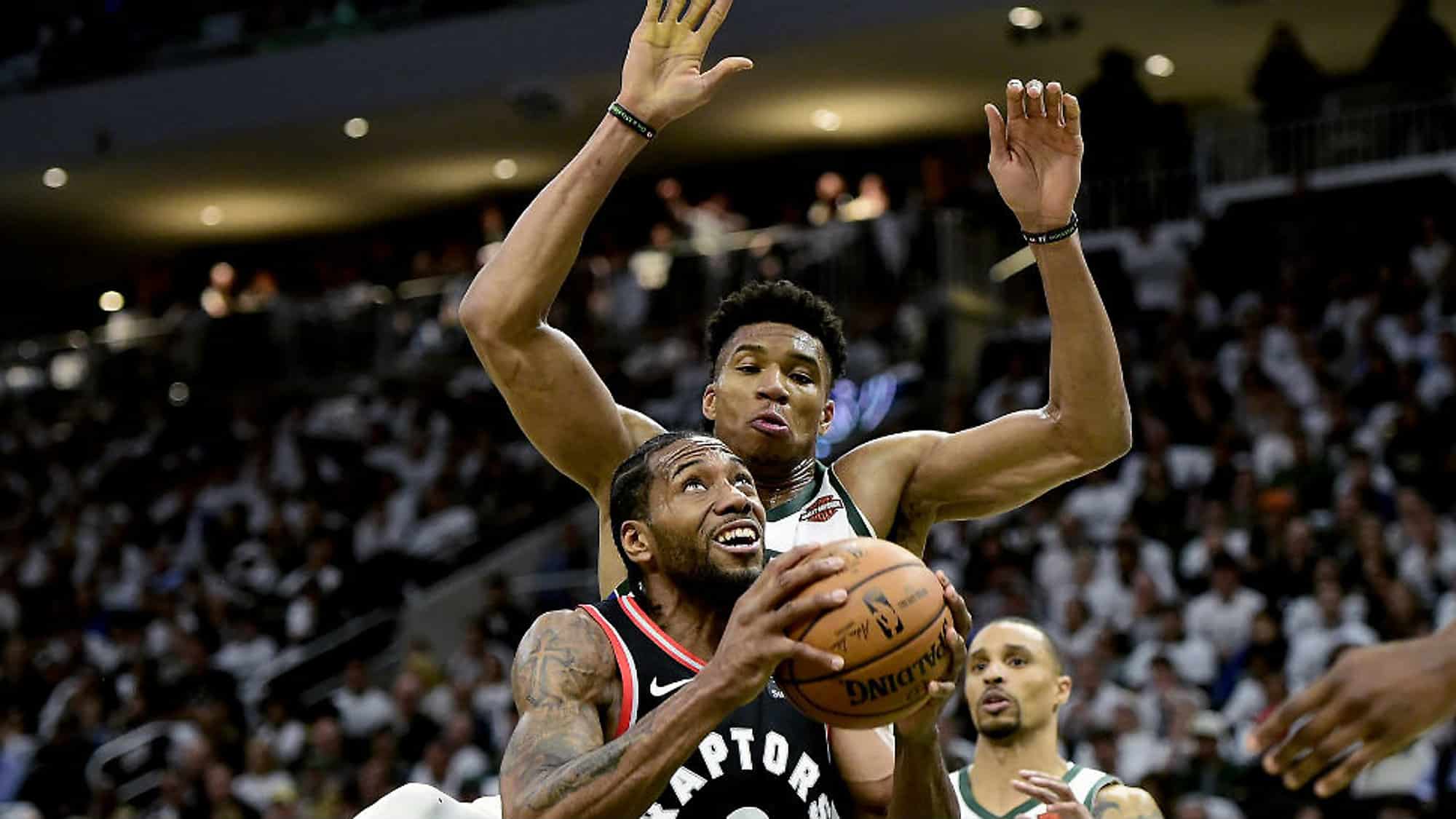 Milwaukee defended Kawhi Leonard perfectly.
Even though the Raptors' star finished with 31 points, it took 26 shots to get there. Milwaukee's stranglehold coverage deserves a huge round of applause.
Coming into the game, I wasn't sure how the Bucks would defend Kawhi. Given that the Milwaukee defense permits midrange shots, perhaps they would allow Kawhi to bomb 15-footers all game long. Or, perhaps they would use Giannis as a help defender and double Kawhi every time he's even remotely close the rim.
Wrong.
Instead, the Bucks stuck to their system and funneled Kawhi Leonard to their big man, Brook Lopez.
Lopez has been fantastic at protecting the rim. With nimble footwork and a 270-pound frame, Brook can cover a ton of ground in the paint by simply being flat-out enormous. As a shot-blocker, Lopez has an immaculate sense of timing, and he put that skill to use during Game 1; every time Kawhi saw the slightest bit of daylight, Lopez would zoom in out of nowhere and eclipse Leonard's shot opportunity with a stifling rejection.
You could tell that Lopez's offensive burst fueled his defensive focus. Four minutes into the third quarter, he picked Leonard up at the free throw line, moved his feet, and persuaded the Raptors' star into taking a tough baseline jumper.
Using Lopez as a help defender was every bit as creative as it was unexpected. In hindsight, we probably should have seen it coming all along. After all, using Lopez as a modern-day Roy Hibbert was always the heart of Milwaukee's defensive philosophy.
Still, though, I worry that asking for this type of performance from Lopez for two-straight weeks is unrealistic. At 31 years old, and with 22,000 minutes under his belt, anchoring a Finals-contending defense is a big responsibility for a plodding 7-foot center – especially in the face of a fearsome competitor like Toronto.
Luckily, Milwaukee has the perfect "break in case of emergency" option on defense should the going get too tough for Lopez. Speaking of that …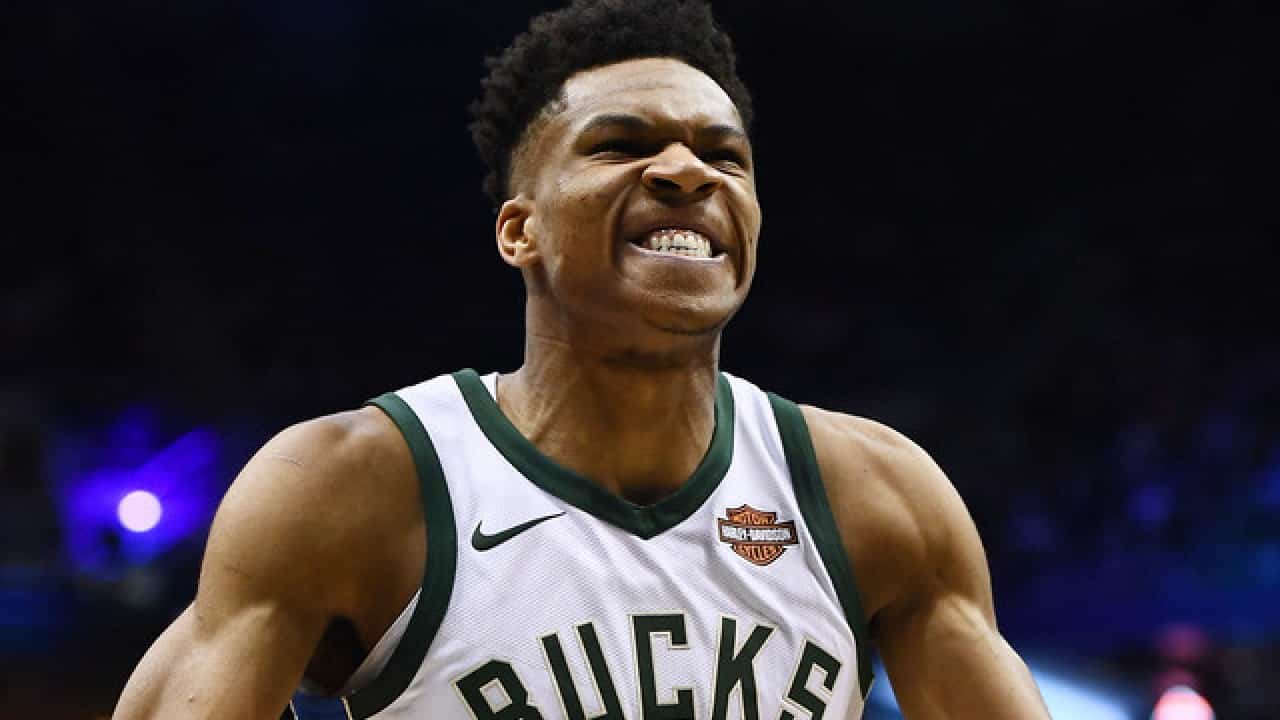 Giannis Antetokounmpo proved his value without even playing well in Game 1.
By his standards, Giannis had one of his more quiet playoff outings. It wasn't that he was bad — The Greek Freak finished with 24 points, 14 rebounds, and six assists. But similar to regular-season LeBron James, Giannis was in cruise control, looking to involve his teammates.
Make no mistake, Giannis made his impact felt. His biggest revelation this postseason has been improved playmaking. Giannis is at the point now where he attracts 2-to-3 defenders every time he drives to the basket. Teamwork is hardwired into many of these guys' brains, so when they see a 7-foot gazelle barreling towards their helpless big, it becomes second nature to inch towards the middle and stop Giannis.
Unfortunately for Toronto, Giannis is at the top of his game — one step ahead of the defense on nearly every possession. Notice, in the clip above, how both Marc Gasol and Pascal Siakam sag into the middle to contain Giannis. The Freak takes advantage, launching an easy skip pass to a wide-open Malcolm Brogdon, who calmly launches for three.
What stands out to me is that even though Kawhi Leonard (one of the best defenders in the association) is guarding Giannis, Gasol and Siakam still felt the need to provide additional assistance. If that doesn't suggest that Antetokounmpo is dangerous, I don't know what will. Antetokounmpo will continue to force Toronto's hand when picking between the lesser of the two evils: either double Giannis as he barrels to the rim or pick up the 40 percent three-point shooter in the corner. It will be nearly impossible to do both.
Defensively, Giannis was just as devastating — if not more. He spent most of the night guarding Toronto's second-best player, Pascal Siakam, and completely erased his impact. Per Second Spectrum, Giannis picked up Siakam on 39 total possessions and forced the Raps' star into 3 of 8 shooting. Siakam has a dizzying post-game but Giannis is able to extinguish it by matching Pascal step for step while keeping his hands raised. Even better, in Game 1, he used his stupidly muscular frame to front Siakam on the block. During the fourth quarter, the Greek star body-bumped Siakam so hard that Toronto's forward lost his dribble off his leg.
However, the play that stood out to me the most occurred at the 8-minute mark of the fourth. At this point, Kyle Lowry was on fire and had scored 21 of Toronto's 88 points. The All-Star point guard was getting anywhere he wanted, bulldozing his way to the rim and launching earth-scorching threes from deep.
The Bucks needed an answer for Lowry, and who else but Giannis would step up.
This is not even fair. Not only does Giannis have about a 1-foot advantage on Lowry, but he's also considerably faster. Lowry bullishly steamrolls to the rim, but to no avail; Giannis wraps him up like a cocoon. Panicking, Lowry attempts to change directions in flash but unfortunately double-dribbles.
This is what Giannis brings to the table defensively. Should a player on the Raptors' roster catch fire, Milwaukee can simply stick Giannis on them for a couple of possessions to eradicate their impact.
Currently, Milwaukee has the Greek Freak stationed on Pascal Siakam — a non-shooter who is fairly one-dimensional offensively. This is by design. Giannis is the league's best help defender, swallowing up opponents like an All-Pro safety. Yet, in Game 1, Milwaukee didn't even crack the lid of Giannis' secondary defense.
If Brook Lopez wears down like I expect he will, and his rim protection begins to fade, expect the Bucks to break the Giannis help-defense factory seal. Kawhi Leonard had trouble lofting jumpers over Brook Lopez's outstretched arms. Imagine how Kawhi will feel when its Giannis Antetokounmpo streaking in from the corner, unfolding that 7-foot-3 wingspan to contest every shot.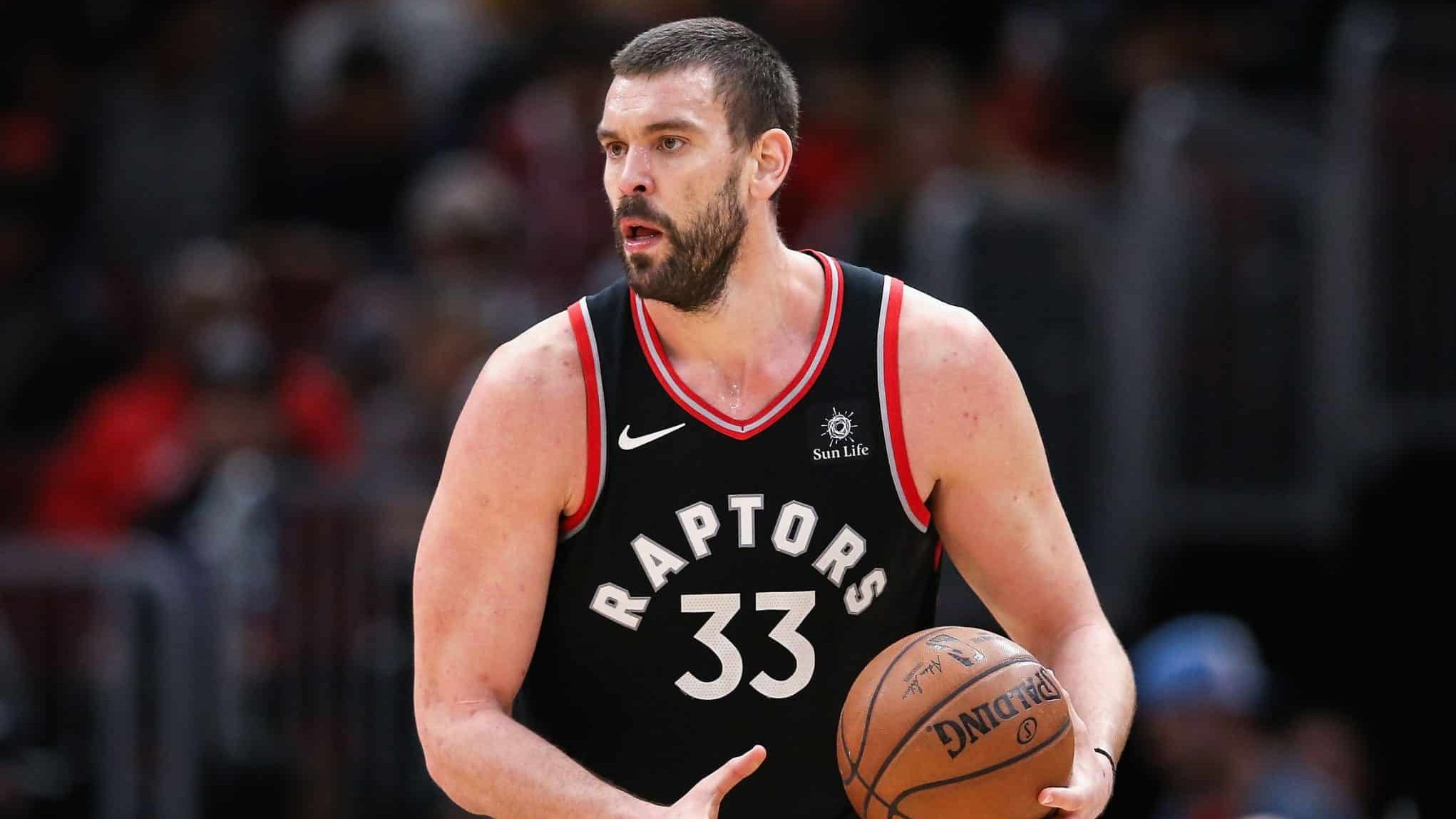 Marc Gasol might be decidedly unplayable.
Rough night for Big Spain. Gasol finished Game 1 just 2 of 11 and missed every two-point shot he took. On the other side of the floor, Gasol was even more ineffective. As mentioned before, he had no idea how to defend Lopez's three-point brigade. Every time Giannis found Gasol in a mismatch, you could practically see the Bucks star lick his chops.
Marc Gasol is far past his prime as a defender. While he still is very good in the post, he just doesn't have the footspeed to guard players outside of the paint. Giannis took advantage of this and scored on two of his three shot attempts with Big Spain defending.
In fact, if he doesn't start to play better, it may be best for the Raptors to roll with Serge Ibaka. He's much quicker than Gasol. Small sample, I know, but Ibaka forced Antetokounmpo into 0-of-2 shooting so far.
Last round, Ibaka fared fairly well at containing Embiid's pump fakes and subsequent rim runs from the three-point line. Perhaps he can do the same with the Freak.
Other notes:
The Toronto Raptors wasted Kyle Lowry's best game of the postseason. That sucks. What's even more concerning is that Toronto needs this type of effort from Lowry every single night if they want to keep up with the league's fourth-best offense. Lowry, for as great as he is, is not a consistent 30-point type of player. He's more of a cerebral hustler: He dives for loose balls, bodies up larger players on the post and looks to win through his passing. The Raps are going to need Game 1 Kyle Lowry for all seven potential nail-bitters. Let's hope he's capable of providing that.
Eric Bledsoe is fearless. Bledsoe didn't have a particularly effective game, scoring just 9 points on 3 of 12 shooting. He did, however, make the biggest play of the night. Late in the fourth with four seconds remaining on the shot clock, Eric Bledsoe ended up with the ball in his hands stuck in the right corner. To the surprise of none, Toronto trapped, hoping to force a turnover. Do you know what Bledsoe did? Instead of panicking, mini-LeBron put his head down and demolished his way to the rim.
Somehow, even with three defenders in his path, the dude earned free throws. It was ballsy. It was insane. But most of all, his bravery clinched the game. There have been questions about Bledsoe's fit as Milwaukee's go-to option down the stretch. So far, he's done a pretty convincing job.
The Raptors got killed on the offensive glass. This really confused me. The Bucks were able to sneak in and grab 15 offensive boards against the Raptors' ninth-best rebounding defense. Keep in mind, Milwaukee rarely pressures the glass on offense — the Bucks were 25th in offensive rebounding during the regular season. Brook Lopez played a big part, grabbing four monster boards of his own. To be fair, Lopez was out of his gourd on Wednesday. But seeing skinny Nikola Mirotic slip in for three second-chance opportunities was just downright concerning.
Toronto. This can't happen. If the Raps continue to protect the glass like this, the series will be over quickly. Back to the drawing board you go, Nick Nurse.