The New York Yankees injured list is loaded. Who, though, do they need back most desperately? Today, we rank the top five. 

Just 16 games into the season, the New York Yankees already own a record for the league. And it's not a good one.
With 13 players succumbing to injury, the Bronx Bombers should likely start creating their new stadium at Montefiore Medical Center. That tops the league so far in terms of players on the newly named injured list.
With a depleted squad so early on in the season, the Yankees have looked more like the Bronx Bummers than their other namesake. While one player doesn't make an entire team, it's become very clear that there are several key pieces missing to a roster that has the potential to snag their first World Series title since 2009.
With multiple players missing time, naturally, the Yankees would like all of them back. But which ones are the most important to a possible title run? Let's rank them.
5. Didi Gregorius
Didi Gregorius is still recovering from offseason surgery but his presence has been desperately missed in the lineup.
While he has a tendency to go through severe ups and downs in his career, his smooth left-handed bat is desperately needed in this lineup. With Greg Bird injured (again) and Brett Gardner getting off to a slow start this season, they need a legitimate lefty threat at the plate.
Gregorius ranks so low on the list because as of right now, the infield has been showing incredible promise. With Gio Urshela, DJ LeMahieu and Gleyber Torres holding down the infield, Gregorius can take his time coming back to make sure he's fully healthy.
4. Luis Severino
Yes, the Yankees would absolutely kill to have Luis Severino back in the rotation at any point. But at this moment, they're picking up the slack from their missing ace.
It's not a desperate need at the moment but come the dog days of summer when the roster is feeling the effects of a lengthy season, Severino's return will be welcomed and celebrated.
Hopefully, at that time, he is back to the Severino we know and love, and the rest of the league despises.
3. Dellin Betances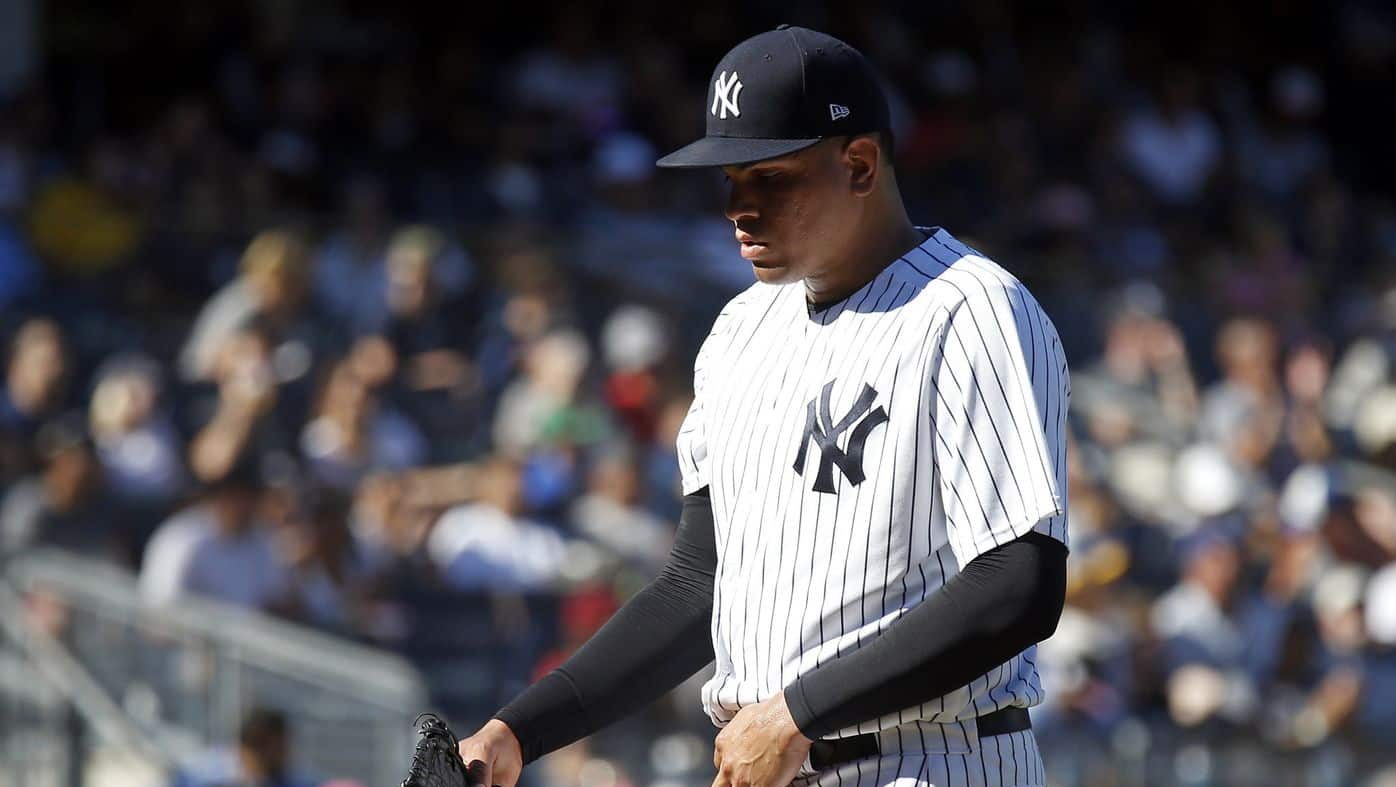 The bullpen could use another weapon, as they haven't started out the season at their best. One of the best in the game, Dellin Betances's presence has been greatly missed.
One of Aaron Boone's favorite calls in a tight game, the flame-throwing righty coming back to the 'pen will give them another pitcher who will have opponents shaking in their boots.
We've witnessed a few meltdowns from the bullpen so far this season and with a healthy Dellin Betances returning, I guarantee those struggles will disappear like Jacoby Ellsbury.
2. Aaron Hicks
While Brett Gardner has been holding down centerfield with veteran authority, the need for Aaron Hicks has become more and more apparent as the season rolls on.
We have no idea what Aaron Hicks will bring to the table when he comes back, especially if he's going to play timid. Regardless, his presence in the outfield is desperately needed and his switch-hitting bat will put a punch back in that lineup.
Hicks is not only an excellent fielder but gets on base at an impressive clip. The Yankees need him to set up rallies and take advantage of opportunities with runners in scoring position.
When does Aaron Hicks return? Nobody knows. But the second he is ready to come back, Yankees fans better be jumping for joy.
1. Gary Sanchez
By far the biggest piece that Yankees are missing is the recently injured Gary Sanchez.
While Sanchez struggled the past few years with his defense behind the plate, he's really stepped it up this season when it comes to blocking balls. Plus, with his cannon arm, opponents will stop stealing bases with ease.
Not only on the defensive end, but they are naturally missing his big bat. Although his batting average isn't quite at the level many would like to see, he has been making solid contact and still hitting home runs.
The lineup needs some spark and Gary Sanchez is just the guy to get things going. From the catcher's position, neither Austin Romine nor Kyle Higashioka can hold a candle to Sanchez's skills.
If we could speed up time and the healing process, we know the New York Yankees certainly would. Yes, in a realistic world, they would want everyone back to put together that World Series-bound lineup. However, when we discuss the most important guys, these are the ones that come to mind.
The injury bug has tested the Yankees so far this season but sooner or later, they'll be back in full health and ready to play their hearts out.
All the New York Yankees have to do is keep their head above water and then once these guys come back, opponents better watch their own backs.