The 2018 season ended in disappointment for the New York Yankees making 2019 the year to go all in for a championship. 

Spring training is officially over and baseball is returning to the Bronx where the New York Yankees are expected to do big things in 2019.
Without a doubt, the 2018 season was a major disappointment for the Bronx Bombers who were eliminated in four games in the ALDS by the Boston Red Sox. All of this coming on the heels of falling one game short of the World Series in 2017. New York's rotation never showed up in that series making it a major area of focus for general manager Brian Cashman and the rest of his staff.
Like any season, the beginning is a time for hope and positive thoughts, especially with a much-improved roster. Cashman went out and acquired a major upgrade in James Paxton for the Yankees rotation while bringing back some other key free agents in what looks like a much-improved rotation. He added to an already stacked bullpen while adding two solid depth players to help make the Yankees' lineup deeper than it was in 2018.
Just like 2018, the Yankees are aiming for the big prize of the World Series. Multiple players like Brett Gardner, Dellin Betances, and Aaron Judge have spoken out saying that is the goal for this team in 2019. It's an idea most fans have become used to thanks the Bombers' 27 championships. While it's easy to say that's the goal for this season, reaching that goal is not going to be easy. Fortunately for fans though, this team is capable of going all the way.
Let's take a look at what the 2019 New York Yankees have to offer us in 2019.
Key Losses
Most of the players who helped the Yankees get to the ALDS and their first 100-win season since 2009 are still around, but they did lose some key pieces.
Both Andrew McCutchen and David Robertson have moved on to the Philadelphia Phillies after being crucial for the Yankees in 2018. Robertson continued his Houdini act after being re-acquired in 2017, while McCutchen helped the Yankees get through the Aaron Judge injury.
Perhaps the biggest subtraction this year is Sonny Gray who was shipped to the Cincinnati Reds. Gray just never really worked out for the Yankees and the statistics are there to back it up. Despite having a few bright spots, it was simply time to move on and it looks like both sides are going to benefit from the move.
Key Additions
Despite not signing Patrick Corbin, Bryce Harper or Manny Machado, the Yankees had a very successful offseason.
They essentially replaced Gray with James Paxton who has proven to be a reliable starter whenever he gets the ball. The question with him will always be his health, but right now he is healthy and is looking good with a real solid first spring training in Pinstripes. He will become the third southpaw in the Yankees rotation after the Yanks re-signed J.A. Happ and CC Sabathia.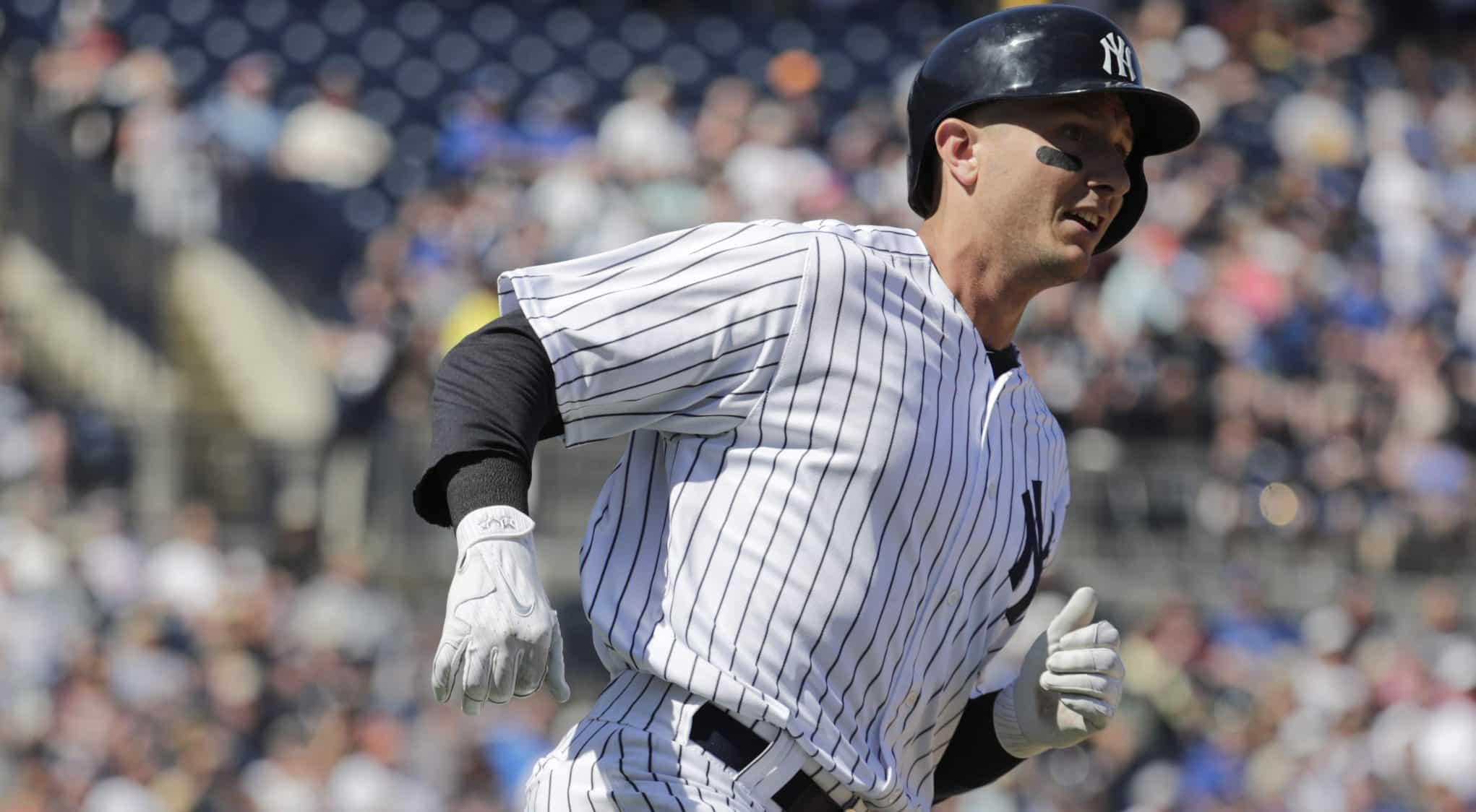 If healthy, the expectation is for Troy Tulowitzki to fill in for Didi Gregorius at shortstop while he recovers from Tommy John surgery. Tulowitzki had an impressive spring and looks ready after missing a year due to surgery on both feet in 2018. The plan is for Tulowitzki and Gleyber Torres to get the starts at short with newly acquired DJ LeMahieu playing second during Didi's absence.
Not only did the Yankees re-sign Zack Britton this winter, but they also added one of the game's best relievers in Adam Ottavino to create one of the deadliest bullpens in all of baseball. The addition of Ottavino essentially shortens the game with all of the options second-year manager Aaron Boone has to play with already.
A Lineup Poised To Do Damage
The 2018 Yankees had a historic season offensively breaking a major league record with 267 home runs. Even with a powerful lineup, some feel this team still has room to grow with the bats in 2019.
Led once again by slugger and rising star Aaron Judge, the Yankees are fully capable of shattering that record. First off, the Yankees accomplished that feat with Judge missing 50 regular season games limiting him to just 27 homers. Judge came into this spring on a mission with a small adjustment to his leg kick with two strikes in order to cut down his strikeouts. So far, the adjustment is doing wonders for him. He belted six home runs and finished spring with a .316 batting average.
Gary Sanchez also suffered from injuries and when he was in the lineup, he was not the same player who burst onto the scene in 2016. If Sanchez can rebound from the .186 batting average he posted in 2018, you can only imagine how his power and impact numbers can improve. The Yankees feel 2018 was just a fluke and his shoulder injury played a significant role in his disappointing year.
What makes this lineup much scarier is the fact that Giancarlo Stanton is completely comfortable in a Yankee uniform. Most feel 2018 was a disappointment for Stanton after he slashed .266 with 38 home runs and 100 RBI playing in all but four games. Yes, he did struggle immensely at times, but he was still in the process of adjusting to a completely different league. In his second year in pinstripes, Stanton is looking to find consistency and if he does that, this lineup is 10 times scarier than it was a year ago.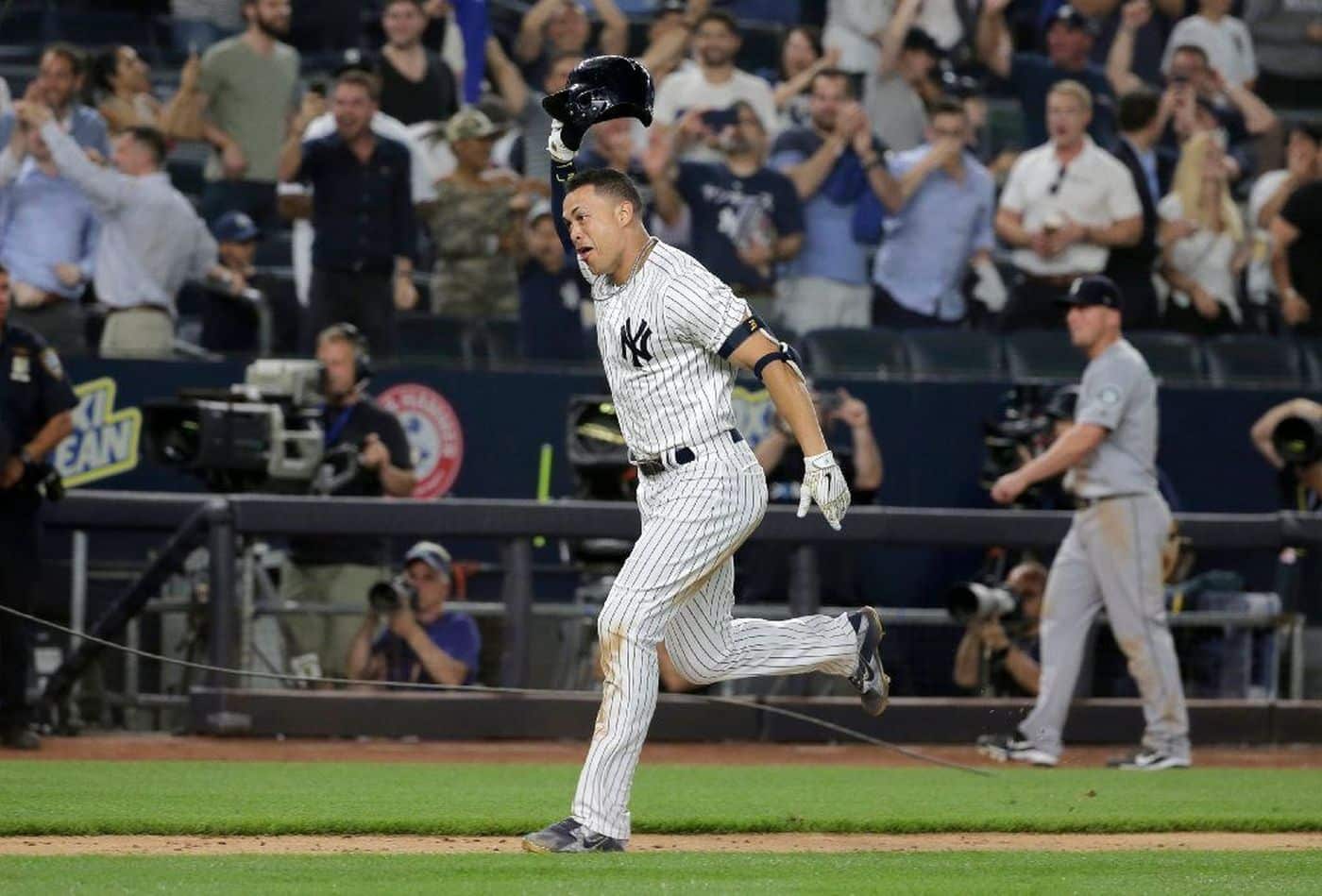 There are only two new additions to the Bombers lineup in Troy Tulowitzki and DJ LeMahieu. LeMahieu is one of the best contact hitters the game has to offer with a career .298 batting average. He brings the Bombers' lineup a different look other than the power it already possesses creating all kinds of possibilities for manager Aaron Boone. For Tulowitzki, he's looking to prove the Toronto Blue Jays wrong for releasing him while also proving he can stay on the field consistently.
Along with those additions, Miguel Andujar and Gleyber Torres will look to build on successful rookie seasons. Andujar's biggest question mark remains his glove, but he's made great strides at third and, it never hurts if you can hit 27 home runs and drive in 92 RBI to make up for your defensive shortcomings. For Torres, he's looking to stay healthy this year after missing some time in 2018. Torres was not the same player following the injury, but still showed why he was the Bombers' number one prospect entering 2018.
If there are any question marks surrounding the Yankees offense it comes at the first base position. Yes, Luke Voit took the Bronx by storm in 2018 with his .333 average and 14 home runs but simply put, you do not know what type of player he will be this season. The same can be said with Greg Bird who is getting a chance to crack the Opening Day roster with Aaron Hicks starting the year on the injured list.
Outside of that one small question mark, the Yankees look poised to have another historic season offensively while tightening up on their two-strike approach. All eyes will be on them to see if the approach can work with the regular season getting underway.
Projected Depth Chart
An Improved Rotation
Hal Steinbrenner said multiple times this offseason how his goal was to improve the Yankees starting rotation after a disappointing effort against Boston in the playoffs. He stayed true to his word, as the Bombers look to have a much-improved rotation in 2019.
It all starts at the top with Luis Severino who will look to prove that his second-half struggles were a result of fatigue and are nothing to be too concerned about. But it will take some time for Severino to start his comeback after he was shut down in early March with right shoulder inflammation. The injury will cost Severino the month of April since he had to completely shut down his throwing program, however, the Yankees are optimistic the injury will not be a longterm one.
Taking the place of Severino on Opening Day will be Masahiro Tanaka who is entering his sixth year in pinstripes. Tanaka had a solid regular season in 2018 after posting an ERA over four in 2017 and was the only Yankee starting pitcher to show up in the playoffs in 2018. He lasted five innings allowing just one run in Game 2 of the ALDS, the only game the Yankees win in that series. As always, the question surrounding Tanaka is if his elbow will give out. While he's had few problems with the elbow since the original injury his rookie year, there should always be some concern when it comes to his health. Should he stay healthy, Tanaka has some of the best stuff in the entire rotation.
The big rotation addition for the Yankees this winter was adding southpaw James Paxton to create one of the stronger rotations in the AL East. Paxton posts a career 3.42 ERA with a 41-26 record in 102 games with the Seattle Mariners. The Yankees are hoping he can replicate those numbers in the Bronx replacing Sonny Gray's 4.51 ERA as a Yankee. Now like Tanaka, the questions surrounding Paxton are whether his health can hold up and if he's yet to pitch more than 165 innings in a season. If he's healthy, he is one of the best in the game and the Yankees will be in a position to compete for a division title.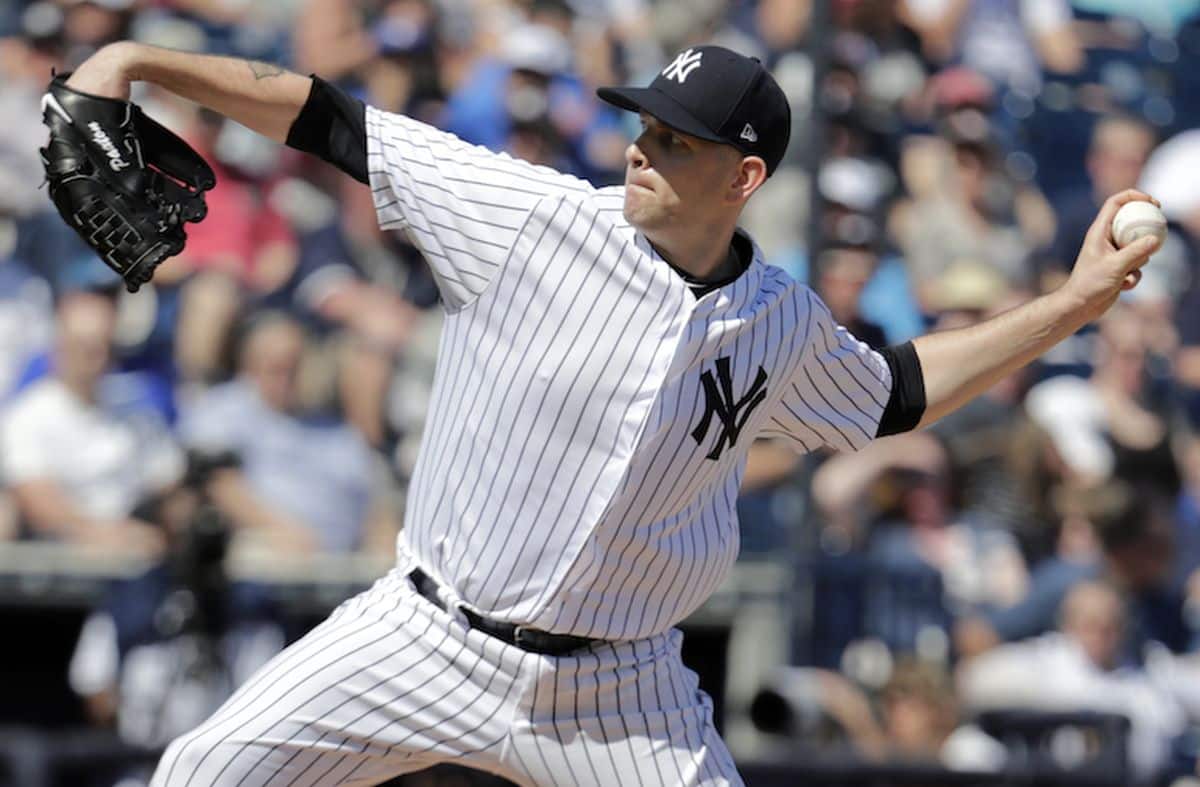 J.A. Happ returns to the Yankees rotation after the Bombers acquired him a trade deadline deal with the Blue Jays in 2018. Happ posted extremely impressive numbers with New York winning seven of his 11 starts to a 2.69 ERA. He joins Paxton, and CC Sabathia as the Yankees' southpaws in the rotation.
Right away the Yankees rotation depth will be tested with Domingo German and Jonathan Loaisiga getting the call. New York will be without Sabathia who is serving a suspension from the end of last season and is still getting into game shape, along with the time Severino is expected to miss with time with his injury. German had an extremely impressive spring with all kinds of movement on his pitches, while Loaisiga looks to build on his season a year ago.
Depth should really be the lone concern when it comes to the Yankees rotation leaving the question of whether or not they can go the entire season with the staff as is. They added veteran lefty Gio Gonzalez who will provide extra depth, but you cannot help but wonder if they will have to go out and make a move midseason.
Projected Rotation Depth Chart
James Paxton
Gio Gonzalez
The Best Bullpen In Baseball
With the addition of Adam Ottavino, the Yankees have created one of the best bullpens in all of baseball.
Ottavino will join the likes of Zack Britton, Aroldis Chapman, Dellin Betances, Chad Green, and Jonathan Holder all reliable arms for manager Aaron Boone to call on. He makes the loss of David Robertson much more bearable considering the strikeout ability he has with his 112 strikeouts in 77.2 innings a season ago. Now while 2018 was the best season Ottavino had since 2013, his stuff has so much movement, and most believe it can translate to the Bronx.
As a whole, the Bomber's bullpen in 2018 continued to be a bright spot after another strong season in 2017. Last year, the Bomber's bullpen finished the regular season with a 3.38 ERA good for fourth in baseball. Yankee relievers also ranked second in baseball with 753 strikeouts while leading the majors withana 11.4 K/9 ratio. Their 9.2 WAR was the best in baseball.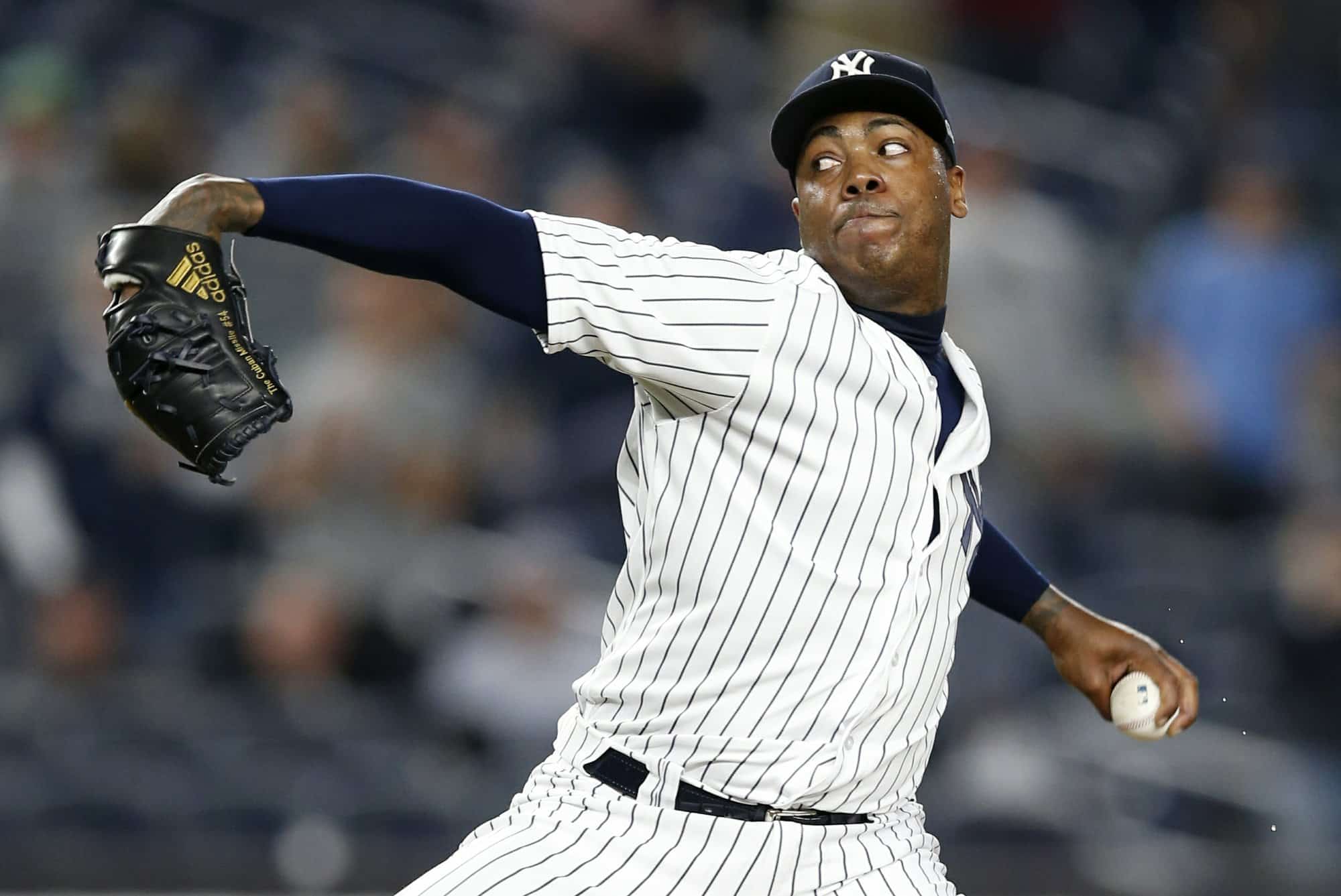 There really aren't any question marks with the Yankees bullpen outside of health. Chapman missed time last year with knee tendinitis but appears to be completely healthy. Dellin Betances is starting the season on the injured list after a drastic dip in his velocity this spring. There is always the question of how much work is too much work for a bullpen? Between the playoffs the last two years, this Yankee bullpen pitched a significant amount of innings and it could come back to haunt them in the regular season.
Outside of health, the bullpen should yet again be another strength for the Yankees. They just simply have so much firepower to chose from that it's unfair to the opposition at times.
Projected Bullpen Depth Chart
Predictions
The 2019 Yankees have a chance to break records with their lineup and bullpen. This year presents the team with their first World Series or bust mentality in almost 10 years meaning the expectations from everyone around the organization are going to be extremely high.
If the team is capable of staying healthy throughout October, they have a legitimate chance at making a run to the World Series and will without a doubt be a force in the American League. While they are facing a small bite from the injury bug right now, nothing seems to be major so there are signs of hope for a relatively healthy season.
Below, the entire Elite Sports NY Yankees team makes their predictions on what to expect throughout the entire 2019 season.

Team Record: 99-63, 1st in the AL East.
MVP: Aaron Judge
Home Run leader: Giancarlo Stanton
RBI Leader: Aaron Judge
Comeback player: Gary Sanchez
Surprising Player: James Paxton
Playoff outcome: Fall in the World Series in six games.
This Yankee season is going to be a special one. While the Red Sox are the reigning champs, I don't think they did enough this offseason with their bullpen which puts them behind the Yankees in the standings. While I think New York will make it to the playoffs, I also think old habits die slowly and the number of strikeouts in their lineup will ultimately cost them a ring in 2019.
Standings Prediction: First in the AL East barring any major injuries.
MVP: Aaron Judge. I predicted in my five bold predictions piece he would win AL MVP too, and here's why. Judge should have a chip on his shoulder after missing seven weeks with the flukiest of injuries last year. He's also changed his approach with two strikes this year. He put an emphasis on hitting to right field more in spring training. Plain and simple, the man is locked in.
Home Run leader: Judge, though Stanton won't be far behind. Both guys are capable of hitting 50-plus home runs, but I think Judge just barely edges him out in the dinger department.
RBI Leader: Here's the twist. Judge wins MVP, but Stanton has more RBIs because of lineup positioning. Where Judge will just barely win the home run crown, Stanton will do the same with RBI.
Comeback player: Knock on wood, Greg Bird. He finally seems healthy and has a lefty swing tailor-made for Yankee Stadium. He can also hit the ball to all fields and is a better all-around hitter than Luke Voit. Hopefully, he stays off the shelf this year!
Rookie of the year: Stephen Tarpley, I guess? He's the only true rookie on the active roster right now. Hopefully, he becomes a key part of the bullpen!
Playoff prediction: I refuse to answer on the grounds of jinxing anything
The Yankees are a good team, hands down. The best part is they're in a position to be a great one. The season will be a long one and surely have some bumps in the road, be it due to injury or a simple slump. The good news is, come hell or high water, New York should be in the World Series conversation from the get-go!