The New York Yankees are prepared for another Greg Bird injury but this spring he's only gotten better at this part of his game.

Waiting for Greg Bird to remain healthy has become an impatient game for the New York Yankees. One minute he's raving about his companion Mr. Delicious during warmups and the next he's taking an Uber to the nearest hospital for some precautionary X-ray or surgery.
Greg Bird has a lot to prove.
This spring, he's done everything he can to win a spot on the Opening Day roster and it seems like that will be exactly the case. Not only do the Yankees desperately need a left-handed bat to anchor the lineup, but Bird's shown that he can still hit.
He may not be a young gun anymore but he came into spring training with a chip on his shoulder. And with Luke Voit already the favorite to steal the first base spot after his impressive 2018 campaign, Bird had to make great strides to prove he was worthy of yet another chance.
What is this, the fourth chance the Yankees have given him? And every time some unfortunate injury grabbed hold of the lefty, he fought with all his might to get back to the game to represent the very same player.
It never happened.
So what makes 2019 any different? Here is the same old Greg Bird, now with multiple surgeries under his belt and, in all likelihood, bionic ankles. The story continues but each chapter ends the same exact way.
When Bird was scratched from the lineup prior to Friday's spring training contest, fans rolled their eyes at the prospect of yet another season-threatening injury. Luckily, it turned out to be soreness, which is to be expected when you get plunked by a major league pitcher.
But this year already looks different for Greg Bird. Sure, injuries are unpredictable and fans will be on high alert regarding Bird's injury history. However, Bird has already come into this spring with a skill that has been absent before.
While Bird has a huge lefty bat and can easily pull massive home runs, Bird has begun to drive the ball to the opposite field.
While this may not seem important, other teams have drastically shifted when Bird approaches the plate because of his perchance for driving balls down the right-field line. In fact, all of his home runs but four were hit to right and right-center field, as reference on the Baseball Savant chart below.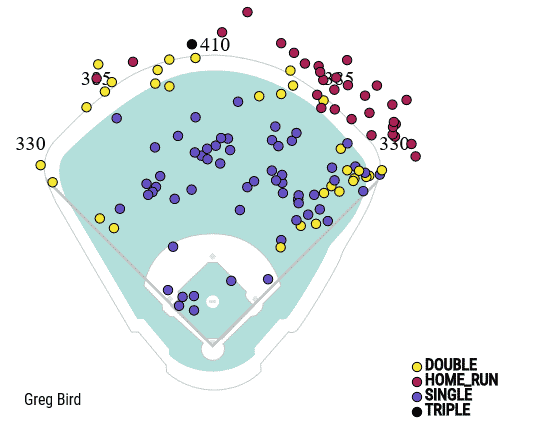 This spring, however, Bird's hits primarily went to the opposite field. And they weren't dinky pop-ups that were misplayed either. They were driven out to right field, proving that Bird is not only feeling more comfortable at the plate, but he's seeing the ball better.
That will make all the difference in Bird's fourth attempt at success in the Bronx. Being able to spray the ball confidently to all fields is a sign that Bird is not only healthy, but he's mentally approaching each at-bat the right way. This is a Bird we're not used to seeing but maybe it's the Bird that could survive a whole season in the Bronx for once.
Many fans have ducked out on Bird in favor of Voit but the truth of the matter is, Greg Bird has focused on improving his skills and, right now, it's certainly showing. A strong lefty bat in the lineup is a necessity and he's stepping up at just the right time.
Sure, those monster Greg Bird blasts over the short porch in right will be beautiful this season, but those opposite-field shots will be even sweeter.