It looked as if the USMNT were playing a 3-4-3 formation on Thursday against Ecuador due to Tyler Adams's false right back role. The team might as well jump to a full 3-4-3 system.
A 3-4-3 formation would look good on the United States Men's National Team, wouldn't it?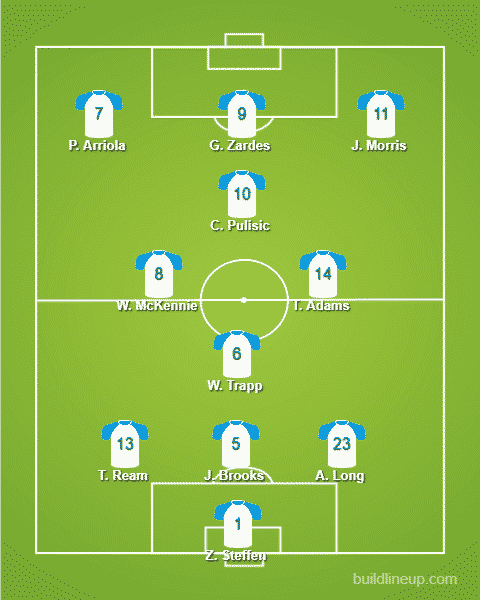 Okay, before you soccer fans start erupting while claiming it's absurd for U.S.A., a team that didn't qualify for the last World Cup, to even think about playing a vulnerable 3-4-3 formation, keep in mind that the team was practically playing with a three-man backline for a large amount of their last match versus Ecuador on Thursday.
The Yanks won 1-0 when Ecuador was playing with three forwards—but to be fair, Ecuador wasn't at their best.
USMNT was technically playing with three defenders on Thursday because Tyler Adams was playing right back but often went to his natural center-midfield position when his team had the ball.
When the United States lost the ball, Adams had enough pace to sprint back to defense as he did in the 29th minute. He also did so in the 47th minute when he sprinted back to Romario Ibarra and tackled the Ecuadorian after Aaron Long had contained him.
Long played a phenomenal game. He was a major help for Adams in his susceptible false right back position. The New York Red Bulls center-half showcased the determination and the awareness to quickly cover the space his former club teammate left open in the back from pushing up in the middle of the field.
Long's fellow defenders, John Brooks and Tim Ream, despite giving the ball away late in the game and almost costing his team a goal, also played a remarkable game on Thursday. The U.S. have the defenders to play this system. Matt Miazga is another U.S. center-back who can play within the framework of a three-man defense.
Another reason why 3-4-3 would be beneficial for the Americans is that it would allow the team to have all of their young promising inside midfielders on the pitch at the same time: Adams, Weston McKennie, Christian Pulisic and Will Trapp.
McKennie could play midfield and track back to the left flank as Adams would do on the right. Similarly to Tyler, the Texas native is a tireless runner and has experience playing fullback, hence running back to help the defense (which shouldn't be an issue for him).
The only problem with that is The Stars and Stripes wouldn't get as much as they would want from McKennie offensively and the youngster might be uncomfortable playing on the left side of U.S. central midfield area because he's used to the right side. Whenever F.C. Schalke uses McKennie as a fullback, he's been on the right side of the defense.
As for the top of the field, U.S.A. was practically playing with a three-man attack against La Tricolor, but it wasn't very successful on Thursday. The players weren't creative, only had five shots throughout the game, and their only goal was a deflected shot.
Like they do in midfield, United States' current senior team doesn't have as much talent up top to pull off a 3-4-3 formation but looking into the future a three-man attack would be ideal for  USMNT.
American rising star Timothy Weah would fit perfectly on the right flank of a three-man attack. That's where he's been playing for Scottish powerhouse Celtic.
Nineteen-year-old Werden Bremen attacker Joshua Sargent would also gel in nicely a 3-4-3 formation. As Weah, Sargent is good on the ball, therefore, will look threatening on the flank of a three-man attack.
Despite playing in Europe, both youngsters are currently with the U.S. U-23 team. When Weah and Sargent step back up into the senior team, 3-4-3 would look even more suitable on the U.S.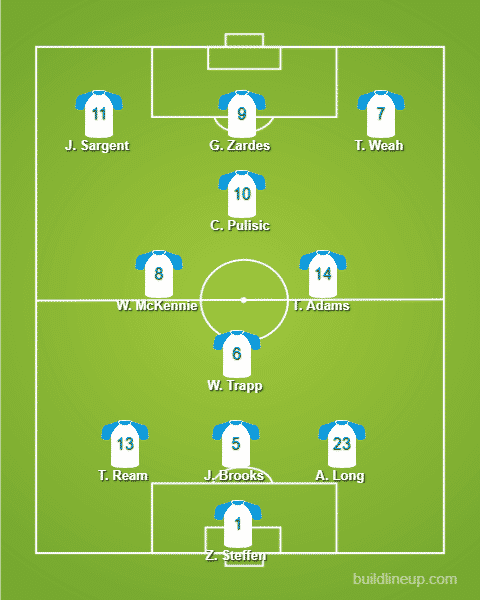 Obviously, the 3-4-3 formation would neglect the American fullbacks, but it's not a position the U.S. possess rising stars, unlike midfield and attack.
San Jose Earthquakes fullback Nick Lima was one of the best players in the U.S.' January friendlies, but Gregg Berhalter used him in the similar false right back role Adams played against Ecuador. Hence the 24-year-old could play midfield in a 3-4-3 formation.
Furthermore, DeAndre Yedlin is a right back who's playing overseas in Europe with Newcastle United but he doesn't quite fit Berhalter's system. Yedlin came off the bench in the 68th minute on Thursday, but Adams was still playing right back.
As mentioned, Lima also played the false right back position in January, which shows that it is a role Berhalter wants to keep using. So whether they play with three or four defenders, United States will look as if they're playing with a three-man backline for some time. If you can't wear a suitable 3-4-3 formation, fake it.