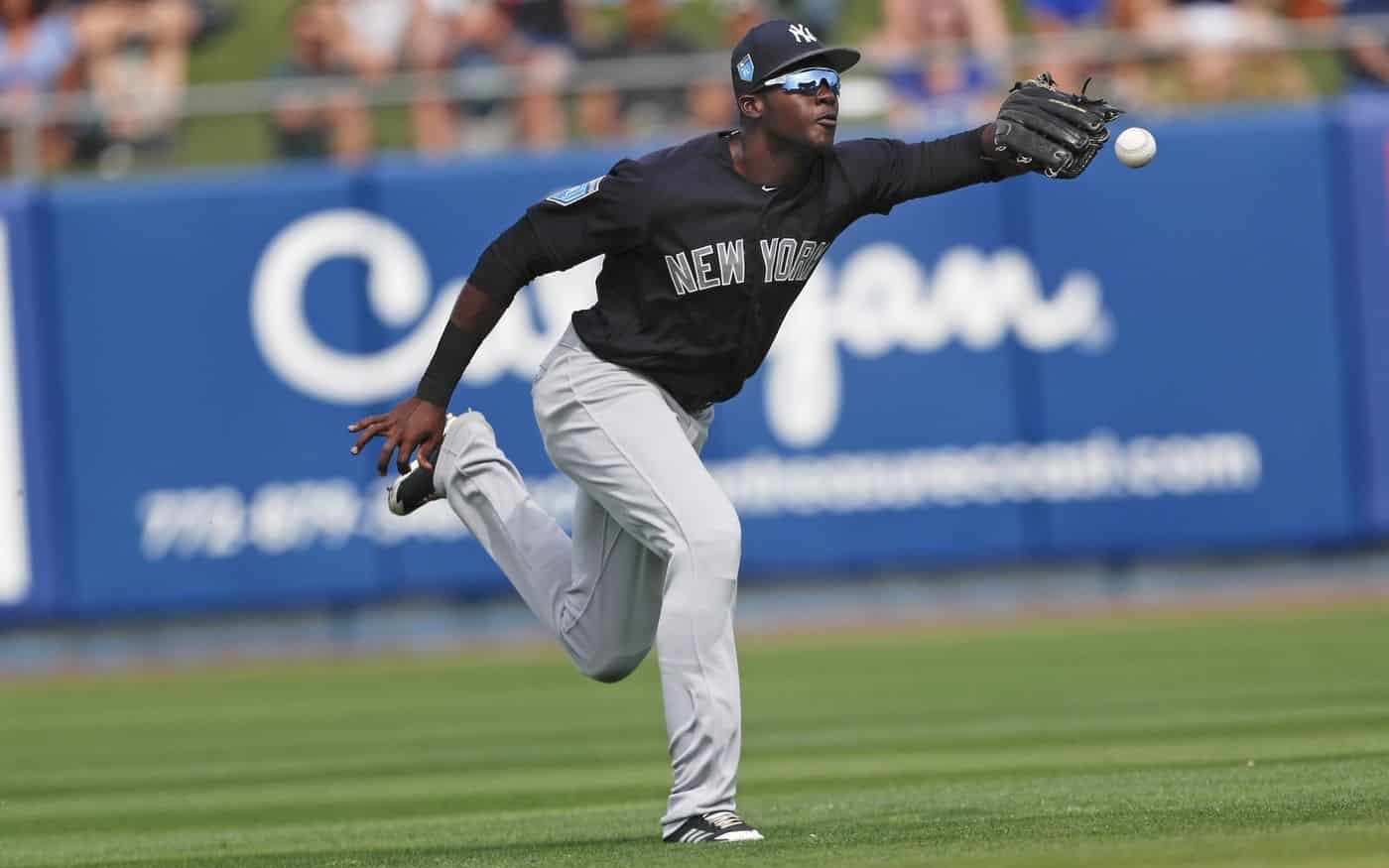 New York Yankees prospect Estevan Florial suffers a broken wrist in center field that forces his torrid spring to close abruptly.

The kid is down for the count.
Estevan Florial, the New York Yankees undoubted top prospect, suffered a broken wrist in centerfield on Saturday.
Florial has been diagnosed with a nondisplaced wrist fracture, according to the organization. The kid who had all of Yankees fandom excited for the future did it while chasing down a deep fly ball in the eighth inning of a 17-7 victory over the Toronto Blue Jays.
#Yankees top prospect Estevan Florial suffered a non-displaced fracture of his right wrist on this play in the eighth inning of today's game. He will be re-evaluated on Monday. pic.twitter.com/rYl6YaocBk

— YES Network (@YESNetwork) March 17, 2019
The timing couldn't be worse.
Florial, 21, was enjoying a tremendous Grapefruit League stint this spring. He was hitting .355 (11-for-31) with two doubles, a home run and four runs batted in over the course of 13 contests. The speedster also picked up five stolen bases in as many opportunities.
Immediately following the game, manager Aaron Boone's words relayed a precautionary message. He couldn't have been more off the mark.
"Think it's something minor, but we're going to take him and get X-rays, just in case," Boone said.
It's entirely too early to discuss the possibility of a rough return date, but the actual injury speaks volumes. Florial will miss significant time this season.
It's a major blow for the kid. For the organization, it's brutal considering the lack of depth by way of top-prospect talent down on the farm. New York has gone from tremendous prospect wealth just a couple years ago to now ranking towards the bottom of baseball in the eyes of many objective analysts.
In 2018, Estevan Florial clubbed six home runs to go along with 35 runs batted in and a .283 batting average for three teams (rookie level and high-class A). He also swiped 16 stolen bases.