New York Yankees spring training is right around the corner and while there are mainstays, there are a few worthy position battles.

The light at the end of the offseason tunnel is looming ever closer. This time, it's not a train. It's truly the sunshine in Tampa, Florida that rises over Steinbrenner Field  It's been 108 days since the New York Yankees last took the field and time has been ticking by far too slowly.
Pitchers and catchers report on Feb. 13 and position players make their annual trek to Florida on Feb. 18 and instantly, all of our lives will improve drastically.
With spring training comes a lot of added benefits. First, there is baseball for the first time since October. But beyond that, fans get to witness players in a less stressful environment, get to potentially meet their idols and watch as they battle it out for a coveted position on the starting roster.
With that being said, the Yankees have a few holes in their lineup that they're working to fill. Spring training is the time to figure all of that out.
So let's take a gander at some of the upcoming battles fans will get to witness come spring training. Because as soon as spring training starts, we're just a jump, skip and a hop away from Opening Day and, down the line, the World Series.
First Base
One of the most prominent position battles has to be the first base position. While the Yankees haven't had a consistent first baseman since the Mark Teixeira era, they have two promising athletes who could potentially usher in a new era at first.
Of course, the repeat offender is Greg Bird. Bird's experience in the Bronx has been turbulent to say the least. This offseason, the oft-injured first baseman inked a one-year, $1.2 million deal to try and win his spot back, after the young Luke Voit jumped in and saved the day towards the end of 2018.
Bird has been known to perform well in spring training, launching eight home runs during the 2017 training period. However, it's the regular season that has given him a lot of trouble. If he can put together a solid spring training, the Yankees will have no choice but to at least test him out in the starting role.
On the other side, Luke Voit is coming off a stellar half-season with the Yankees and has shown that he can handle the Bronx spotlight. In just a short time frame in the Bronx, Voit launched 14 home runs, including a huge triple in the AL Wild Card game.
Right now, it seems like Luke Voit has the upper hand but we've seen Greg Bird defy expectations in the past. Don't be surprised if Bird comes surging out of the gate, gunning for that starting job.
That's what spring training is all about.
Left Field
Right field is Aaron Judge's territory. Aaron Hicks has taken over in center field. But what about left field?
There's a huge question mark lurking out there. While Giancarlo Stanton has put some time in left this past season, that position has been primarily held by Brett Gardner.
However, with Gardner's uncharacteristically down 2018 season, this might be the perfect opportunity for Clint Frazier to ride into spring training on his white steed and save the day.
Gardner's best qualities as a ballplayer are his speed, ability to get on base and his stellar defense. Last season alone, while he still stuck to typical strong defense, he lacked in the other categories. Gardner posted a .236/.322/.368 line in 2018, marking the lowest batting average and on-base percentage since his first year in the league.
Gardner also only posted 16 steals this season. While he still led the team in that category, it was one of the lowest totals in his 11-year career.
Frazier is now fully recovered from the concussion he suffered last season and he has made it incredibly clear that he is itching to get back on the field and fight for his spot. Frazier has been impressive through all levels of the Yankees organization since he was acquired from Cleveland in the Andrew Miller trade.
It seems like Gardner will be phasing out soon and the Yankees are grooming the fiery outfielder as his replacement. Frazier will be an appealing option for the Bombers to help jumpstart their offense for another year.
Will the wily veteran put together one last magical season for the Yankees or will the young gun come up and take over?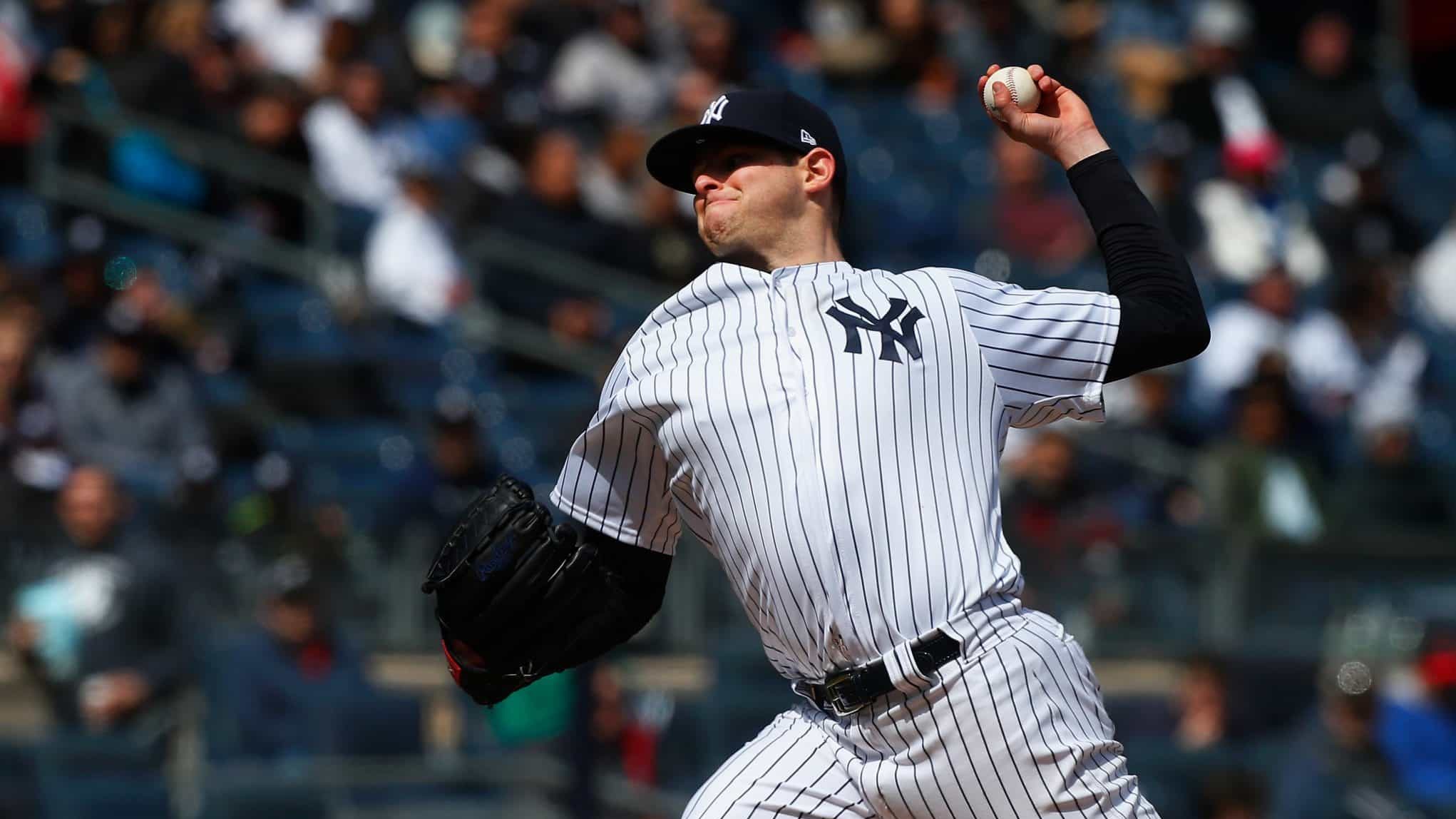 6th Man
The starting rotation for the New York Yankees seems to be set for the time being. With Luis Severino and Masahiro Tanaka already slated to return, the Yankees filled out the rest of the rotation by inking CC Sabathia and J.A. Happ and trading for James Paxton.
However, with Sabathia's age and Paxton's lengthy injury history, the Yankees have to have another pitcher waiting in the wings, ready to go at a moment's notice.
Two farm system names come to mind in Chance Adams and Jonathan Loaisiga, as well as Jordan Montgomery. All have gotten a taste of the big leagues but who gets that first replacement spot is still up in the air.
Montgomery is coming off of Tommy John surgery from last season but he has already made a great impression in his rookie season in 2017. Montgomery has an 11-7 record in the majors and a 3.84 ERA to go along with it. The real question is will the lefty ever be the same following that surgery?
Adams had a brief stint in the majors last season and ultimately struggled in the minors. In three games in pinstripes, Adams gave up six runs while only striking out four batters.
Even though 2018 wasn't all that impressive for Adams in the majors, maybe a second chance is exactly what he needs. If he has a solid spring training, the Yankees could start giving him more chances to see what he can do in pinstripes.
The last option is probably the most reliable one for the Bombers. Lauded by CC Sabathia, Jonathan Loaisiga has some incredible stuff he brings to the mound. Johnny Lasagna's numbers are pretty decent for a young pitcher in the Bronx. He made four starts last season and also worked out of the bullpen for a good stretch of time.
So who wins this one? Obviously, it's too soon to tell but I believe Loaisiga has the advantage here. He's worked with the 2018 team and Aaron Boone and with things still up in the air regarding Montgomery's return, he could be the sixth man in the rotation.
If you weren't excited for spring training before, you better be now! Keep an eye out for these battles on the field as players report in February.