The ultimate all-time New York Yankees roster is full of the usual Murderer's Row suspects, but there are a few surprises mixed in.

The 2019 New York Yankees haven't even reported to Spring Training yet, but they're already exciting. Baby Bombers like Aaron Judge, Gary Sanchez and Gleyber Torres have fans dreaming of broken records and a budding dynasty. Toss in newcomers like James Paxton and Adam Ottavino, and a 28th8th ring seems imminent.
Howeveasike I said, Spring Training hasn't even started yet. I'm here to temper your (more like my) anticipation of the unknown with a look back at Yankees history, building the ultimate all-time Yankees 25-man roster.
Before I begin, let me explain a few of the parameters.
First, I'm not putting any PED offenders on the roster. So, you can forget about Alex Rodriguez and Robinson Cano—both of whom should be on the roster otherwise.
Second, I'm going with a DH, since that's how American League baseball has been played since 1973.
Third, a player must have played in at least five seasons with the Bombers to make it, with the caveat that I'll only consider what they did with the Yankees to determine their eligibility. Otherwise, I'd have to consider people like Gary Sheffield and Andrew Miller. As a sage of this modern age once said, "ain't nobody got time for that!"
Loose women with kids to other men…….Aint nobody got time for that! pic.twitter.com/Zp8q6425H9

— JoJo Battle (@JoJoBattle) January 22, 2019
What I do have time for—the 23 days before pitchers and catchers report, to be precise—is a draft of the best team possible from the ghosts of the Yankees' past.
Buckle up; it's going to get controversial.
The starting Lineup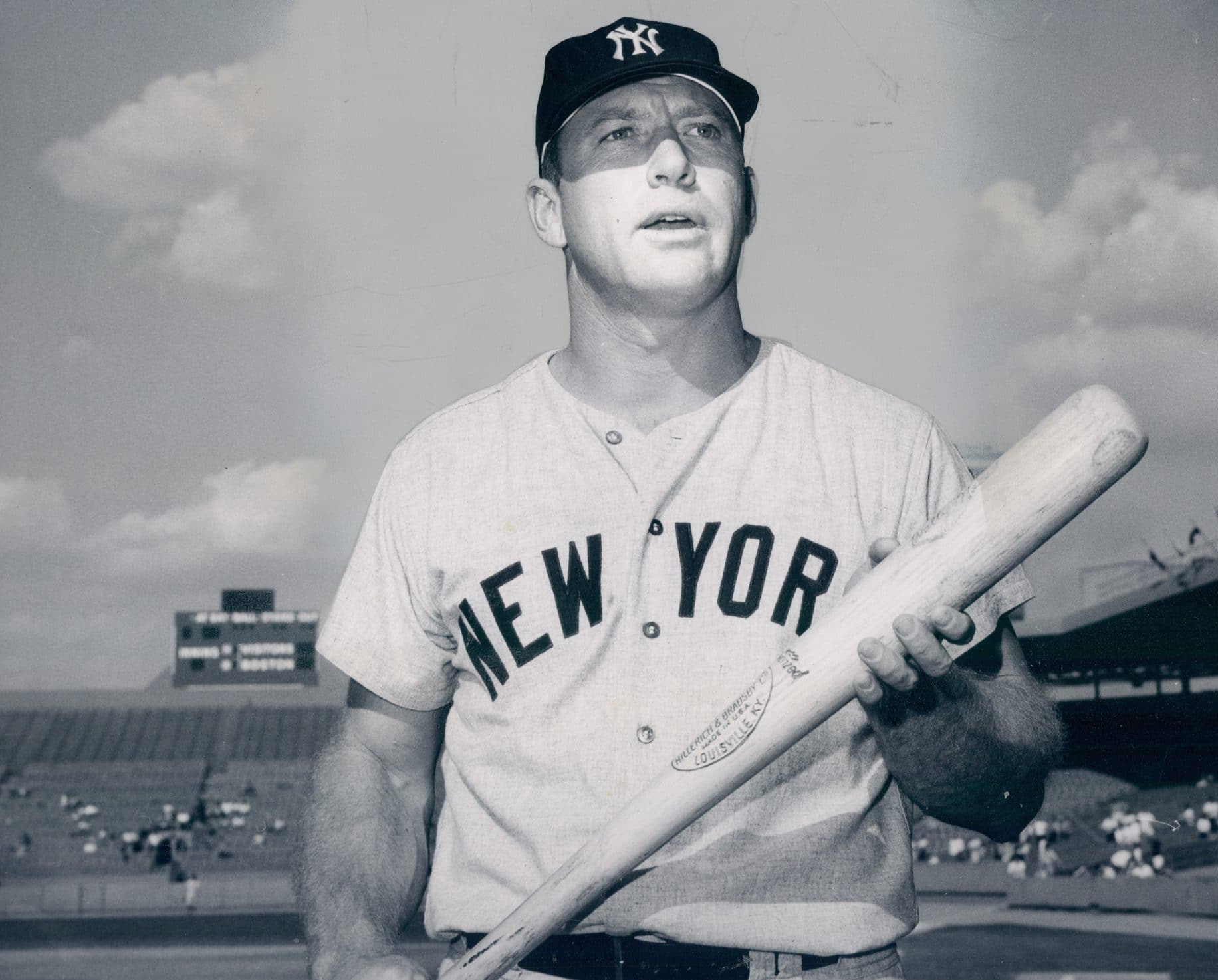 The first thing to do when constructing this all-time roster is to set the ideal lineup, and that means some dudes who are technically the best at their position might have to ride the pine in favor of cohesion.
Here's what I came up with:
Rickey Henderson, LF
Wade Boggs 3B
Babe Ruth, DH
Joe DiMaggio, CF
Lou Gehrig, 1B
Tony Lazzeri, 2B
Mickey Mantle, RF
Derek Jeter, SS
Bill Dickey/Jorge Posada, C (platoon)
Now, I'm just going to defend the strangest of my choices; people like Ruth, Gehrig, DiMaggio, Jeter, and Mantle need no defense.
Here goes nothing …
Rickey Henderson
You're probably thinking that Rickey Henderson is an odd selection. He barely sneaks in, with just about 4.5 years in the Bronx. However, I'll allow it. The Yankees may as well construct their all-time roster in a manner befitting the Evil Empire. It makes perfect sense to steal Henderson from the Oakland A's.
Also, why not just put Ruth in left and fill the DH spot with a higher overall average/power hitter than Henderson, say Don Mattingly or Bernie Williams in their primes? I'll tell you.
While prime Mattingly and Williams slashed well above the .300/.400/.500 gold standard, Henderson's base stealing and general status as the best leadoff hitter of all time are enough to trump that. This isn't about sentimentally honoring all the greats; it's about creating the best team.
Plus, when you look at overall performance, Henderson's .850 OPS with the Bombers compares well with Mattingly (.830) and Williams (.858).
Even if you don't want to start Henderson, he needs to be on the roster. He'd be the best pinch-runner of all time.
Finally, Henderson provides the best way to use Wade Boggs.
Wade Boggs
Before I explain the Henderson-Boggs connection, let me take a step back.
Boggs came to the Yankees late in his career, but he still slashed .313/.396/.407 with the club. I need to explain why I chose him over guys like Graig Nettles and Bob Meusel.
Nettles, a left-handed batter, slashed .253/.329/.433 in pinstripes. Both he and Boggs won their only Gold Glove awards (two apiece) with the Bombers, so it comes down to offense. While Nettles' clearly had more power, Boggs' higher average and OBP are more valuable on a team stacked with multiple 50-plus HR threats.
Boggs' high OBP value is also why I took him over Meusel, a righty hitter who slashed .311/.358/.500 with the Bombers. That, and Boggs is a lefty, which helps balance out the ultimate lineup.
So, now I need to make up for Boggs having the lowest slugging percentage in this ridiculous lineup. That's where Henderson comes in.
Boggs allows Henderson to steal at will. If Ruth or Gehrig were batting second, the manager of this ridiculous squad would likely have Henderson on a short leash when it comes to stealing. The risk of taking a runner off the base paths is much higher when those all-time sluggers are up.
However, with Boggs in the two hole, there's not much power to worry about losing. A whopping 78 percent of Boggs' hits as a Yankee were singles. With Henderson constantly thieving his way into scoring position, those singles turn into RBIs.
If Rickey does make out, Boggs becomes another leadoff hitter to set up the boppers behind him. There's also the fact that Boggs' 11.3 AB/SO rate is perfect for hit-and-run.
The platoon at catcher
The names that come up most often in the discussion of best Yankees catcher are Yogi Berra, Bill Dickey and Jorge Posada. Here are the career numbers they gave the Yankees:
Dickey: .313/.382/.486, 47% caught stealing against 41% league average
Berra: .285/.348/.483, 49% caught stealing against 45% league average
Posada: .273/.374/.474, 28% caught stealing against 30% league average
The best overall hitter of the bunch was Dickey by plenty. Also, he and Berra are both lefties. Even though Posada is clearly the worst against the steal, the fact that he's a switch-hitter is what gets him on the roster over Berra, whose lefty bat is redundant.
The reason for the platoon is clear in Dickey and Posada's splits. Dickey has to play against righties, as he slashed .324/.393/.512 against them. The Arkansas native only slashed .271/.342/.409 against southpaws, though. Inserting Posada's .288/.371/.482 versus lefties is a nice enough upgrade to ignore the drop-off in defense.
The other guys
The rest of the lineup is full of guys who are undoubtedly the best at their respective positions, and who fit well together in this lineup. Here are their numbers in pinstripes, in case you don't believe me:
Babe Ruth: .349/.484/.711
Lou Gehrig: .340/.447/.632
Joe DiMaggio: .325/.398/.579
Mickey Mantle: .298/.421/.557
Derek Jeter: .310/.377/.440
Tony Lazzeri: .293/.379/.467
One note on Lazzeri: He was an RBI machine. The man hit 60 home runs and drove in 222 one season in the minors. Once he got to the big leagues, he continued the trend, albeit with more realistic numbers. He drove in over 100 runs in seven of his 12 seasons with the Bombers, and he once drove in 11 in one game.
All of that to explain why batting him ahead of Mickey Mantle to keep from stacking righties (Lazzeri and Jeter) is acceptable. On a team like this, he might get close to the 200 mark again.
The bench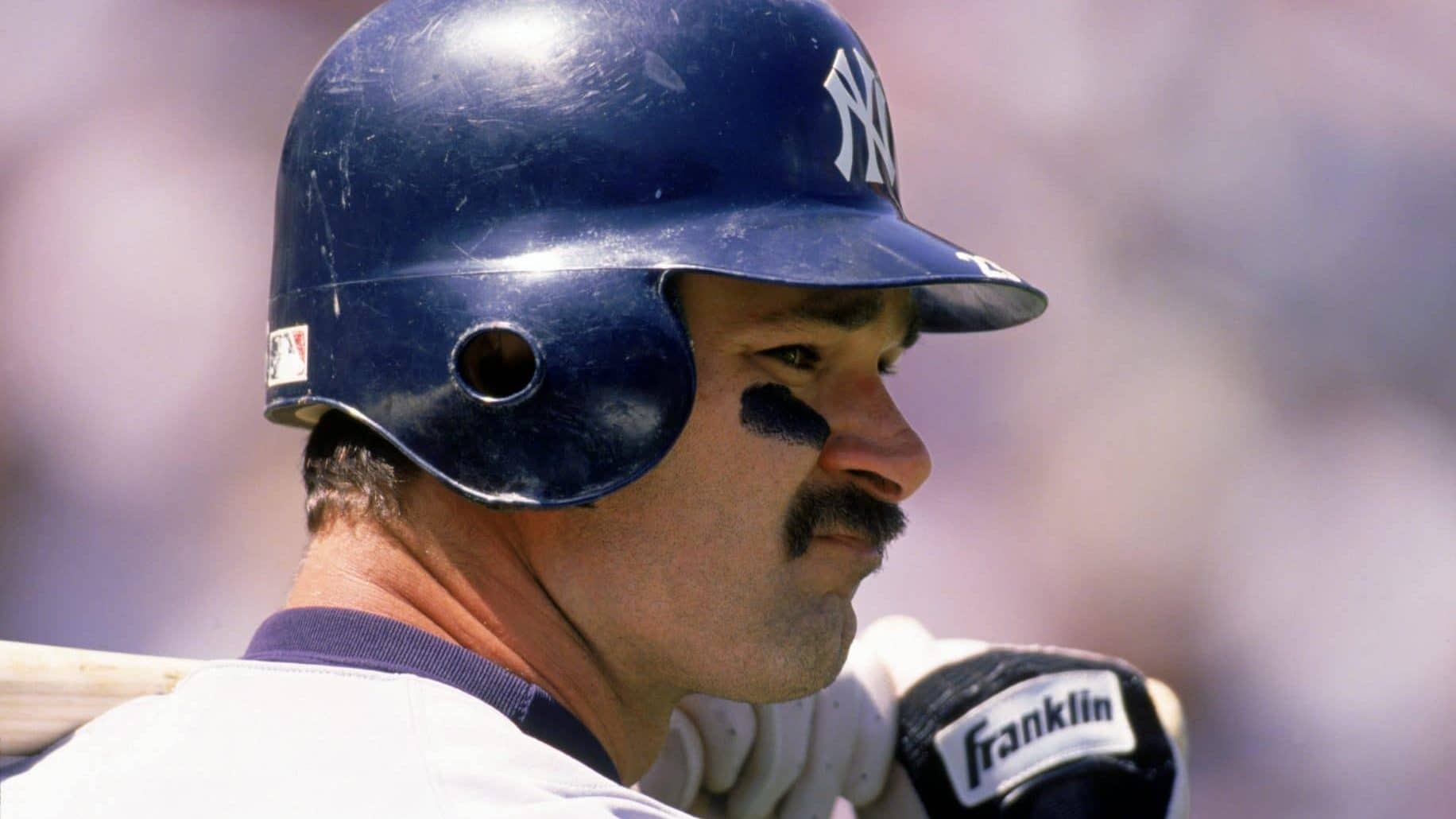 Here's what I have for the bench:
Now, let me explain.
Defensive specialists
Rizzuto and Randolph are the perfect backups at short and second, respectively. They're two of the best defenders in history, and they're one and two on the Yankees' all-time defensive WAR list. Rizzuto comes in at 22.9, and Randolph compiled an even 17.
You can make an argument for a more powerful hitter and really good defender in Joe Gordon (.268/.357/.466 with the Yanks) backing up second, but I gave it to Randolph because of his speed (he's fourth on the Yankees all-time list with 251 steals). If Rickey Henderson is in the starting lineup, Randolph would then be the best option for a pinch runner.
Gil McDougald isn't all that well-known, but he offers offense, defense, and versatility, as he played third, short, and second. He had started off his career with eight-straight double-digit HR seasons. He's also No. 7 on the Yankees' all-time defensive list, with a 14 dWAR.
All three of these guys career averages above .270 and OBPs of above .350, as well:
Rizzuto: .273/.351/.355
Randolph: .275/.374/.357
McDougald: .276/.356/.410
That's not too shabby for a team's defensive-specialist backups.
[membership level="0"]
Don Mattingly
Don Mattingly needs little explanation. He's lefty power off the bench, and we've already talked about how he can slide into DH as a starter. In addition, his nine Gold Gloves and .996 career fielding percentage speak for themselves.
Bernie Williams
Bernie Williams gives the roster a fifth outfielder (including Ruth at DH). Here's how he compares to notable exclusions Dave Winfield and Reggie Jackson (stats only from their time with the Yankees):
Williams: .297/.381/.477
Winfield: .290/.356/.495
Jackson: .281/.371/.526
Sure, he has the lowest slugging percentage, but he makes up for it by being a switch-hitter. That versatility is valuable on the bench, especially on a team that already has plenty of righty power in the outfield.
Backup catcher built-in
Finally, the catcher platoon backs itself up.
The starting rotation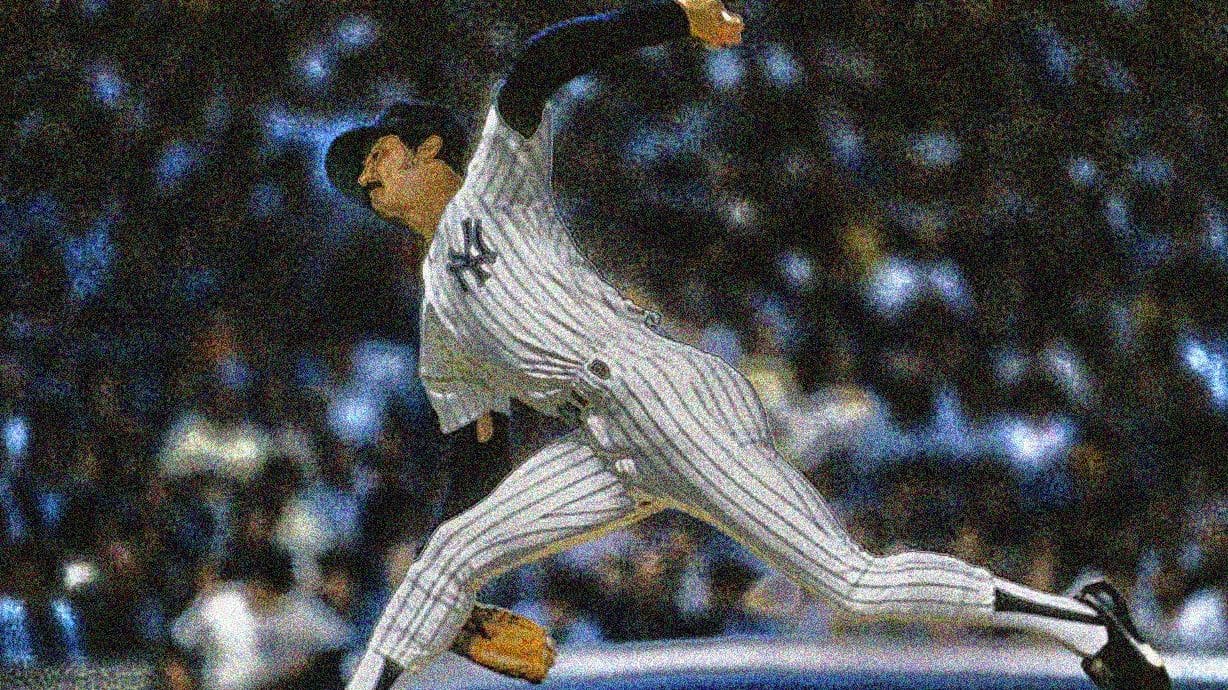 I'm going past the dead-ball era (roughly 1900 to Babe Ruth) for the pitching staff. As an example of that era, Jack Chesbro went 41-12 with a 0.93 WHIP in 51 starts (plus four relief appearances) for the Bombers in 1904. That's a bit too unrealistic even for this fantasy team.
That being said, here's the starting five, from ace down, with their career Yankees numbers:
Whitey Ford: 2.75 ERA, 1.215 WHIP
Mel Stottlemyre, 2.97 ERA, 1.219 WHIP
Spud Chandler, 2.84 ERA, 1.205 WHIP
Ron Guidry, 3.29 ERA, 1.184 WHIP
Lefty Gomez, 3.34 ERA, 1.351 WHIP
There's not too much to explain here, other than I chose and ordered the rotation based on who can consistently give up the least base runners and, ultimately, the least runs. I don't care about SO/9 or SO/W.
Ford and Stottlemyre are on top because of their consistency. Every season their ERAs were below 4.00. With 27 seasons between them, that's insanely impressive reliability. The other three guys only have five seasons (with the Bombers) at 4.00 or higher in full seasons (20 or more starts), collectively.
I didn't include Andy Pettitte, not because of his brush with steroids (I'll give him the benefit of the doubt), but because his career ERA and WHIP with the Yankees are a bit high (3.94, 1.37), and he regularly put together seasons well over 4.00 (1995,1998-2000, 2008, 2009).
You might wonder why, if Pettitte's WHIP is too high, I put Lefty Gomez in over Red Ruffing (3.47 ERA, 1.282 WHIP).
The answer is simple: This team plays in Yankee Stadium. Much like the 2019 Yankees are doing, I want to load the rotation with lefties. Gomez's lower ERA means he was able to keep his extra WHIPs from scoring at too high a rate.
The bullpen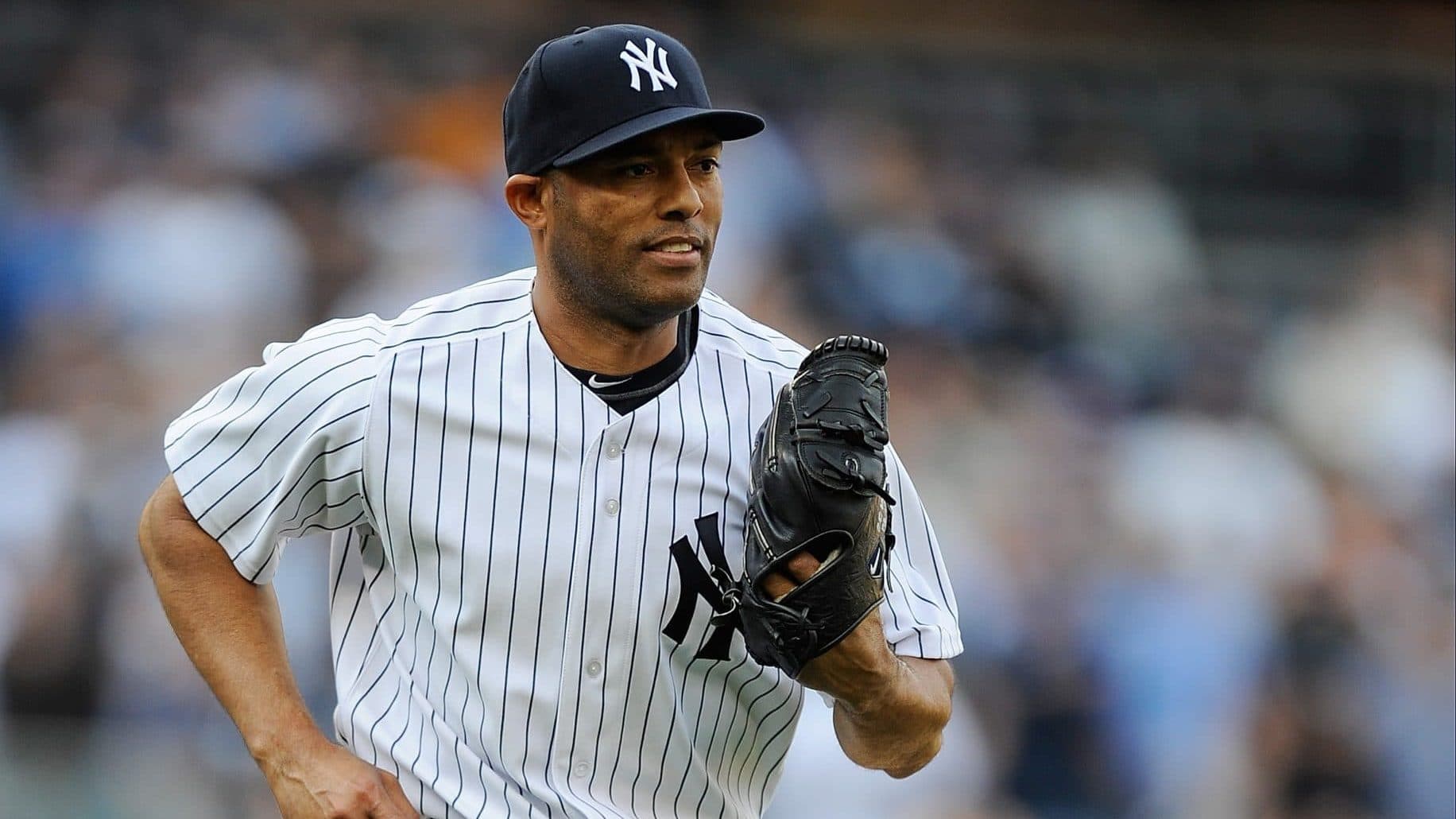 The Yankees bullpen conversation starts and ends with Mariano Rivera at closer. That will probably be the case forever. The dude is the first and only unanimous Hall of Fame selection, after all. It's hard to imagine anyone else ever matching that accomplishment.
There are active players I'd like to add, like David Robertson and Dellin Betances—if I can get past Betances's inability to handle the pressure of closing. However, I'm going to stick with retired players only.
So, here's the bullpen:
Mariano Rivera, closer: 2.21 ERA, 1.00 WHIP, 652 saves
Rich Gossage, setup man: 2.14 ERA, 1.07 WHIP, 151 saves
Sparky Lyle, setup man: 2.41 ERA, 1.20 WHIP, 141 saves
Dave Righetti, setup man: 3.11 ERA, 1.29 WHIP, 224 saves
Ramiro Mendoza, long man: 4.30 ERA, 1.34 WHIP, 16 saves
The obvious name that needs explaining here is Ramiro Mendoza. Why not add Jeff Nelson and his nasty right-handed slider? I'll tell you why.
Mendoza was a great long reliever. Sure, there are a lot of old-school pitchers in this roster's starting five, but that doesn't mean they won't have a bad game here and there.
It's not ideal to bring one of the closers at the back end of the bullpen in the third or fourth inning of a dud start. Enter Ramiro Mendoza and his mop-up excellence (again, not including his time away from the Yankees):
Mendoza as a starter: 4.97 ERA, 325.8 IP
Mendoza as a reliever: 3.37 ERA, 371.3 IP
The Panama native had an uncanny affinity for long-relief. He also upped his game in the postseason, posting a 2.40 ERA in 26.2 innings.
With Mendoza cleaning up the messes, this bullpen is even better than the monstrosity Brian Cashman built for 2019.
Now what?
Of course, the topic of all-time greatest players is highly subjective. Feel free to tell me how I messed up in the comments.