The New York Yankees have made some underrated signings this offseason but the inking of DJ LeMahieu on Friday is by far one of the better options.

Another day, another free agent signed by the New York Yankees.
But, oh. It's not Manny Machado. Carry on.
Right? That's what the majority of people are ranting about. Why waste money on signing a 30-year-old utility player in DJ LeMahieu when you could have the cream of the crop by spending some extra dough on Machado?
There's no comparison between the two infielders. Machado is a generational talent with an incredible arm and a massive swing at just 26-years-old. He has shown incredible talent but the potential is there for even more success.
Well, instead the Yankees signed DJ LeMahieu to a two-year, $24 million deal and, according to multiple reports, will see time at first, second and third this season.
Aside from the initial shock, this is actually a quality signing by the Yankees. Did they overspend? Probably. The signing isn't necessarily flashy by any means but LeMahieu should make a fabulous addition to the lineup.
A career .298 hitter, his stats can be dismissed from the thin air in Colorado, where he's spent practically his entire career. However, that doesn't change the fact that he's a pure contact hitter who has shown he can get the job done.
LeMahieu brings some great stats to the table, especially his defensive abilities. One of the greatest statistics he brings to the Bronx would be his success with runners in scoring position. That was a prime problem for the New York Yankees in 2018, who collectively batted .253 in 1,293 at-bats.
LeMahieu is a lifetime .291 hitter with runners in scoring position. And when the game is on the line, he is even more reliable. He is a lifetime .275 batter with two outs and runners in scoring position. For reference, the Yankees were .239 as a team in that category last season.
But let's dig a little deeper into the effect that LeMahieu could have on this Yankees team.
According to Brooks Baseball, LeMahieu has been hitting to the opposite field at an increased clip. With the short porch in right field, maybe some of those doubles will eventually turn into home runs for the utility man.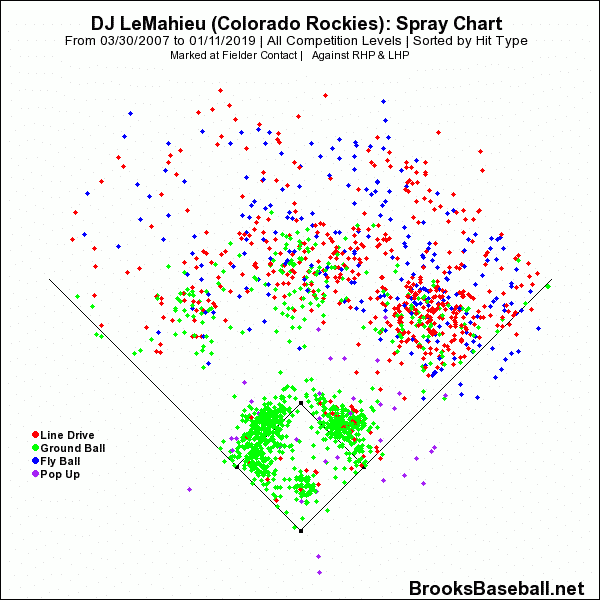 Brooks Baseball also notes LeMahieu's patience at the plate. LeMahieu has a 10 percent whiff/swing off of fastballs for his career.
In the 2018 season alone, LeMahieu also showed some impressive plate presence with those fastballs. Seeing 1,042 fastballs in 2018, he had a 4.32 whiff percentage. He plays for contact, a feature that made him very appealing for the Yankees.
While last season was a tough one for LeMahieu in the Colorado air, the 30-year-old showed some skills that will pay off in the Bronx. After all, he did boast a .348 batting average in his impressive 2016 season.
But the past is the past. For the Yankees, they may not have snagged Machado but there's still time. However, even if they don't get the Machado they wanted, they've at least found an experienced veteran who can play multiple positions in the Bronx.
And forget the thin Colorado air. Once DJ LeMahieu gets settled into the Bronx, he'll fit right in.