With Zach Britton re-signed, the Yankees need to shift their attention to Adam Ottavino. Here's the strategy that'll land the righty. 
The New York Yankees are looking to make a huge splash this offseason. This might not be exactly what fans are clamoring for, but the Bombers need to sign Adam Ottavino and make their bullpen all the more dangerous.
I even wrote last month how great a match it would be. Ottavino is probably the best reliever on the market not named Craig Kimbrel, who is nowhere close to Mariano Rivera-level of greatness (it had to be said). Between his pitching style and ties to New York, he could become a great Yankee.
Well, according to Andy Martino of SNY, the Yankees are incredibly interested.
As of now, Yankees more engaged on Adam Ottavino than Manny Machado. Machado sweepstakes still moving at glacial pace as far as this lil ol reporter can tell. Pen market is moving and Ottavino could sign soon

— Andy Martino (@martinonyc) January 6, 2019
Long story short, signing Adam Ottavino is what makes the most sense for the Yankees. Manny Machado, nice as an addition as he would be, should not be their top priority. David Robertson has signed with the Philadelphia Phillies. Zach Britton chose to re-sign with New York on Saturday. The bullpen has a hole, and Adam Ottavino has the skill to fill it.
Moreover, if Brian Cashman plays his cards right and gives Ottavino a great New York day, that could be enough to seal the deal.
How great a New York day, you ask? Well, here are some ideas!
Starting in the Morning
Wooing Adam Ottavino, a Brooklyn native, won't be easy. After all, the man had a 2.43 ERA in 75 games for the Colorado Rockies last year. Ottavino also ranked 11th among relievers with a 12.98 K/9. To give some more meat to those numbers, he had 112 strikeouts in 77.2 innings.
Translation: Ottavino is looking to get paid and the hated Boston Red Sox are interested. This means the Yankees need to do more than just meet with Ottavino and his agent at Yankee Stadium. Rather, the meeting should start with breakfast at around nine o'clock in the morning.
Oh, and I don't mean have some poor intern run out for a bunch of bagels and schmear and bring it all back to the Stadium. No, this meeting is going to start just a stone's throw from where Ottavino grew up in Brooklyn. I'm talking about Russ & Daughters Cafe on Orchard Street, not far from the Williamsburg Bridge.
Think about it. What better way to a New Yorker's heart in the morning than with bagels and cream cheese? In this case, everyone shares a platter of fancy lox and various bagels/bread, and we'll throw coffee into the mix just for fun.
Breakfast X-Factor
And this is the most important part of this section of the meeting. At NO point should Brian Cashman and his team present a formal offer. No, this part of the day is talking to Ottavino about growing up in New York. What was his neighborhood in Brooklyn like? What did he and his friends do to pass the time? Also, what was his baseball experience during and leading up to his days at Boston's Northeastern University?
The goal here is to show the Yankees, despite their reputation as the Evil Empire, are just a team of people who share a common love for baseball. The hundreds of millions of dollars are just an added bonus.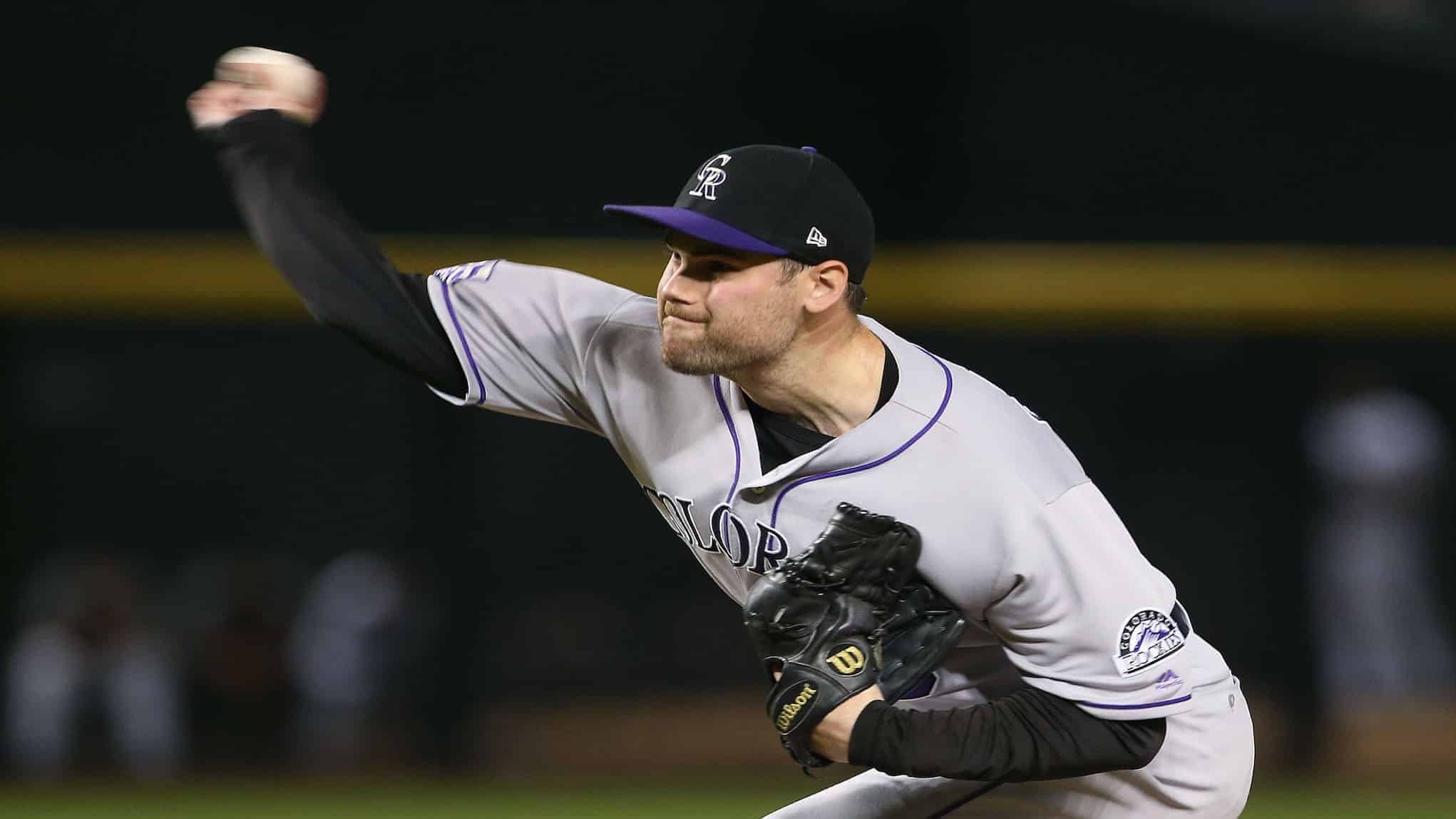 The Stadium Tour
Once breakfast is over, the real fun begins. Cashman, his front office team, and Ottavino and his agent now enter a limo. The drive to Yankee Stadium from the Lower East Side begins. From Russ & Daughters in the late morning, driving to the House That Ruth Built should take anywhere from 20 to 40 minutes. It really depends on traffic on both the FDR Drive and the Major Deegan Expressway.
During this ride, Cashman and the front office tell Ottavino what the team hopes to achieve in 2019. This is more than just saying "We're hoping to win the World Series," but mention specifics as to why they need Ottavino. Mention Robertson's departure. Mention how great Ottavino pitched in hitter-friendly Coors Field. Add a bit about how he'd be more than just another setup man here. Butter him up, but without sounding desperate.
Upon arriving at Yankee Stadium, everyone then goes into full pitch mode. Ottavino will receive the full stadium tour, including Monument Park. Show off the clubhouse and other facilities. Discuss any future plans specific to the stadium, not just the team. Of course, put Ottavino on the big screen and Photoshop him into a Yankees uniform. It may not have worked for Patrick Corbin but for the NYC native, it might just do the trick.
Time for lunch
Eventually, everyone will gather in a conference room for a very casual lunch meeting. By casual, I mean the food served will be chicken parm (in sandwich and platter form) from Yankee Tavern, just up the block from the Stadium. For those who haven't been, Yankee Tavern serves the best chicken parm in the state of New York. No, I'm dead serious. It's life-changing.
After everyone's done eating, Cashman will change his tone.
"Now, enough about us, Adam," he'll say. "What about you? What are you looking to get out of your free agency experience? Money aside, how do you want the next chapter of your career to play out?"
Ottavino takes the wheel and makes clear what he wants. It could be money, it could be winning, it could be a hybrid of the two. The point is to not talk his ear off about how great it is being a part of the Yankees. What does he want? This isn't just about throwing money at him and hoping he'll sign. It's about determining if, great numbers aside, he actually fits with the culture and goals of the New York Yankees.
Closing the deal
Once Adam Ottavino gives his, for lack of better word, pitch, Cashman can make his next move. He thanks the right-hander and his agent for their time, and says he wants to continue the meeting at dinner later. In this case, they'll be going to Gotham Bar & Grill. It's one of the city's best, which is what Ottavino deserves if he's going to put on the pinstripes.
Upon reconvening, Cashman asks Ottavino how he spent his afternoon. Did he just rest at the hotel? Did he spend time with family? Was he just exploring the greatest city in the world?
Everyone sits down, orders their drinks and then their meals, and then it happens. Cashman tells Ottavino how he would love for him to be a part of the team. No, more than that, he and his nasty slider are the keys to winning the 2019 World Series. The front office has discussed everything, and a lucrative multi-year offer is presented on a silver platter.
"Don't decide just yet," says Cashman. "Take your time. We know a lot of teams are interested. Just know that we would love to have you, and really think you're the missing piece in terms of winning it all."
Final Thoughts
The rest of the evening can be anything from a good old-fashioned conversation about life to just talking baseball in general. The point is the Yankees need to do more than just break out their usual bag of tricks to sign Adam Ottavino. He is a special kind of pitcher.
Sure, the Yankees' bullpen ranked fourth in MLB last year with a unit ERA of 3.38, and there's enough depth in the minors that Robertson's spot can probably be filled by a youngster without issue.
Except, Ottavino's experience could prove invaluable in New York. In adding him, the Yankees' bullpen would immediately strike the fear of anyone from Lord Voldemort to Sauron into the hearts of opposing lineups.
Adam Ottavino needs to be a New York Yankee. If Cashman follows this blueprint, that could become a reality.