The New York Yankees and Brian Cashman are delusional in thinking they can fetch top prospects for Sonny Gray.
Sonny Gray is not long for the New York Yankees, general manager Brian Cashman confirmed as such in the fall, when he said his goal was to trade the 29-year-old righty elsewhere.
There's just been one problem. Throughout the process, the Yankees have insisted on receiving top prospects in exchange for Gray. A potential deal with the Cincinnati Reds fell through because New York demanded outfield prospect Taylor Trammell, but more about that later.
In a nutshell, the Yankees are delusional if they think Sonny Gray can fetch a package of top prospects. Cashman needs to lower his demands soon, lest he wants this task on his plate once Spring Training starts. His focus will be needed elsewhere then, what with New York looking to win its 28th World Series in 2019.
Sonny Gray could come to Spring Training as a Yankee, Brian Cashman said.

"Our intention is to move Sonny Gray and relocate him, when we get the proper return, in our estimation. It'll happen this winter, it'll happen in the spring or it'll happen sometime during the season."

— Bryan Hoch (@BryanHoch) January 4, 2019
The front office needs to get real about what to expect for Sonny Gray. What can be expected in a trade for him? The answer is not much and the sooner Cashman realizes that, the better.
Selling High Instead of Low
Imagine, if you will, your grandparents' house, specifically where they kept their record collection. If your grandparents were like mine, they probably had one record, in particular, that was scratched to high heaven. In my grandparents' house, this record was an old recording of Georges Bizet's classic opera Carmen. Several arias sounded rough, including "Toreador," but the record was still played constantly. You couldn't pay them to get rid of it in favor of a cleaner, newer copy.
Now, why am I bringing up this fond childhood memory in reference to Sonny Gray? Well, because I've been like a broken record in saying how the Yankees shouldn't anticipate a heavy trade return for him! I even wrote something here about how expecting a lot for him was unrealistic. The man went 11-9 with a 4.90 ERA in 23 starts in 2018 and posted an abysmal 6.98 ERA at Yankee Stadium.
But hey, it's OK! Gray went 7-5 with a 3.17 ERA on the road, so he just couldn't handle New York! He's totally worth giving up a top prospect, right?
The Hard Truth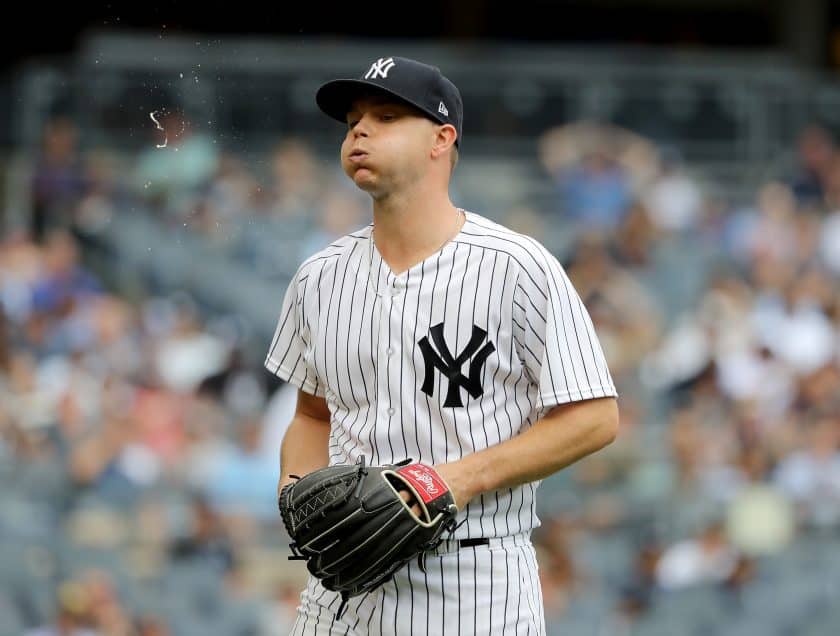 Well, devoted readers, Cashman learned that the hard way in early trade talks. Joel Sherman of The New York Post reported Cashman asked the Cincinnati Reds for their top outfield prospect, one Taylor Trammell.
Now, for context, Trammell is a left-handed hitter and 21 years old. He spent 2018 at High-A Dayton, posting a line of .277/.375/.406 with eight home runs, 41 RBI, and 25 stolen bases. MLB.com currently lists him as Cincinnati's No. 2 prospect, and Cashman asked about him in a potential Sonny Gray trade.
I'm sorry, but did I sleep through Interdimensional Cable again? Did I turn it on, knock back a Flaming Moe, and I'm only just waking up? Oh no, have the apes finally taken over? No? Whew, OK, moving on.
I don't care that Cashman claims to have talked to "a lot of teams" interested in Gray. How well he pitched on the road compared to in the Bronx is irrelevant.
Sonny Gray had a bad year, and Cashman thinking he can turn it into prospects is a pipe dream.
The Numbers Don't Lie
And more than just the bare bones numbers show Sonny Gray's 2018 campaign was more than just him not handling New York well. His line drive rate (LD%), per Fangraphs, jumped ever so slightly from 19.7 percent in 2017 to 22.9 percent last year. His hard contact rate rose to 35.5 percent from 28 percent in 2017. Keep in mind, his career hard contact rate is 28.6 percent, so something went horribly wrong for him in 2018.
Now, combine the rise in hard contact with his increased LD%, and Gray's FIP and xFIP finished at 4.17 and 4.10 for the year. This means for all of 2018, he pitched with the effectiveness of a pitcher whose ERA lies in the low fours. That isn't terrible, but the Yankees brass has always been about results over potential. Gray's results were, to be blunt, awful.
To be fair, a lot of this could theoretically be from Gray changing his approach on the mound. He threw his fastball just 35.1 percent of the time compared to 55.1 percent in 2017, and also threw a cutter 20.4 percent of the time. That's all well and good, except Gray never really threw a cutter extensively until 2018.  Yes, the Yankees want their pitchers to throw fewer fastballs in favor of breaking pitches, but that philosophy clearly isn't working for Gray. He needs to be pitching elsewhere.
That can't happen unless Cashman lowers his demands.
Final Thoughts
The worst part about the Sonny Gray saga is not the lack of market, nor the underwhelming return for which the Yankees will likely have to settle.
Rather, the worst part of all this is Brian Cashman is getting beat at his own game. This is the same man who has made an art out of getting something from teams in exchange for nothing. He acquired Gray for three prospects, two of whom were out for the season with injuries. The man traded a few months of Aroldis Chapman to the Chicago Cubs for Gleyber Torres, only to re-sign Chapman as a free agent. That means he basically traded nothing for one of the most dynamic young talents in the game.
Oh, and don't forget acquiring Giancarlo Stanton from the Miami Marlins for Starlin Castro and prospects buried deeper than the two remaining Sankara Stones.
Well, folks, the shoe is on the other foot now. Just how those teams weren't in a place to make demands of Cashman, he is in no position to do so with Gray. He tipped his hand. Everyone knows he wants to move Gray, so why sell the farm? Barring sudden major desperation from another team, Gray won't fetch more than low to mid-level prospects, and maybe a random bullpen arm.
A Sonny Gray trade can happen. Cashman just has to think realistically about a return.
Once again, Cash, your move.