Didi Gregorius has grown fans gushing over cute little emojis, and that's okay, but now it's time to update a few of the stickers he uses to represent his New York Yankees teammates.

Twitter is known as a cesspool full of trolls and bad takes, but if there's one bright spot on the social media platform, it's Didi Gregorius's profile. The New York Yankees shortstop uses Twitter the right way, celebrating each of his team's wins with a succinct, emoji-laden summary.
Here's a perfect example:
#StartSpreadingTheNews yankees win great start by ?? going 6strong innings 7'ks??, ? with the solo homerun, ? with the rbi FC, ? with the Rbi single, ?? with the 2run single ??? bullpen??? to close it …. WHAT A GAME!!!….

— Sir Didi Gregorius (@DidiG18) August 12, 2018
There's an emoji for each player, and when the Yankees make a personnel change, the question of what graphic Didi will use for the newcomer is a hot topic. Yes, even among grown people with full-time jobs and other adult responsibilities.
If you're not on Twitter, here's a handy reference one fan put together:
Updated Didi emoji list.
One name added. Two names removed. pic.twitter.com/C9DAl8Zmz2

— soph (@itsmrstealyour_) July 29, 2018
When it comes to assigning emojis to teammates, Didi does know best. After all, he hangs out with these guys all the time, and he can apply inside jokes. However, there are a couple of new players who need emojis, as well as several who might need to have theirs updated.
I'm not trying to tell Didi how to craft his Tweets, but I do have some suggestions, in case he's running out of ideas.
James Paxton = ?
We'll start with the main new guy (so far).
The obvious move for James Paxton is an eagle, after his run-in with the predatory fowl in Minnesota. If you haven't seen it yet, it's worth a gander:
Since Paxton is a proud Canadian, maple-leaf tattoo and all, Gregorius could also go with something that represents our neighbors to the north. Again, an obvious choice is a maple leaf or a stack of pancakes covered with maple syrup.
However, I think a curling stone would be the best choice. Since the majority of the world's curling players live in Canada, it should make Paxton feel right at home.
Troy Tulowitzki = ❄️
The Yankees just added Troy Tulowitzki, Brian Cashman's dream shortstop. He's not too much of a risk since the Blue Jays will pay his full salary. The Yankees will pay him the league minimum, and they can always cut him if it doesn't work out.
The thing about Tulo is that he's always hurt. Also, he's now 34 years old, and he hasn't hit above .254 since he left the hitter-friendly air of Colorado.
Considering that, I think a snowflake, a symbol of ultimate fragility in current vernacular, is the best emoji to represent him. A close second would be the ♻️ symbol since the Yankees are basically recycling a guy Toronto discarded.
Greg Bird = ⏳
Didi appears to really enjoy tweeting about Greg Bird. Here are a few examples that prove it:
A-well-a ev'rybody's heard about the bird
B-b-b-bird, b-birdd's a word
A-well, a bird, bird, bird, bird is a word
A-well, a bird, bird, bird, well-a bird is a word
A-well, a bird, bird, bird, b-bird's a word
A-well, a bird, bird, bird, well-a bird is a word
A-well, a bird, ? HR

— Sir Didi Gregorius (@DidiG18) June 4, 2018
And no i did not forget about the ?… because ? B-b-b-bird, b-birdd's a wordA-well, a bird, bird, bird, bird is a wordA-well, a bird ?

— Sir Didi Gregorius (@DidiG18) September 25, 2017
The bird emoji is an excellent representation. But considering how Bird has blown all his opportunities so far, either due to injury or floundering at the plate, the sand timer is now perfect for Bird, who is quickly running out of time to prove he belongs in the Bronx.
Gary Sanchez = ?
Gregorius uses an octopus for Gary Sanchez, a reference to the time Brian Cashman called him the Kraken. When Sanchez is swinging the bat well, his nickname, and by association, his emoji makes all the sense in the world.
[membership level="0"]
However, he hit just .186 in 2018. When Sanchez isn't dominating at the plate, there's nothing left in his game to distract from his horrific defense.
He figured out a way to lead the league in passed balls despite playing in only 76 at catcher last season. That's why Gregorius needs to update his emoji to a hole—you know, because his defense is full of them.
Miguel Andujar = ?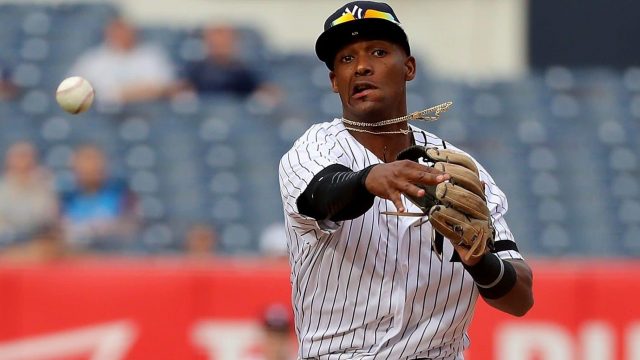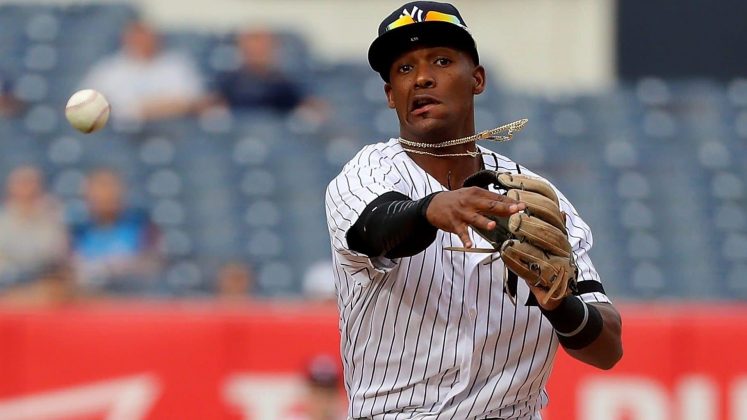 If Miguel Andujar makes it into the 2019 season as a Yankee, Gregorius should replace his inexplicable Japanese ogre (per Bronx Pinstripes' Rohan Arcot's research) with a shopping cart.
If the rumors are true, Cashman has shopped Andujar all over the league. At this point, it seems inevitable that he'll be gone. After feeling so unwanted all offseason, how will he play under the pressure of a looming trade deadline?
Giancarlo Stanton = ??
I considered suggesting the hole emoji for Giancarlo Stanton. He came to New York fresh off a 59-HR season, but the most eye-popping stat on the back of his Yankees card is 211 strikeouts. It's almost as if his bat has a giant hole in it.
However, it's important to remember that he was taking his first trip around the American League last year. He'll hopefully reduce his Ks as he settles into his second year in the league.
Still, he needs to earn his current volcano emoji back with some serious power eruptions in 2019. Until then, I'd give him the selfie emoji. Why? Well, apparently he's a proficient selfie photographer:
Luis Severino = ??
Sir Didi upgraded Luis Severino from a baby emoji in 2017 to a young boy in 2018. It logically follows that Gregorius will just age him up another level in 2019. I have a better idea.
Severino should get a bride emoji, representing his better half. This isn't for his significant other; it's because he has a pattern of having one blatantly better half of the season than the other.
He's been a full-time starter for two years now, and he's been great in two halves of the season, okay-to-horrible in the other two halves—and straight up disappointing in the postseason.
First half of 2017: 5-4, 3.54 ERA
Second half of 2017: 9-2, 2.28 ERA
First half of 2018: 14-2, 2.31 ERA
Second half of 2018: 5-6, 5.57 ERA
Postseason career: 1-2, 6.26 ERA
Jacoby Ellsbury = ?
If Troy Tulowitzki weren't in pinstripes, I'd have given Jacoby Ellsbury the ❄️. However, an even more fitting emoji would be the ghost.
Last season I forgot the Ellsbury was even a Yankee, as he missed the entire year due to a pile of injuries.
As a huge Clint Frazier fan, I kind of hope Ellsbury also ghosts 2019, since he's very much standing in the way of Red Thunder. Of course, I don't want to see him get injured or anything. But he could disappear in a trade and I don't think any Yankees fans would mind at all.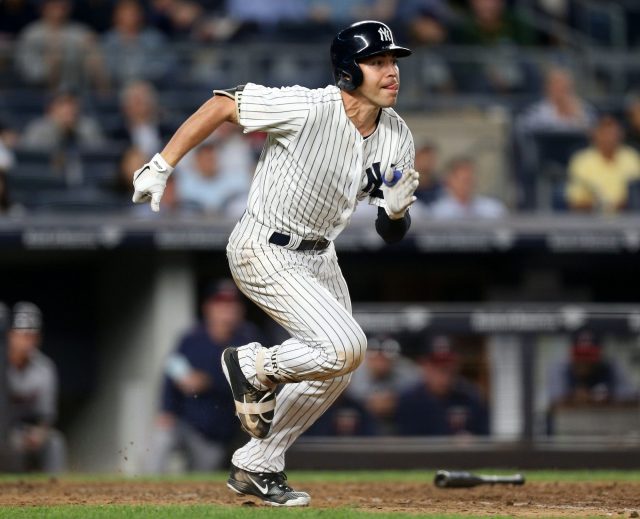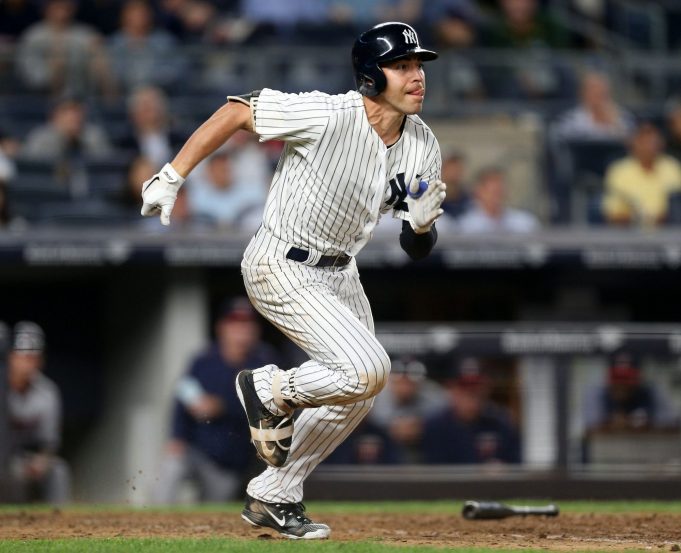 Some of Didi's emojis are just too good to change. Aaron Judge's judge and CC Sabathia's Santa Claus, for instance. Also, Brian Cashman could still have some big moves up his sleeve this offseason, so there could be more new ones to pick.
If the Bombers sign Manny Machado, Gregorius should get the ? or ?  ready. If Bryce Harper lands in the Bronx, I'm thinking a ?—because he seems pretty cocky. A ? would also work for Harper, an allusion to his dugout fistfight with Jonathan Papelbon.
In the end, though, I'll just defer to Sir Didi, master of the victory tweet.