If the Yankees thought Nathan Eovaldi was too much of a gamble, then it would be hypocritical to sign an aging J.A. Happ.

The New York Yankees have commitment issues.
Brian Cashman and his staff only offered Patrick Corbin, the top free agent pitcher on the market, five years. He took a six-year deal from the Washington Nationals.
Per Fancred's Jon Heyman, the Bombers missed out on Nathan Eovaldi because they only offered him three years. Eovaldi signed a four-year contract with the Red Sox.
Happ is Yankees' next pitching target. They didn't want to go past 3 years on Eovaldi, who is a hero in Boston anyway.

— Jon Heyman (@JonHeyman) December 6, 2018
It's a good thing that the Yankees don't want to risk getting stuck with the wrong guy for too long. But a possible three-year deal for Happ is much riskier than an extra year with Eovaldi.
The money
Unless Happ has a terrible agent, the only real difference between his and Eovaldi's deals will be the length.
Rumors have Happ's market value at $48 million for three years. That's only $1 million less per year than Eovaldi got from Boston (reported $68 million for four years).
Therefore, the market is predicting Happ and Eovaldi will be worth about the same amount of production over the next few years. What it really comes down to, then, is the question of which one is more likely to hit that projected value.
The answer to that question is clearly Eovaldi, because of his youth and the way he rose to the occasion in the 2018 playoffs.
The age factor
Eovaldi is a risk due to his high value is based largely on his recent postseason performance and still untapped potential in his stuff. But he is still young, and he is trending up.
The Red Sox hero posted career bests in some telling statistical categories, including a 1.1 WHIP and 8.2 K/9. He took a huge leap forward in K/W, as his 5.05 last season was a +1.75 improvement over his previous career high.
Conversely, the 36-year-old Happ is on his way out of the league. His ERA has risen in each of the past two years, and that's likely to continue. He could have a good year or two left in him, but chances are he'll fade.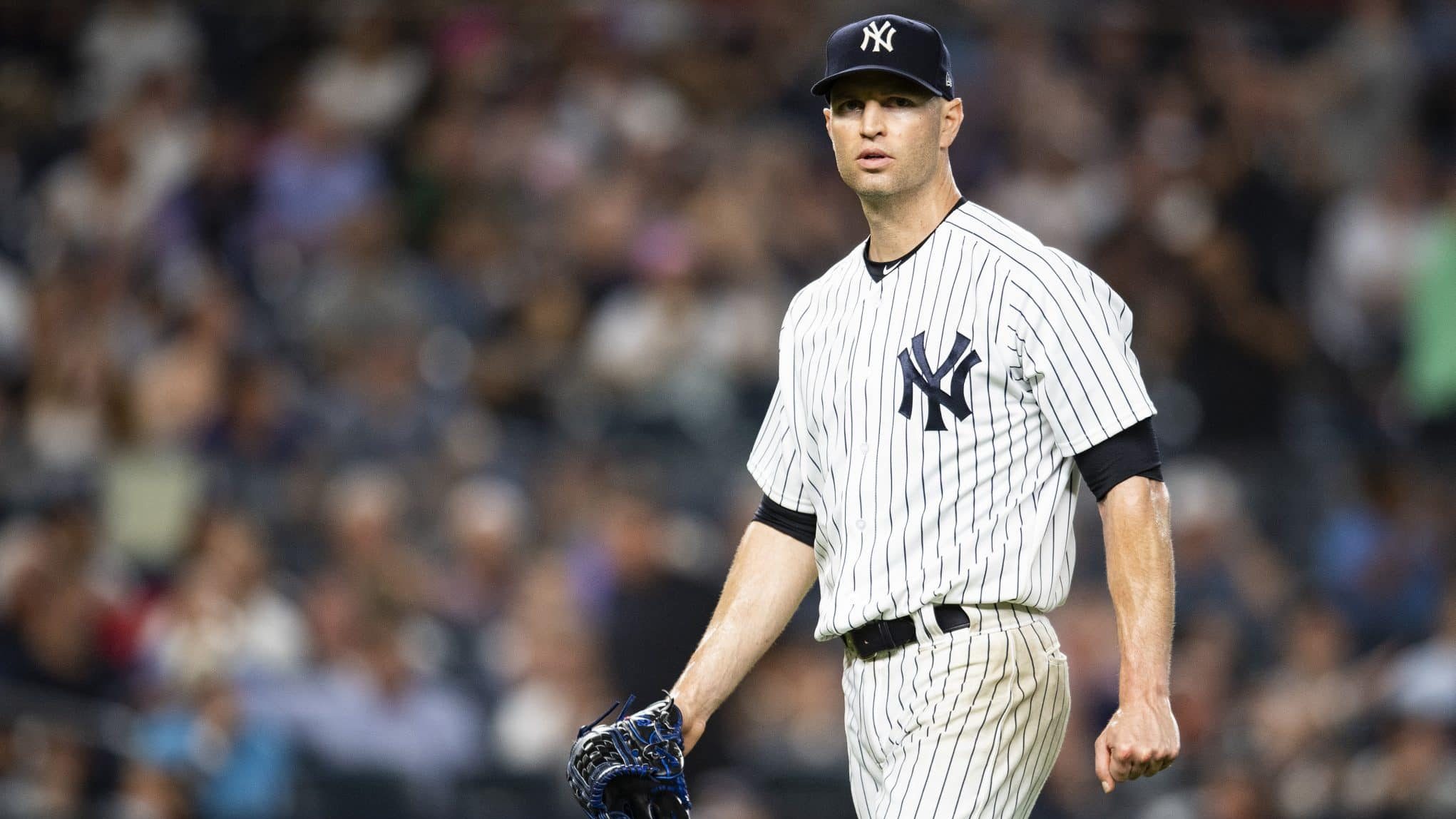 Signing him is betting on an aging arm to fade gracefully rather than drastically. Boston's signing of the 29-year-old Eovaldi is a wager on dominance in the prime of his career.
To me, it's riskier to put money on Happ overcoming Father Time to be worth $16 million at age 38 than it is to bet on Eovaldi pitching his best baseball in his early 30s.
The postseason factor
When the games really mattered last season, Happ collapsed while Eovaldi stood tall.
Happ was a killer for the Yankees down the stretch, going 7-0 with a 2.69 ERA. But in his one opportunity in the ALDS, Boston tagged him for five runs in just two innings.
Contrast that with Eovaldi, who shut the Yankees down in game three in the Bronx, setting up the Red Sox to win the series in game four. He then topped that performance with a brilliant six-inning relief performance in game three of the World Series—this after pitching a scoreless inning in game two.
The Yankees and the Red Sox will both be great teams for the next several years, which means they'll battle for the East and possibly in more playoff series. Since the Bombers didn't take a chance on Eovaldi, they'll instead risk getting stymied by him in more big moments.
There are still better options
Happ and Eovaldi aren't the only two pitchers out there. The Yankees have other options to fill out their rotation, which already includes the likes of Luis Severino, Masahiro Tanaka, and James Paxton.
Cashman can still work his trade magic and get someone like Corey Kluber or Trevor Bauer. The team could also go after young Japanese lefty Yusei Kikuchi.
If New York lands any of those names, fans will forget all about Nathan Eovaldi and J.A. Happ. But considering the Yankees' apparent aversion to commitment, it seems more likely they'll take the safe route with Happ.
If fortune truly favors the bold, then don't expect much luck for the Yankees next year.