Gary Sanchez's name currently floats in trade rumors. The idea of the New York Yankees trading him is preposterous.
New York Yankees catcher Gary Sanchez's down year won't see him banished from The Bronx, despite recent rumors. According to a tweet from Laura Albanese of Newsday, Brian Cashman has insisted any rumors involving a potential Sanchez trade are "false."
Brian Cashman flat out denies any rumors that the Yankees have any interest in moving Gary Sanchez. He is our catcher, he says, and any reports otherwise are totally false.

— Laura Albanese (@AlbaneseLaura) December 2, 2018
This contradicts a Friday story from Jon Heyman of Fancred, who reported Sanchez as the headliner in a potential deal for Miami Marlins backstop J.T. Realmuto. Cashman put that all to a rest in an interview with Jack Curry of the YES Network, saying Sanchez was "not for sale."
Gary Sanchez isn't going anywhere, says Brian Cashman.

Catch the FULL interview with Brian Cashman on Yankees Hot Stove (Monday, 6p). pic.twitter.com/aRW5qShMbl

— YES Network (@YESNetwork) December 2, 2018
Now that we're done with our mini-panic, allow me to expand on this. Gary Sanchez was never going anywhere at all. The idea of the Yankees trading him after one down year is absolutely ridiculous.
That this was even a story is even more ridiculous. From a baseball and, more importantly, financial standpoint, it just doesn't make sense for the Yankees.
Immediate
It's easy to see why the casual fan would view Gary Sanchez as a trade candidate. A nagging groin injury held him to 89 games and though he had 18 home runs with 53 RBI, he hit just .186. His .186/.291/.406 line wasn't exactly inspiring following a 33-homer campaign in 2017. By comparison, Realmuto hit .277 with a career-best 21 dingers and 74 RBI in his first All-Star season.
Shifting to defense, Sanchez led the majors with 18 passed balls after leading MLB with 16 last year. His defense behind the plate is a regular complaint among fans. Given Realmuto only had eight, the appeal is there.
Except, Sanchez's poor 2018 was not because he's on the decline and the metrics prove that. His batting average on balls in play (BABIP), per Fangraphs, was .197 and there were no major changes in his three contact rates. Even with the passed balls, he posted a decent defensive WAR of 6.3. Realmuto's was higher, but not by much at just 7.9. On top of that, he had a -7 defensive runs saved (DRS) compared to Sanchez's mark of +6. It can thus be argued he is a worse defensive catcher than his Big Apple counterpart.
That said, with the only major anomaly being his line drive rate dropping from 21.1 percent to 14.3 percent, Sanchez just ran into a bit of bad luck. Think of it as him going to Las Vegas and instead of Lady Luck being his plus-one, he has Gil from The Simpsons.
Tempting as such a deal may be, bad luck isn't a reason to trade a top player. Given how analytically minded the Yankees are, trading Sanchez was never going to happen.
The long game
And those are just the baseball reasons for why Gary Sanchez shouldn't be traded. The financial reasons are even more telling.
Look at it this way. According to Spotrac, he made $620,400 in 2018. He'll get a raise in 2019 but is still under team-controlled salary for another year before he is arbitration-eligible.
Now let's have a look at J.T. Realmuto's salary. He turns 28 in March and earned $2.9 million last year, his first with arbitration. He will get a significant raise, and the Marlins are looking to offload him to keep payroll low during the latest rebuild.
Right there is why the Yankees were never going to trade Gary Sanchez from the get-go. Why in the name of Yogi Berra would New York give up someone with at least four years of controllable salary for someone who will be a free agent in two years?
Not only that, but the Marlins aren't going to dump Realmuto the way they did Giancarlo Stanton. That was just to dump salary while trading reigning NL MVP Christian Yelich and Marcell Ozuna helped restock the farm system. Miami would never trade Realmuto for Sanchez straight up without also getting top prospects.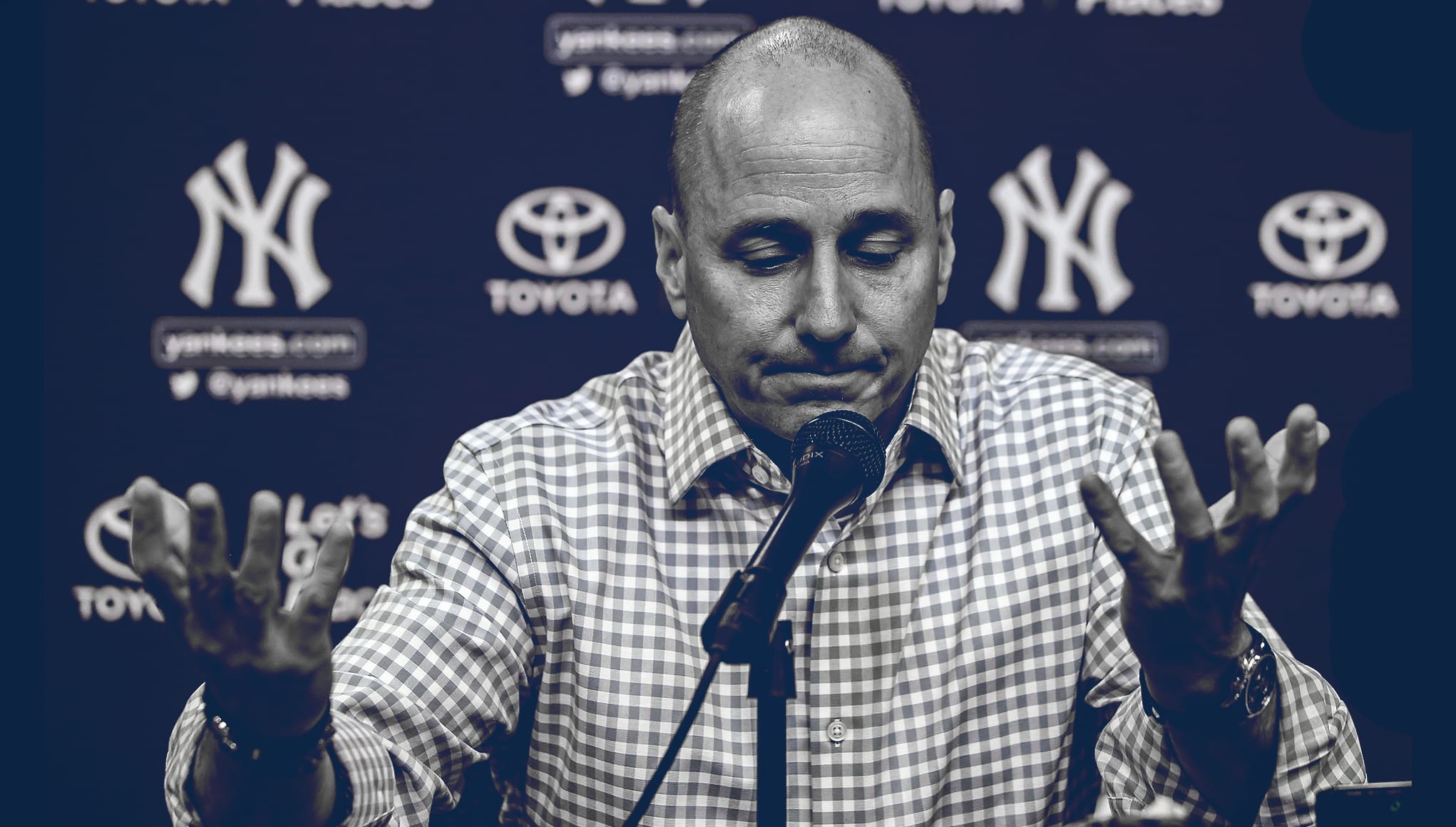 Brian Cashman: Expert negotiator
Most important of all, the Yankees were never going to trade Gary Sanchez because Cashman is way too smart for that. It can be seen in the above clip. He knows Sanchez is better than his rough 2018 and isn't ready to give up on him yet.
Now, consider Cashman's recent trade history. Why do the Marlins want to move Realmuto? Because they don't want to pay him as his price tag increases. Cashman has become a master at getting the most for the least in recent years, so why would he even include Sanchez in such a deal?
This is the same man who convinced the Cleveland Indians to take two-and-a-half years of Andrew Miller and give the Yankees Clint Frazier and Justus Sheffield in return. He gave the Chicago Cubs a few months of Aroldis Chapman for Gleyber Torres. When the Yankees acquired Sonny Gray from the Oakland Athletics for three prospects, Cash convinced Oakland to take two who were out with season-ending injuries! I wish I had those negotiating skills when I was buying my house!
Cashman wasn't just not going to trade Sanchez. He wasn't going to trade him and not get at least some top prospects back, even with catching prospect Anthony Seigler down on the farm.
Gary Sanchez is the Yankees' guy, and it's refreshing to know trading him was never on the table.
Final thoughts
Look, I get the brief hysteria surrounding Gary Sanchez, especially this winter. A plethora of great talent is available this offseason, be it by trades or free agency, and adding Sanchez to a Hot Stove comparable to Vesuvius would have made things interesting.
But the New York Yankees are just too smart for that. It's why they haven't yet moved on from Greg Bird. Like Sanchez, he too ran into bad luck in 2018 and the Yankees know he's better.
Thus, Gary Sanchez was never going anywhere and fans can look forward to him hopefully bouncing back in 2019. To move him would mean the Yankees cheating themselves, and Cashman is just too smart for that.