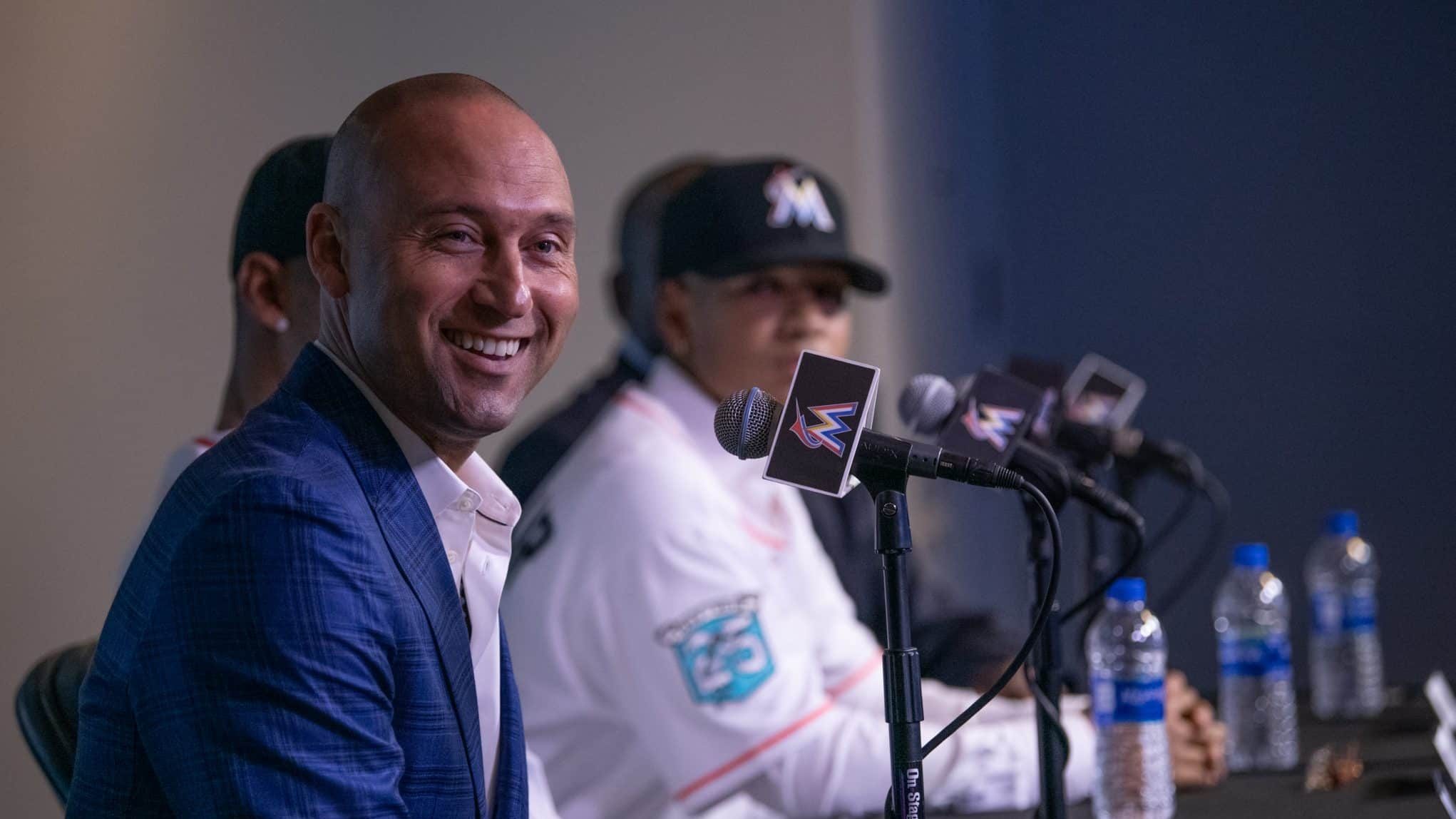 Last offseason was rough for former Yankees shortstop Derek Jeter. But now 2019 is nearly here, and he's partying like it's 1996.

Derek Jeter seems like a man who is all business, all the time. He's the kind of guy who, after a 20-year love affair with the New York Yankees and their fans, coolly took his talents to South Beach.
Yeah, he's basically the LeBron James of the MLB at this point.
However, the Miami Marlins CEO/owner recently allowed himself a bit of fun, as he celebrated his team's uniform makeover. TMZ spotted Jeter, his wife Hannah, and former Yankees catcher Jorge Posada painting the town red together the weekend ahead of Thanksgiving.
Miami Marlins unveil 'vibrant' new logo, colors and uniforms – Fox News https://t.co/ZCdVNOwfkE pic.twitter.com/xYFAUcf4b0

— Logo Design News (@Logo_Designs) November 16, 2018
New threads aren't the only thing the future Hall-of-Famer has to celebrate. The Marlins signed top international prospect Victor Victor Mesa and his teenage brother Victor Mesa Jr. in October.
"We got three Victors for the price of two," Jeter quipped to Trevor Noah in a live Daily Show appearance in Miami. This after the crowd stole the Bronx bleacher-creature roll call, chanting his and Noah's names.
Apparently, Jeter has completely recovered from the heat he took for trading away MVPs Giancarlo Stanton and Christian Yelich. The city seems to be buying into his rebuild, as he even made the cover of the self-proclaimed "bible of South Beach," Ocean Drive Magazine:
November cover star #DerekJeter arrived in #Miami on a mission– to challenge himself in a new role while turning around a losing team and reviving a sport on the decline. A year later, it's all starting to come together: https://t.co/8HuOllYAk7 pic.twitter.com/hpJlEci0qr

— Ocean Drive Magazine (@OceanDriveMag) October 29, 2018
It may be hard for Yankees fans to process all this. After rooting for Jeter for so long, it's difficult to just flip a switch and view him as a rival.
But if he's successful, the Yankees and Marlins could soon meet in the World Series. If that happens, and the Marlins take a ring away from the Bombers, it might be time to take Jeter out of Monument Park, un-retire No. 2, and permanently ban him from Old Timers Day.
Okay, that's probably going a bit too far.