It's appropriate to blame Derek Jeter as the reason Bryce Harper may not be playing right field for the New York Yankees in 2019 and beyond.

The hot stove season of 2018-19, that specific, targeted point in the future in which one MLB certainty would hit us all. That smooth, silky swing. The brashness of the next nasty boy to land in the Bronx. That power bat tailor-made for the most famous right field porch of all-time.
It was perfect.
We all knew, eventually, sooner, rather than later, Bryce Harper would become a Yankee.
With tales of Mickey Mantle fandom running thick through the family tree, Harper's desire to become a New York Yankees employee was always evident. It didn't matter that the topic was discussed as far back as three, four years ago. It was a lock that we'd see one of the brightest stars in baseball make his way east.
It's funny how life works. The future is now present and Harper—despite not knowing what his true desires remain—is not likely to sign on with the Yankees. That's baseball, Suzyn.
That's also Derek Jeter's fault, Suzyn. (Oh my goodness, goodness gracious.)
The five-time World Series champion in pinstripes, the Captain, No. 2, is responsible for the greatest baseball match made in heaven not coming to fruition (barring a first-place play or miraculous deal).
First and foremost, we understand who runs the Yankees these days—Mr. Brian Cashman. Prior to the team's first rebuild in decades a couple years ago, Cashman maintained the general manager tag yet seemed to always find himself in a fight with other obstacles.
Many of the team's high-priced signings over the years were not his. He didn't want Alex Rodriguez back after he opted out during a Boston Red Sox World Series triumph. A-Rod crawled back to a Steinbrenner for his hundreds of millions. He didn't want Rafael Soriano and publicly admitted it.
"I didn't recommend [the deal]," Cashman said after the team officially introduced Soriano as its eighth-inning man in front of closer Mariano Rivera nearly eight years ago.
It was Randy Levine who placated the fanbase with the signing, citing that the organization "owed" it to its fans to put the best product on the field. If only Randy knew what Cash did—baseball was morphing into a young man's game built around a strong core.
Finally allowing Cashman full control over personnel was the greatest thing to happen to the winningest American professional sports organization of all-time since the Buck Showalter-Stick Michael duo branded a dynasty. Still, nobody's 100 percent (other than Ralph Kramden's crazy hair-brained scehmes gone awry). Cashman's latest huge acquisition turned out to represent the exact opposite of refreshing.
The reactions were mixed when Giancarlo Stanton was had for peanuts—Starlin Castro and prospects Jorge Guzman and Jose Devers. Though mixed based on overall fit and value per dollar, the overall sentiment came to agreeance that the offer was too good to be true. One year later, we come to find out it actually was.
The employed Stanton has literally blocked Harper's path to New York. It's also created a tense all-or-nothing, heavy right-handed lineup that's rough come October against better pitching.
How much nicer would the lefty bat of Harper fit in right field and with Aaron Judge in this lineup?
Blame Jeter. Though Jeets only possesses a minority stake in the Miami Marlins, he was the heart of the now deal gone awry.
Jeter is tasked with putting a face on the organization. His job is to take any situation and spin it into gold. Attempting to pull such a thing off when trading the only recognizable face of the franchise for no return is a job ready-made for the Captain. He successfully put a face on giving away the 13-year, $325 million man for nothing in return.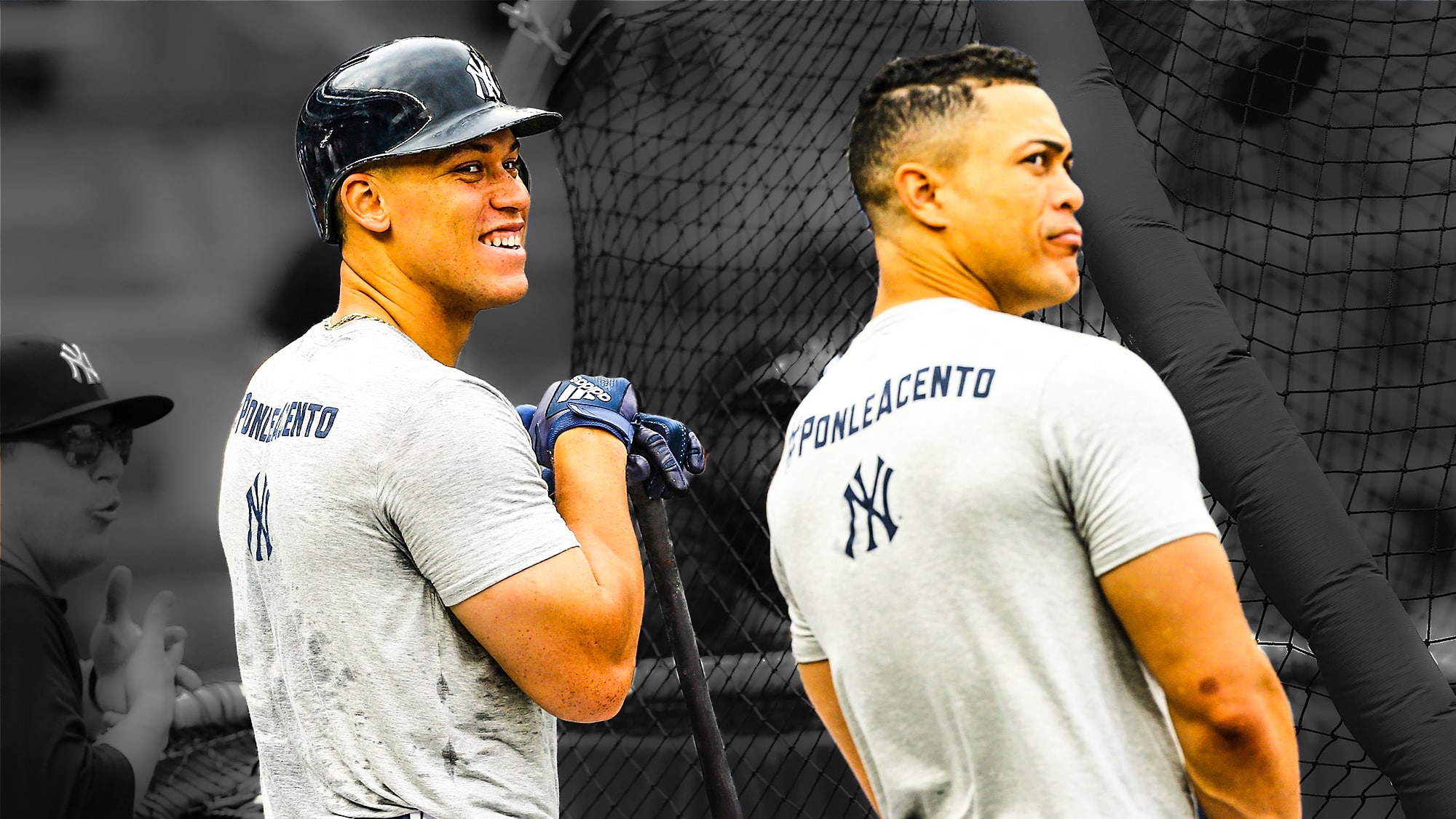 Perhaps without Jeter present, the whole thing doesn't go down.
Of course, Cashman wasn't looking for Stanton. The Yankees weren't targeting the reigning NL MVP. It simply fell in their laps. Perhaps Jeter also had much to do with the orchestration of the movement?
Stanton smashed his way to 59 home runs and 139 runs batted in in 2017. Believe it or not, the Marlins sold high. His previous highs were 37 and 105 (back in 2014). Overreacting to an MVP season is remains commonplace. The return was so modest due to the outrageous contract in which only three teams could actually take on.
Stanton hit one homer and produced one run with a cool .238 average in five postseason games with the Yankees last month. This is the area he'll be judged within from here on out. Harper has already accumulated five home runs in 19 career postseason contests.
What's also interesting is that one of Cashman's self-proclaimed tasks is to keep the budget low. No longer are these the out-of-control spending Yanks who showcase stale veterans who clog up opportunities for youngsters at each position. This is a rabid goal of his yet he still took on the heavy Stanton.
Why? Why, when knowing Harper was coming your way in precisely 365 days? Again, that man comes to mind (No. 2).
It's never a great idea to sign any baseball player in this current environment to a near lifetime deal worth over $300 million, but if any sane GM had his choice between Stanton and Harper, it's a no-brainer—especially at Yankee Stadium with a roster already full of young power-righty bats.
Forget the fit: one is just a straight-up better baseball player and it's not even close.
Derek Jeter was, no doubt, involved. To what degree, we may never know. One thing is for certain: without Jeets as the face of the Marlins and without his Bronx connections, some may label it doubtful that Stanton would have headed east last hot stove.
Either way, Brian Cashman is silently kicking himself for this one. He will absolutely go down in history as the culprit here. But isn't it painfully ironic that the most beloved Yankee in recent memory played a major hand in screwing up the greatest baseball fit this century (Harper to Yankees)?
Due to Derek Jeter's gift of Giancarlo Stanton, Bryce Harper (most likely) will not join the New York Yankees—an idea that was a foregone conclusion a mere calendar season ago.