Despite his three interceptions on Monday Night Football, Patrick Mahomes, not Drew Brees, remains the rightful NFL MVP frontrunner. 
For sure, Monday night had to be a promising sight for advocates of Drew Brees winning the NFL MVP award. 
Through many eyes, the 39-year-old quarterback has the award wrapped up, especially after seeing his greatest competition—Patrick Mahomes—lose while committing five turnovers in the process.
I'd be remiss if I didn't admit that Brees is playing the quarterback position at arguably the highest level of his career and maybe all-time.
However, that doesn't make him the MVP of the NFL.
That award belongs to Mahomes—the dynamic quarterback out of Texas Tech. It seems like, in football, we struggle with the word "valuable." 
If I were to objectively look at each quarterback and their respective team's situation, it's clear that Brees is more valuable to the New Orleans Saints than Mahomes is to the Kansas City Chiefs. 
However, that's not the historical precedent that the NFL media established when it comes to this award. 
There's no telling what the New Orleans Saints would look like without Brees, but it's safe to say they wouldn't be the No. 1 ranked offense in the NFL.
We've seen this same Chiefs team have some level of success, albeit on a lesser scale, with Alex Smith Under center. 
Last year, the Chiefs opened up the season 5-0 with Smith posting 11 touchdowns and zero interceptions in his first five games.
Even still, the feeling around the NFL is that this team is different, despite a lack of faith in Andy Reid in big games and the Chiefs' shortcomings in the playoffs recently.
The difference is they don't have Smith aka "Captain Checkdown" in their huddle. They have a 23-year-old kid with an awkward sounding voice and a rocket arm to accompany it, who has never met a throw he was afraid to make, or at least attempt to make.
The Chiefs returned essentially the same team, excluding injuries to Justin Houston and Eric Berry. Their coach, Andy Reid, didn't suddenly get smarter overnight. Kareem Hunt, Travis Kelce, and Tyreek Hill didn't suddenly become good overnight. Mahomes has been the most significant difference maker this season for the Chiefs.
When you look at his arm strength combined with his mobility and his fearlessness, it's hard not to have feelings of nostalgia watching a young Brett Favre, Dan Marino, or even John Elway in their prime.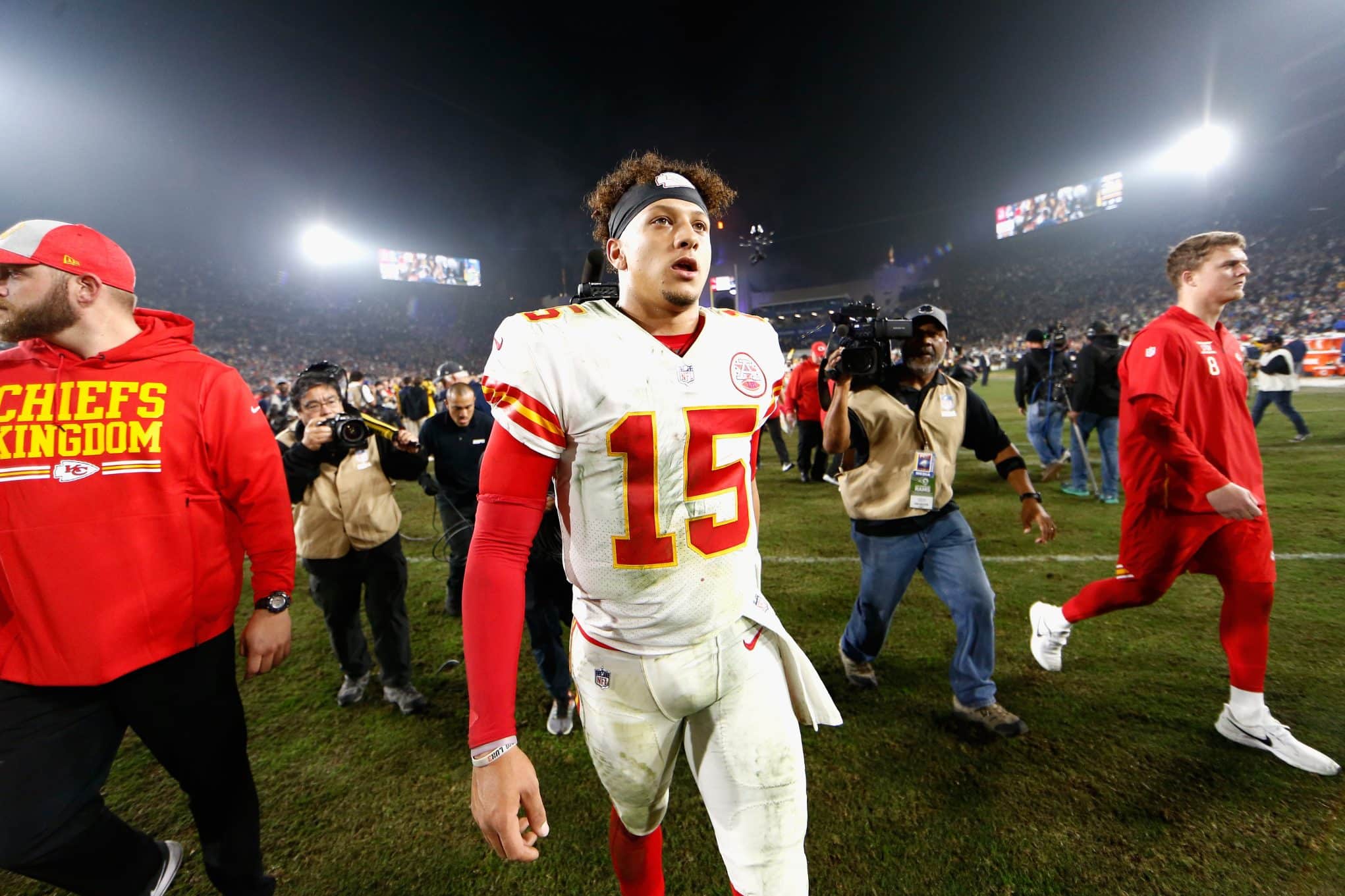 In his first 11 games as an NFL starter, Mahomes has thrown for 3,628 yards, tossed 37 touchdowns (which leads the NFL), has a passer rating of 117.9 (second in the NFL), and is completing 67.5 percent of his passes.
With five games remaining, Mahomes is on pace to throw for over 5,000 yards and over 50 touchdowns. These are milestones that the likes of quarterbacks such as Tom Brady, Peyton Manning, and Drew Brees hadn't accomplished until they were legitimate starters in the league.
Mahomes has the advantage of being coached by one of the best offensive minds in all of football in Reid, as does Brees with Sean Payton. Week-to-week, Mahomes leads an offense on to the field that features arguably three of the top five skills players at running back, wide receiver and tight end; however, it's not every day a second-year quarterback walks into an ideal situation and generates this level of production.
The argument that the league is more pass-friendly and caters to quarterbacks to somehow diminish Mahomes' success is a double-edged sword. 
The same rules Mahomes benefits from, Brees does as well. 
As it currently stands Brees has passed for 2,964 yards, thrown 25 touchdowns, is completing an astonishing 76.9 percent (NFL record to date) of his passes, and most importantly has only thrown one interception all year. At this rate, Brees is on pace to break his single-season completion record of 72% (set in 2017), and Aaron Rodgers single-season passer rating record of 122.5 (achieved in 2011). 
Brees is having a record-breaking season, and as is with anything historical, we feel the need to have a Cinderella ending. The narrative that the NFL media robbed him of an MVP award in his career is already gaining traction as if his prime didn't coincide with the prime of Brady, Manning, and Rodgers.
A Cinderella ending for Brees would include the regular season MVP award, a Super Bowl win, and a Super Bowl MVP. The Saints might make it to the Super Bowl, but Mahomes is the MVP of the NFL, not Brees.
Just think about this: Mahomes is having a season better than Brees in his second year.
Moreover, he's just getting started.