If the New York Yankees pull off a trade for a big-name starter, Clint Frazier will probably be part of the deal, but he shouldn't be.

How will I be able to sing along with the national anthem at New York Yankees games if they trade Clint Frazier?
Every time the song gets to the line "the rockets' red glare," all I'll be able to think about is Red Thunder's bombs landing in the seats for some other team.
Frazier is a big part of what made the Yankees exciting again, circa 2017. Relics Alex Rodriguez and Mark Teixeira both retired at the end of 2016, and in stepped the Baby Bombers.
Frazier's role in 2017 was minimal, peaking with his walk-off home run against the Brewers on July 8 and ending when he was left off the ALDS roster. Despite his limited impact, the thought of Frazier's vicious bat speed in the lineup for a whole season made this Yankees fan giddy with anticipation.
Now, after a 2018 season derailed by concussion symptoms, Frazier's name surfaces in just about every trade rumor. I wake up every day expecting to see headlines proclaiming Frazier has left the Bronx.
But trading him, especially right now, would be a serious mistake.
He's going to be really good
Frazier's numbers—both in the Majors and in the farm system—indicate that he's going to be an All-Star at some point. I, for one, am willing to wait until that happens for the Yankees, rather than dump him off for a pitching rental.
Last year Frazier played about one-third of a season at Triple-A Scranton, and he tore the cover off the ball. The 24-year-old slashed .311/.389/.574, blasting 10 home runs and 14 doubles in just 48 games.
In the Majors last year, he showed progress compared to his first season with the Yankees. He didn't hit for power in 2018, but he showed more plate discipline, as his walk percentage jumped from 4.9 percent in 2017, to 12.2 percent this past season.
He should be in the Big Leagues next year, whether it's in the Bronx or somewhere else. Ideally, he stays in New York and beats out Brett Gardner for a starting spot in left field.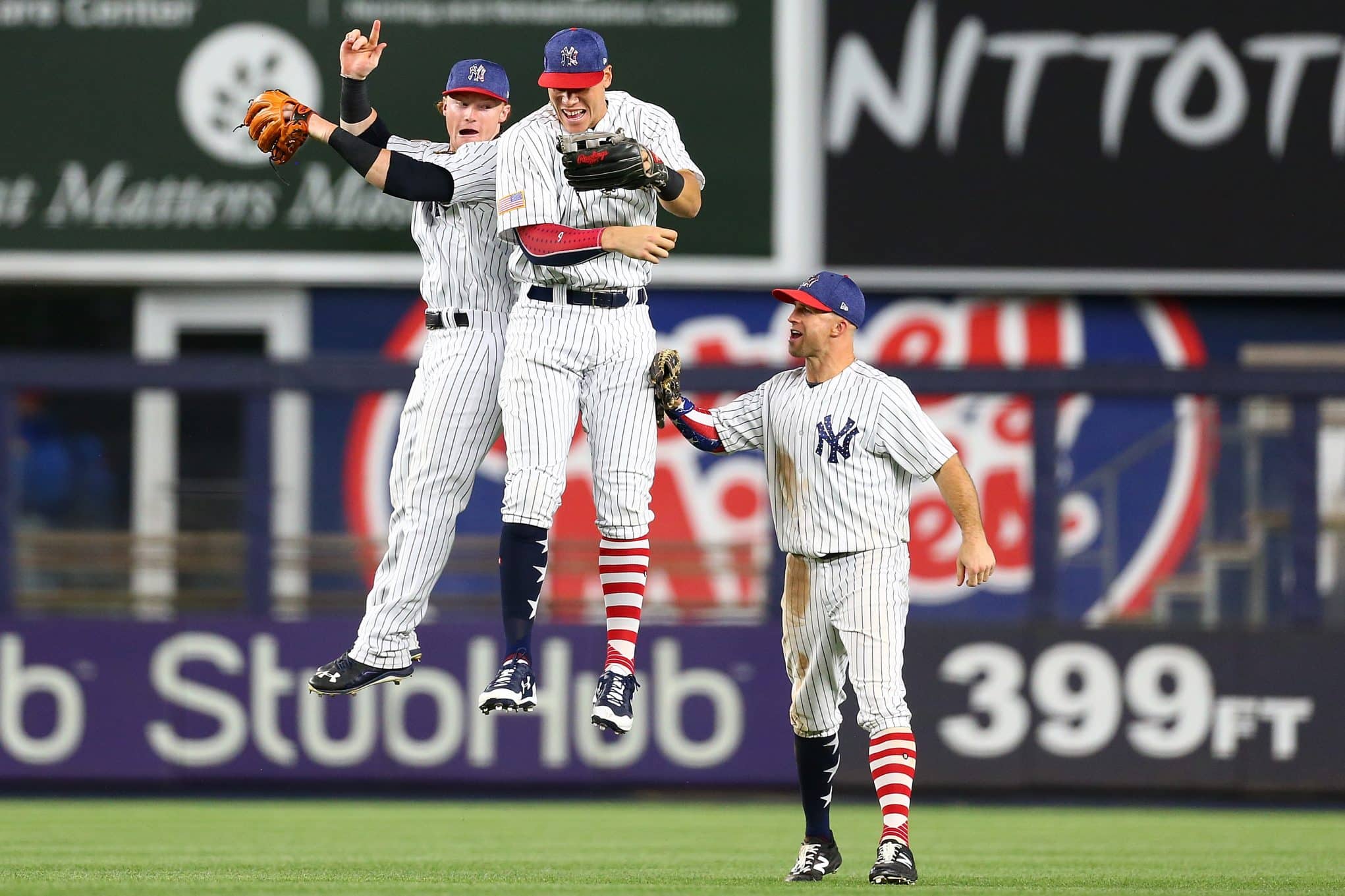 Worst case scenario, he platoons with Gardner. Such a situation could bring out the best in the youngster.
The right-handed Frazier has posted a .304/.360/.522 slash line against southpaws in his short time in the MLB.
It's not just about the numbers, though. Frazier has the necessary drive to succeed. Yankees great Reggie Jackson told Daily News reporter Christian Red that Frazier "has real [sic] good work habits."
Frazier has also been known as a gym rat with a super competitive streak since his days at Loganville High School in Georgia, according to NJ.com's Randy Miller.
He's got the talent; he's got the moxie. It's time for some Red Thunder in the starting lineup.
The alternative is Jacoby Ellsbury
New York needs the outfield depth Frazier provides.
Look what happened this year when Aaron Judge got hurt. The Bombers eventually had Shane Robinson and Neil Walker starting in the outfield, and then they had to move two prospects for one month of Andrew McCutchen's services.
If the injury bug bites again in 2019, and Frazier is gone, Jacoby Ellsbury will be the next man up.
Yeah, Ellsbury is still in pinstripes, and he seems about a million years older than when he last played, as he'll celebrate his 36th birthday on September 11.
At least with Frazier on the roster, if someone goes down, most Yankees fans will have to see if Ellsbury is in a platoon situation.
He'll be worth more later
Frazier's value is affected by his 2018 concussion symptoms. According to Gotham Sports Network's Max Wildstein, Frazier's injuries are making teams nervous about building a blockbuster trade around him.
Source: #Indians haven't shown much interest in re-acquiring Clint Frazier in trade with #Yankees for one of their starters. #Mariners have asked about Frazier in regards to James Paxton, though they wouldn't want him as a main piece. Teams weary of injuries.

— Max Wildstein (@MaxWildstein) November 10, 2018
It's not that he's untradable, but he's going to be a second-tier piece in any deal Brian Cashman makes for an MLB star. That's not maximizing Frazier's value.
Cashman should shelf Frazier for now. Let the kid prove that he's all the way back from his concussion, and then, if absolutely necessary, trade him.
I'd prefer they don't trade him, but here's a crazy scenario in which a peak-value Frazier delivers a satisfactory return:
It's July 2019, nearing the trade deadline. The Yankees and Red Sox have left the rest of the Eastern Division in the dust, but the Yankees need a starting pitcher.
CC Sabathia is out with knee problems, and Luis Severino is again choking in the second half of the season.
The Tampa Bay Rays' season is all but over, and they're looking ahead to arbitration for Blake Snell. He's having another Cy-Young type year, so he's going to easily break Dallas Keuchel's $7.25 million record for first-time arbitration eligible pitchers.
Add about $8 million for Snell to Kevin Kiermaier's $10.16 million in 2020, and it's already about a quarter of their entire opening-day payroll for 2018. A hot-hitting Frazier could be enough to coax Snell from the Rays' grasp.
Another dream situation would have the New York Mets shopping Noah Syndergaard and Jacob deGrom.
If Frazier and a pitching prospect or two could net one of those assassins, a trade would be justified.
Just be patient
The Yankees do need starting pitching, but trading away Frazier for anyone who isn't a stud in their early-to-mid 20s is unwise.
Cashman is rumored to be pursuing Patrick Corbin in free agency. If New York inks him, they should leave the last rotation spot open for spring training competition.
Justus Sheffield, Chance Adams, Jonathan Loaisiga, and Domingo German all deserve a shot.
Following that plan should keep Frazier on the spring training roster, right where he belongs.