A New York Yankees trade for Madison Bumgarner wouldn't be the easiest deal to complete, but it's something worth looking into.

The New York Yankees need pitching to pair with their grade-A offense, and Madison Bumgarner could be the Cabernet Sauvignon to the Bombers' sizzling steak.
Offense isn't an issue for New York. In 2018, the Yankees scored the second-most runs in the MLB, without full-season contributions from Aaron Judge and Gary Sanchez, and with two rookies playing every day.
The bullpen is sitting pretty as well. Aroldis Chapman and Dellin Betances are anchoring the back end, and free agents like Kelvin Herrera and Zach Britton are potential additions.
Yankees GM Brian Cashman's biggest concern this offseason should be the starting rotation. Luis Severino and Masahiro Tanaka are the only guarantees for 2019, and their consistency this year was a major problem.
Patrick Corbin and Dallas Keuchel—two guys with suspect pasts—are two of the better free agent options available. The weak market means Cashman will be open to acquiring help via trade.
Bumgarner isn't necessarily available, but everyone has a price. The Yankees have riches, but how much would they be willing to give up?
MadBum is worth mad prospects
According to analyst Ken Rosenthal, the chances of a team convincing the Giants to relinquish their ace are virtually nonexistent.
However, the Giants are shaking up their front office. It's possible that Cashman could sneak a deal into the chaos and come out with one of the best pitchers in baseball. If anyone could do that, it would be the sneaky Cashman.
The deal would have to be crazy good for the Giants. An inside source told SNY's John Harper that whatever package the Yankees put together, "It would have to be an overpay."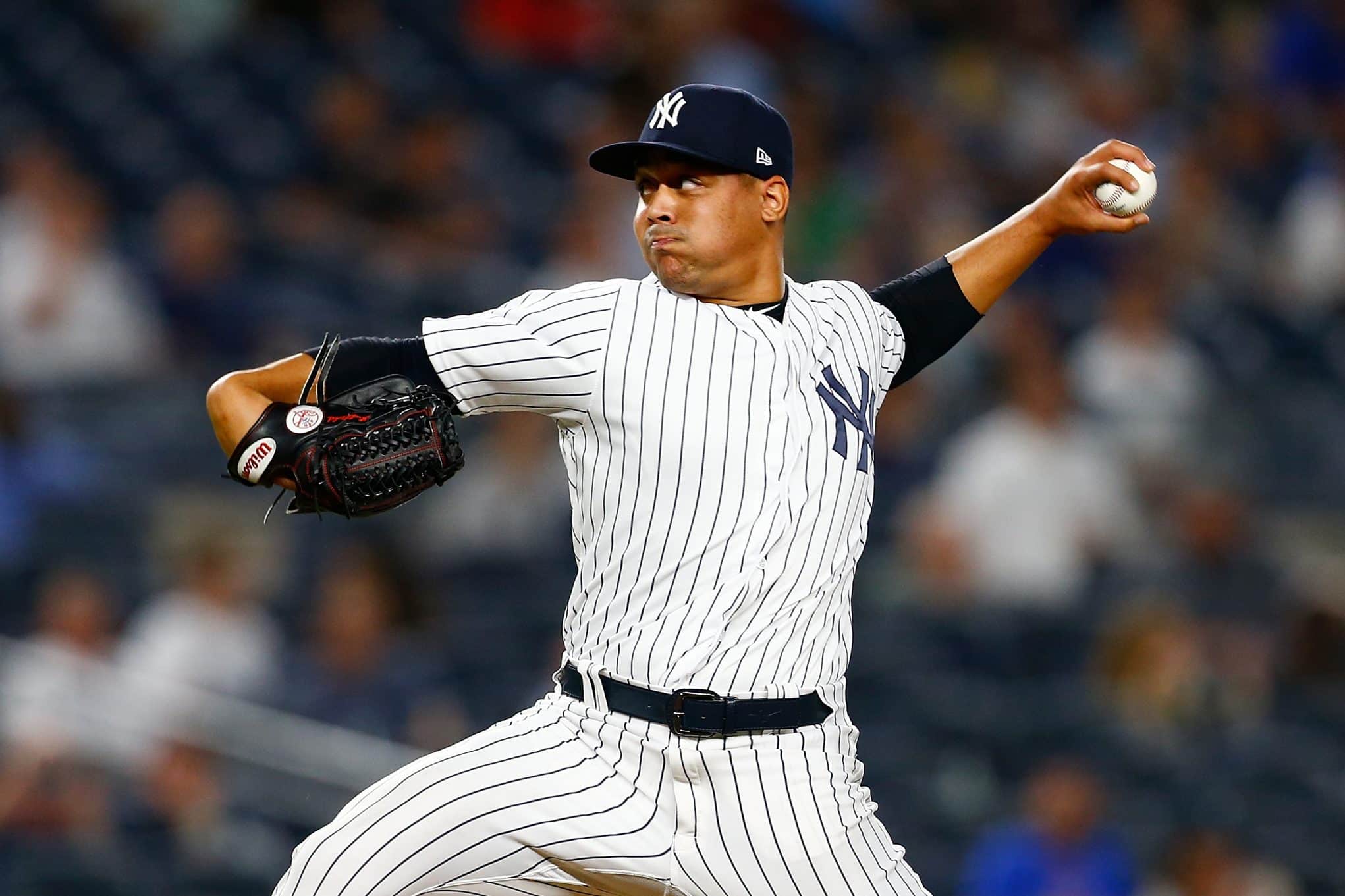 Harper suggested a haul of Miguel Andujar and top prospects, including Estevan Florial and Justus Sheffield. Of course, the Giants could also get greedy and ask for both Andujar and Gleyber Torres.
Clint Frazier is another valuable name that always surfaces in negotiations. But there could be a way to get the deal done without emptying the farm system.
The Giants feel stuck with their 33-year-old third baseman Evan Longoria. He had the least productive year of his career in 2018, hitting just .244 with only 16 home runs and 54 RBIs, and he still has four years and $72.5 million remaining on his contract.
If the Yankees offered to take Longoria with Bumgarner, they may get away with offering only Andujar and mid-level prospects.
But giving up a slew of young talent or taking on an aging Longoria just to get a one-year rental in Bumgarner is supremely risky.
Why it could backfire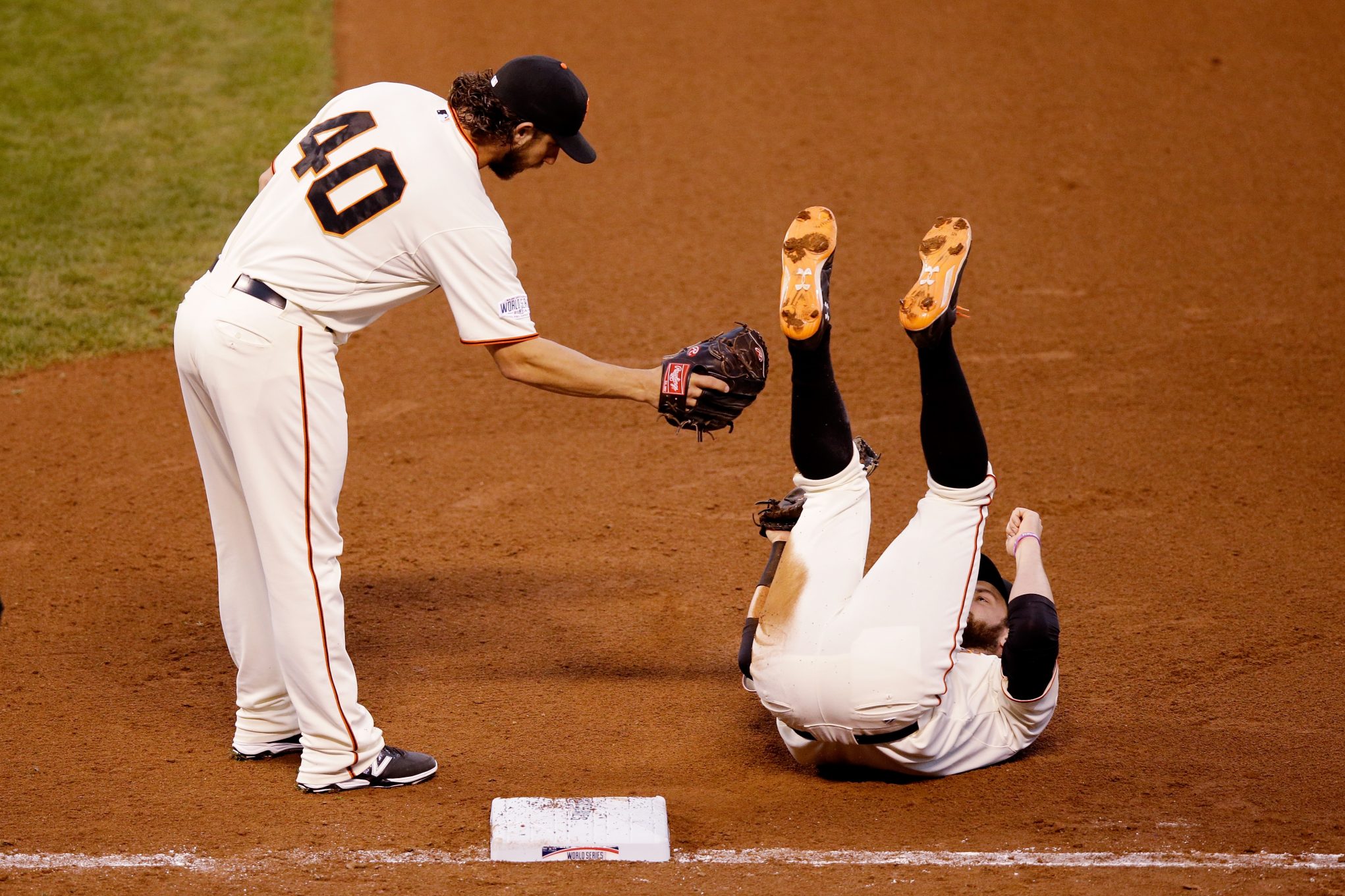 Bumgarner is only 29, but he's showing signs of being past his prime. He's lost about 1.5 miles per hour on his fastball over the past few years, and his ERA has gone up accordingly.
The San Francisco ace stacked up four straight sub-3.00 ERA seasons from 2013 to 2016. In the next two years, he posted 3.32 and 3.26 ERAs, respectively.
Those numbers are especially pedestrian when you consider that he pitches in the National League, facing the pitcher's spot each time through the lineup. That fact raises yet another concern.
Bumgarner's performance could take another hit once American League hitters, DHs and all, get used to him.
Also, even if Bumgarner were to give the Yankees the new best year of his career, he's only under contract through 2019. Yankees fans would have to see Miguel Andujar potentially blossom into a Manny Machado-type hitter in San Francisco, and they might not even have Bumgarner to show for it.
Why it could work out
Here's the thing about Bumgarner, though: he could carry the Yankees all the way to their 28th championship.
By far the most attractive aspect of bringing Bumgarner to the Bronx is his ability to go next level in the postseason. He has an insane 2.11 ERA in 102.1 playoff innings, to go along with a sterling 8-3 record.
He's gotten three rings since 2010. The Yankees have none during that span.
As far as his aging goes, Bumgarner has always averaged in the lower 90s. There's no reason to think he can't figure out how to dominate for the next several years, even as his velocity drops a bit more.
CC Sabathia is proof of that.
Other trade options
Some other front-end starters who could be available via trade include Corey Kluber and Carlos Carrasco.
Faced with market constraints, the Indians will listen to trade offers for some of their veteran players this winter, according to sources. Kluber, Carrasco, Encarnacion, Gomes, etc. Lindor, Ramirez will definitely be held.

— Buster Olney (@Buster_ESPN) November 2, 2018
These two guys are a bit older than Bumgarner, but neither is merely a rental. Kluber will turn 33 at the beginning of the 2019 campaign, and his contract has team options for the following two years. Carrasco will celebrate his 32nd birthday in March, and he has a team option for 2020.
Either pitcher is an intriguing option.
Kluber, of course, is a two-time Cy Young winner who has 18-plus wins in four of the last five seasons. Carrasco put up 18 wins with a 3.29 ERA in 2017, and he followed that up with 17 wins and a 3.38 ERA in 2018.
Last winter Brian Cashman gave the Yankees an early Christmas present in the form of Giancarlo Stanton. Maybe this year Bombers fans will find Madison Bumgarner under the tree.