Outfielder Brett Gardner is the first of the New York Yankees 2019 free agents to re-sign with the team this offseason.

Brett Gardner is back, and his return could have major ramifications regarding the New York Yankees' outfield plans.
The New York Yankees have come to terms with OF Brett Gardner on a one-year contract for 2019.

— New York Yankees (@Yankees) October 31, 2018
Gardner is coming off his worst year in the MLB, posting a slash line of .236/.322/.368 in 2018 and earning a significant pay cut for 2019. New York declined their $12.5 million team option for Gardner, offering the 35-year-old outfielder a new one-year, $7.5 million deal to go along with a $2 million buyout.
Despite the pay reduction, Gardner was quick to accept the offer.
"I wasn't sure what kind of opportunities I was going to have with the Yankees beyond this year and what would have been out there for me in other places," Gardner told MLB.com's Mark Feinsand. "To get this wrapped up early in the offseason, it's great to know where I'll be next year and obviously what to expect."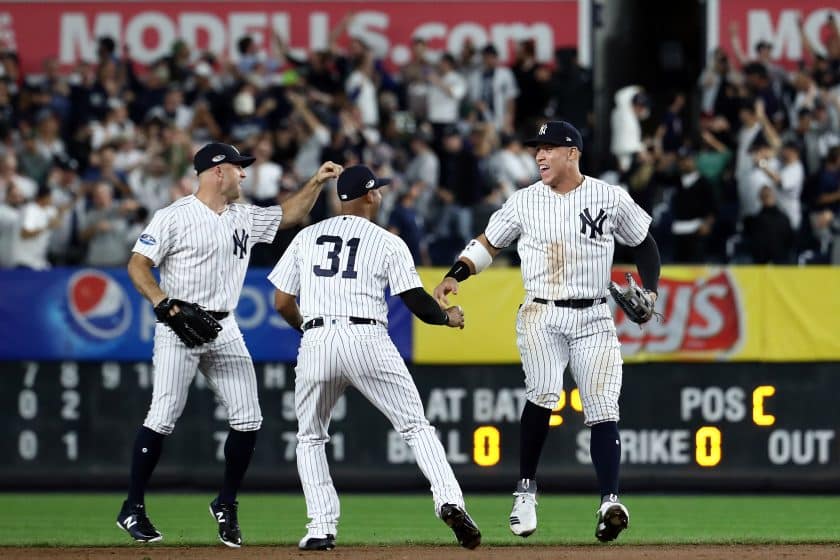 Re-signing Gardner could indicate that GM Brian Cashman and the Yankees don't plan on breaking the bank to bring in Bryce Harper. Assuming that Giancarlo Stanton is a permanent fixture at DH, the New York outfield is still crowded with the likes of Gardner, Aaron Judge, Aaron Hicks, Clint Frazier, and Jacoby Ellsbury.
The move to bring back Gardner doesn't necessarily preclude signing Harper, though. Gardner could always come off the bench as he did in the Yankees' first two playoff games.
Also, Harper has shown interest in playing first base, per MLB.com's Jamal Collier.
Whatever Gardner's contribution is on the field in 2019, he will continue being a leader in the clubhouse, a role that could expand if CC Sabathia doesn't return.
Didi Gregorius told Forbes contributor Scott Orgera that the two veteran Bombers have a major impact on the team.
"Trust me," the shortstop said. "Their leadership means a lot to all of us."
Gardner has played all of his 11 years in the Big Leagues with the Yankees. He's put together a solid resume as a lead-off hitter, with a career .344 on-base percentage, and he's just 4 home runs away from 100.
He may have to fight for playing time in 2019, but Gardner says he's "really, really excited." If he performs well, Yankees fans should be pretty jazzed to see him back, as well.