Brian Cashman and the New York Yankees' front office made two critical 2018 personnel errors that proved instrumental in Boston's MLB domination.

New York Yankees GM Brian Cashman has earned his paycheck over the past several years.
He's worked around ownership's sub-luxury tax mandate and built a system that has produced core players like Aaron Judge, Gary Sanchez, and Luis Severino. Cashman also deserves major props for bringing Didi Gregorius in to replace Derek Jeter, as the knight from Curacao has turned into a fan-favorite star in the Bronx.
Then there's the magic trick that Cashman pulled off with Aroldis Chapman, getting the flamethrower for a song in 2015, flipping him for Gleyber Torres in 2016, and then re-signing him for the next year. That was straight genius.
As good as Cashman has been, he's still a finite human, and two of his 2018 roster moves turned out to be huge mistakes that helped tip the Eastern Division scales in favor of the Red Sox.
Giancarlo Stanton < J.D. Martinez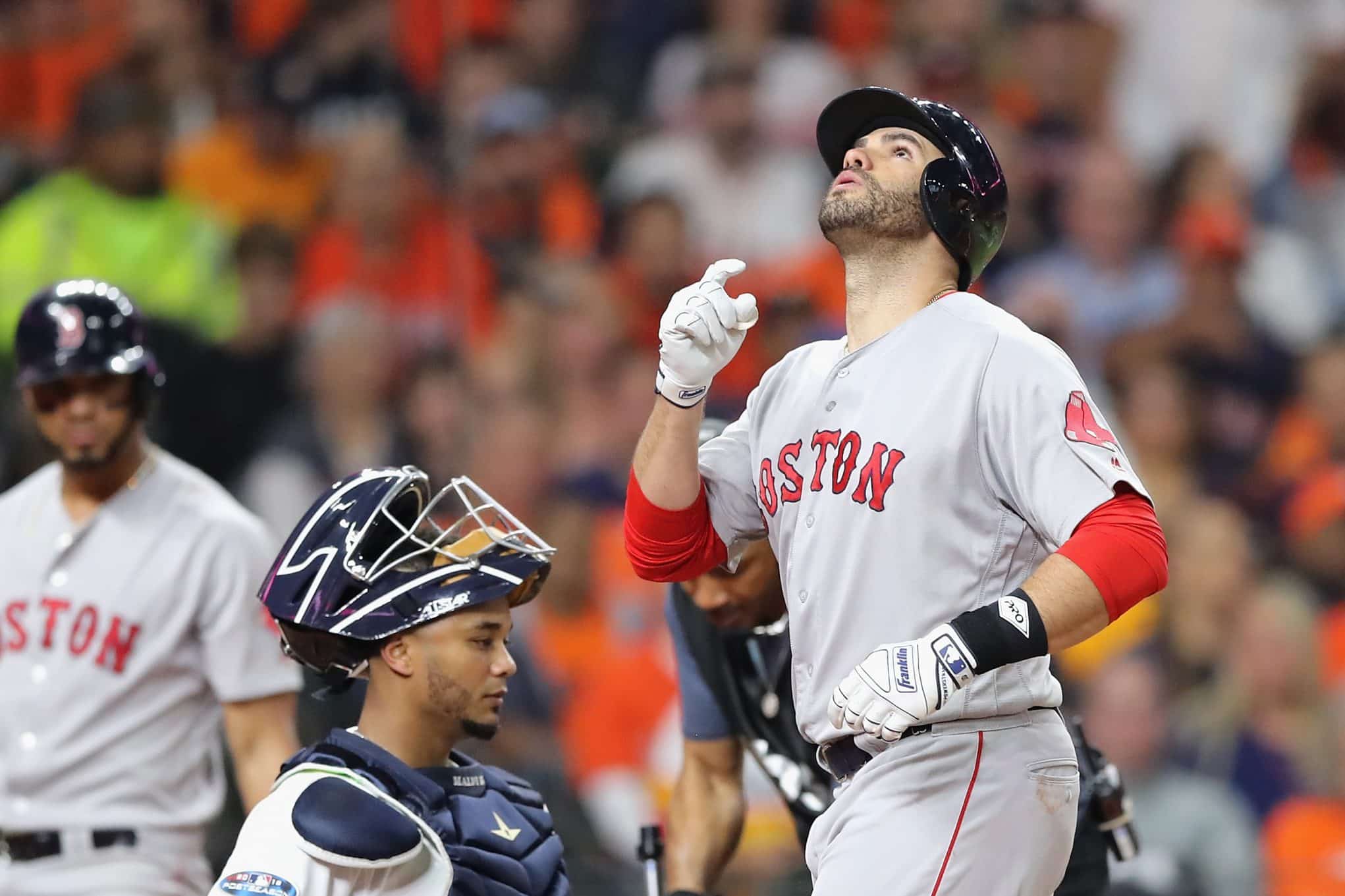 The first questionable move was the diamond-encrusted turd of a trade that brought Giancarlo Stanton to New York. At the time, Cashman was lauded for yet another genius deal, paying well below market value for the reigning NL MVP.
And sure, Stanton put up decent numbers—production any team would love to have in their lineup. There's no question that Stanton adds value, but when the Yankees acquired him there was a much more valuable option still available in free agency.
That option, J.D. Martinez, was one the Boston Red Sox pounced on. They made the right choice.
The two players' 2018 stat comparison isn't even close:
Stanton: .266 BA, 38 HR, 100 RBI, .852 OPS
Martinez: .330 BA, 43 HR, 130 RBI, 1.031 OPS
However, the most important difference between the two was consistency. Martinez hit over .300 in every month of the season except for May, when he hit .299 and mashed 13 home runs. Stanton hit .311 in June/July, but only .244 for the rest of the season.
The unbelievable consistency of J.D. Martinez is a big part of why the Red Sox won 108 games during the regular season, which relegated Stanton and the Yankees to the Wild Card game and a path through the postseason that they just couldn't navigate.
Were Martinez a Yankee, the rival clubs' fates might have been reversed. Imagine Martinez steadily anchoring the lineup while Judge was injured, instead of Stanton, whose batting average dropped 18 points while his teammate was out.
ALDS Stanton < ALDS Martinez
Martinez did his part in the ALDS against the Yankees, hitting .357 and driving in 6 runs, including a 3-run home run that started the scoring in game one. He also opened the scoring in the decisive game four with a sacrifice fly in the third inning.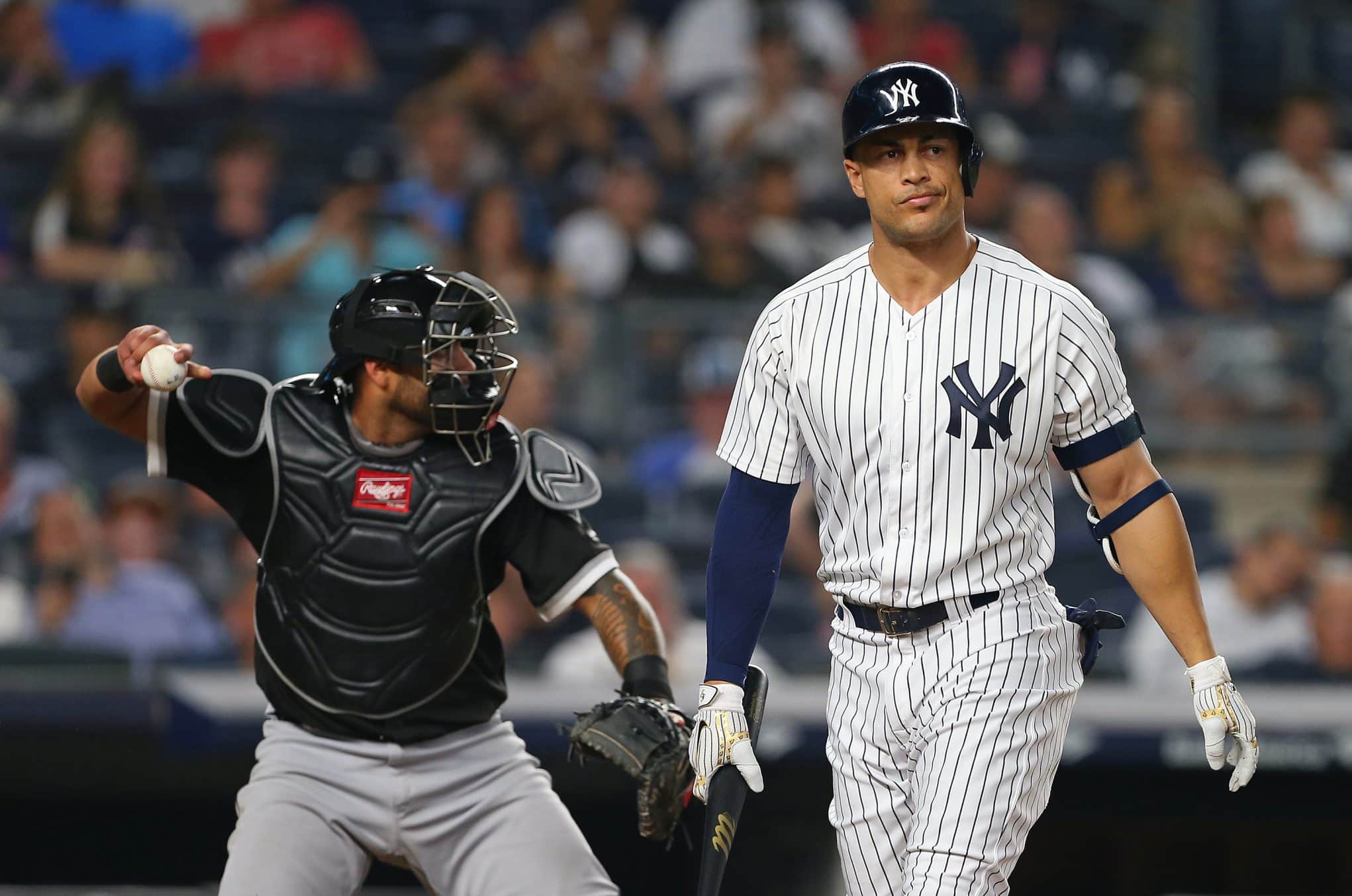 Stanton had a negative impact on the ALDS. He hit .222 in the series, with just 4 singles, no home runs, and no RBIs.
He struck out four times in game one, and he whiffed again in his last at-bat of 2018, with two runners on in the bottom of the ninth in game four.
Martinez's World Series Impact
Martinez led the Majors in RBI during the regular season, so it makes sense that he'd do so again in the postseason. His 14 RBI in October were good for one per game, carrying the Red Sox to their latest title.
Without Martinez's offensive output, Boston would've had a really hard time putting together enough runs to win, especially considering Mookie Betts' ineffectiveness. The MVP frontrunner went ice cold, hitting just .210 with 1 home run and 4 RBIs during the playoff run.
Lance Lynn < Nathan Eovaldi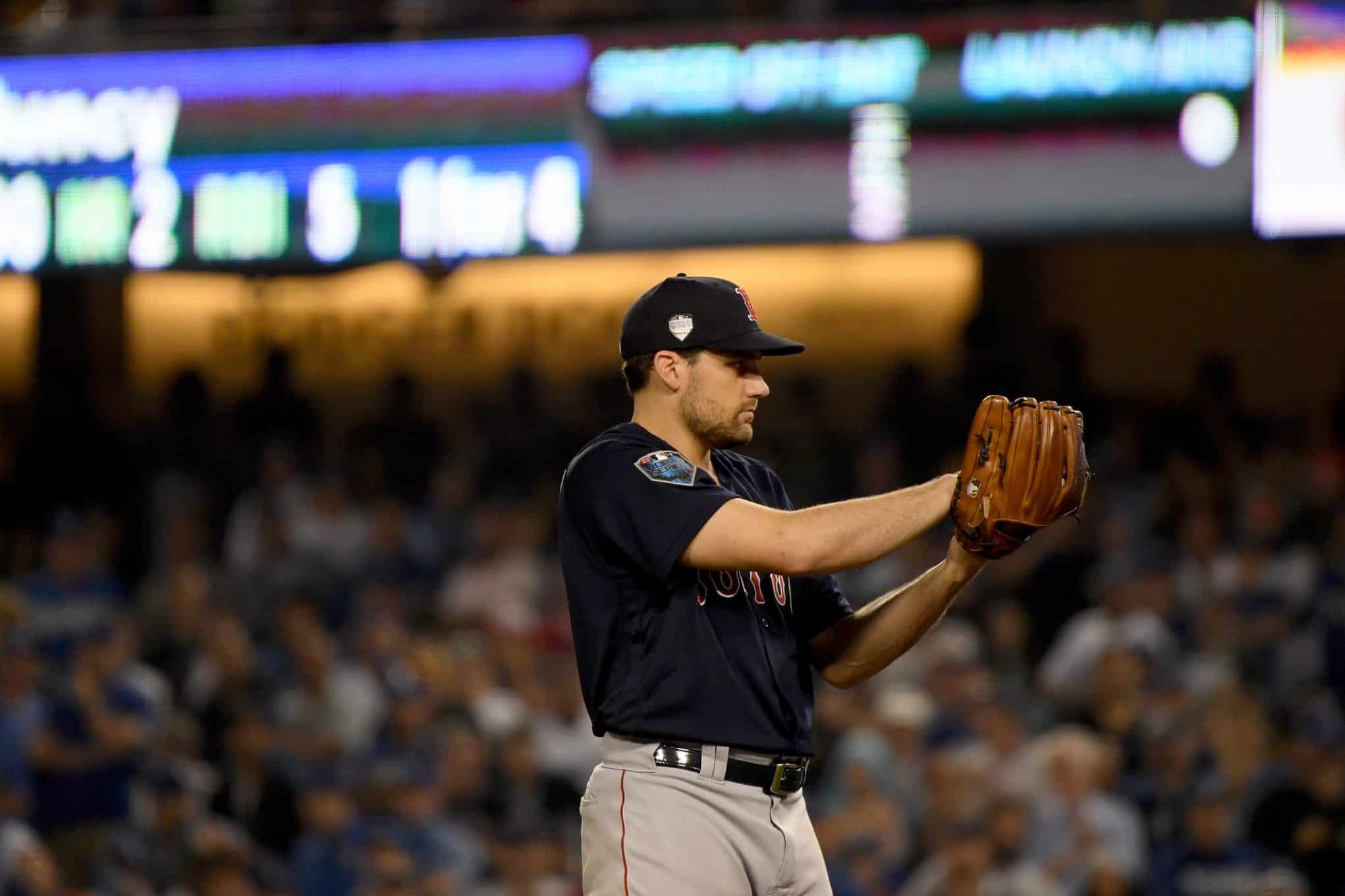 Nathan Eovaldi was linked to the Yankees before the trade deadline, but the Red Sox grabbed him up. Cashman engineered a trade for Lance Lynn a few days later.
Neither pitcher had a huge impact on the regular season for their new teams, but now that the postseason is in the books, it is painfully evident that the Yankees obtained the wrong guy.
Lynn posted a beefy 11.57 ERA in just 2.1 October innings, all in games the Yankees lost to the Red Sox. Contrast that with Eovaldi, who put together an impressive resume in October, elevating himself to the top of many teams' free agency wish lists.
ALDS Lynn < ALDS Eovaldi
Eovaldi was a huge difference maker in the ALDS. He completely squelched his former team's momentum in game three, setting Boston up to win the series in game four.
When he took the hill, the Yankees had just returned home to the Bronx after an easy win at Fenway. The Bombers also had Luis Severino on the mound, who was coming off a solid effort in the Wild Card game.
Nasty Nate calmly curb-stomped the Yankees confidence.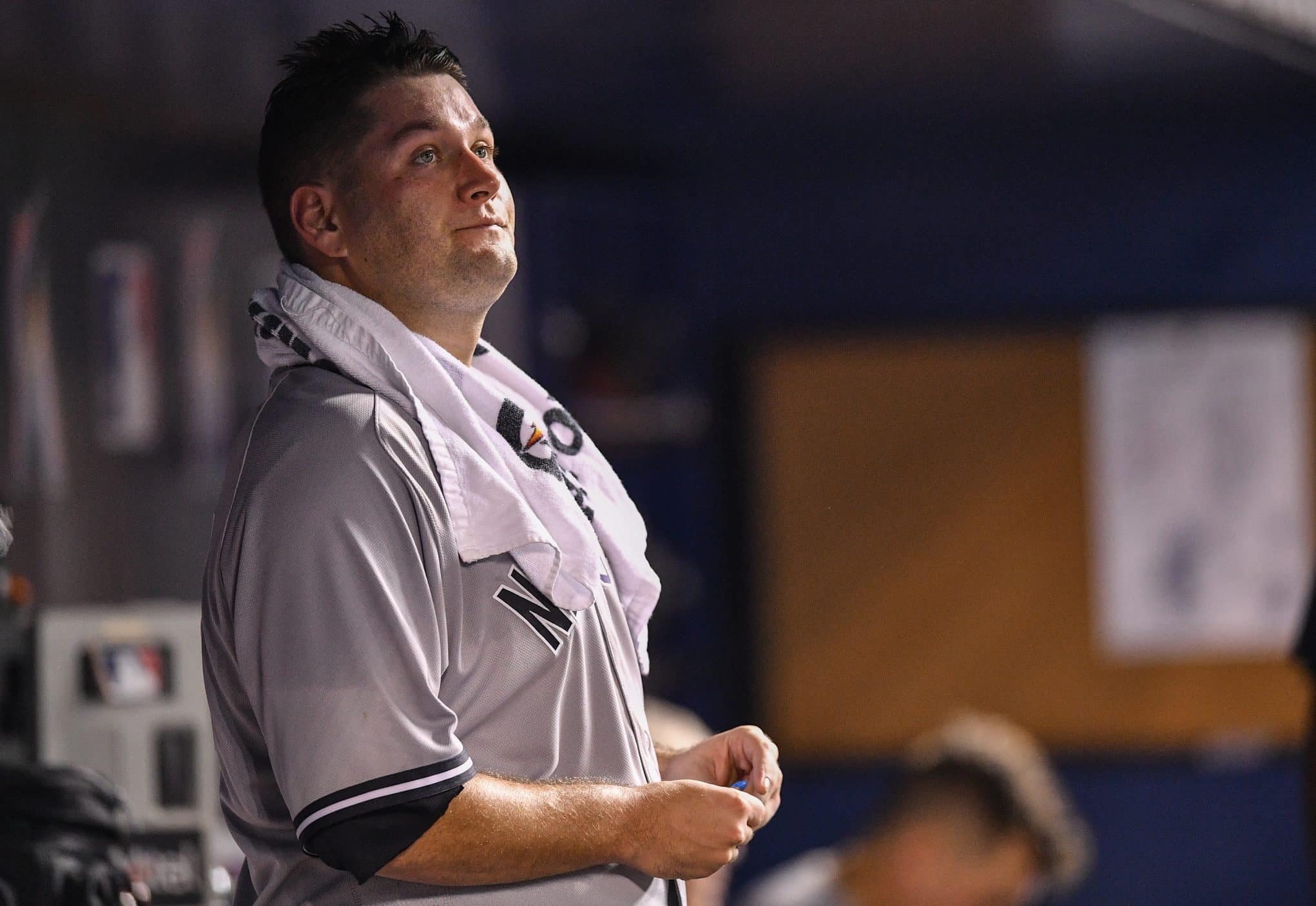 New York managed just five singles and one run against Eovaldi, while a completely ineffective Severino absconded early. Fittingly, it was Lynn who came in and let the Red Sox blow the game up, as he allowed three of Severino's base runners to score, before surrendering three earned runs of his own.
Eovaldi's World Series Impact
Eovaldi was key to the Red Sox title run. He compiled 22.1 critical postseason innings while pitching to a minuscule 1.61 ERA.
He won both of his playoff starts and made three scoreless relief appearances—all in crunch time in the seventh and eighth innings, all in wins. The only time he pitched in a Boston postseason loss was that ridiculous six-inning, 97-pitch relief effort in game three of the World Series.
That game-three performance was almost good enough to overshadow the Dodgers' win, and it will probably increase his contract offers in free agency by millions of dollars.
2018 Yankees < 2018 Red Sox
J.D. Martinez and Nathan Eovaldi aren't the only reasons it was the Red Sox and not the Yankees who were celebrating a World Series title in Los Angeles on Sunday, but without them, things could have played out much differently for Boston.
A Boston team sans Martinez probably wouldn't have started off so strong, and the Yankees may have been able to come back and win the division. Chris Sale posted a pedestrian 3.75 ERA in two 2018 starts against the Oakland Athletics, so there's a fair chance the Red Sox would have gotten knocked out in the Wild Card game.
Had Eovaldi not been there to kill the Yankees' momentum in the ALDS, the Baby Bombers might have taken the series and gone on to with their 28th championship.
Send your ring size to Boston, Mr. Cashman. You deserve some Red Sox bling for this one.